---
| | |
| --- | --- |
| Q1 Wash Volume Reports now available | |
CCA
The 2018 first quarter results of the Wash Volume Report (WVR) have just been released by the Canadian Carwash Association. Canadian average revenue per site of $101,294 was 26% higher compared to the first quarter of last year. Average cycles per site at 11,874 were up 12% compared to the 2017 first quarter results while the average revenue per cycle of $8.53 was 13.4% above last year's Q1 results.

New in 2018, CCA Members now have exclusive access online to three years (12 quarters) of results by province. In addition, average precipitation data in millimetres has been added to the average cycles per site charts by province or region which shows the clear impact of weather on carwash operations.

Undertaken for the CCA by Kent Group Ltd., a research firm specializing in the gas station and car wash industry, the WVR is a national quarterly survey of carwash sites. Members of the CCA may participate in the WVR program and receive results specific to their regional at no extra cost beyond their membership fee. All CCA members can access the full first quarter results on the CCA website. Also available online is information on how you can add your carwash location to the WVR.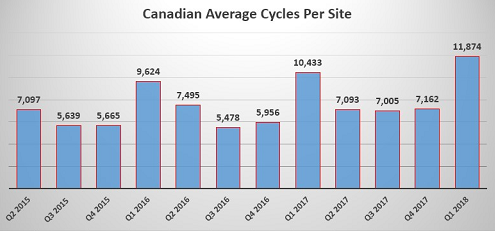 | | |
| --- | --- |
| Safe and Fair Workplaces 2018: Small Business Outreach Initiative | |
CCA
This summer, 28 Ontario Ministry of Labour summer students will visit 10,000 small businesses across Ontario to promote awareness of employment standards and occupational health and safety laws. The students will:
• distribute a resource kit to help improve compliance, including information sheets, posters and handouts, and
• conduct a survey to help improve the ministry's resources and outreach for small businesses.
Small businesses represent 95% of all employers in Ontario, and they employ 28% of Ontario's workers. Business owners know that running a business involves risks and costs; The Ministry knows that a commitment to health, safety and fairness makes good business sense. Use these links to learn about workplace responsibilities and the free resources and tools. 
READ MORE
| | |
| --- | --- |
| Save big on payroll services | |
CCA/CFIB Partnership Benefit
As a CCA Member you now have access to an easy and low-cost way to manage your payroll. It's vital to pay your employees on time and accurately – while you comply with federal and provincial tax regulations. As your carwash business grows, it becomes more challenging to keep up.

Canadian-owned Payworks helps manage your workforce by providing cloud-based solutions for Payroll, Human Resources, Employee Time and Absence Management, all backed by personal and dedicated service. CCA Members receive exclusive discounts on Payworks services through our industry partnership with CFIB.
READ MORE
---
| | |
| --- | --- |
| Best practices for carwash brushes | |
Professional Carwashing & Detailing
In today's active express tunnels, full automation pushes wash speeds and drives cleaning performance like never before. Tasks that were once handled by multiple employees are instead completed by an array of dependable wash equipment. This era of equipment-driven efficiency has come with many benefits, including increased sales and positive wash results.
READ MORE
| | |
| --- | --- |
| How new car wash technology saves water | |
Earth911
As global temperatures continue to warm and droughts increase in number and severity, water is becoming an even more precious and vital resource. Water conservation, in turn, is increasing in importance. Everyday activities, such as washing our cars, now present us with ethical dilemmas as we consider their impact on our environment and natural resources. Here, we look at water conservation as it pertains to evolving car wash technologies, the growing shift to recycling wash water and the regulation of commercial car washing in the United States.
READ MORE
| | |
| --- | --- |
| 7 tips to keep an open-air vehicle's soft-top impeccable | |
Professional Carwashing & Detailing
Spring is (finally) in the air for much of the country, and we know many of you are getting ready to wash, wax and detail your customers' vehicles. Our favorite? Open-air vehicles — specifically ones with soft-tops. As you know, proactive care will help prolong the life of any soft-top material. This means it will withstand the elements better, for longer, and leave consumers with impeccable soft-tops for many years.
READ MORE
---
---
| | |
| --- | --- |
| Stop undervaluing individual contributors | |
By Catherine Iste
Promotions are not always an option. Stable or small workforces may mean promotion opportunities are few and far between. Yet promotions are not the only way to inspire, appreciate and encourage our teams. It is time we stop focusing on promotions and start recognizing the value of our individual contributors. The first step to valuing individual contributors is to understand that their career path does not go up as much as it goes deeper into their field and then finding ways to facilitate that growth.
READ MORE
| | |
| --- | --- |
| How to handle HR like a pro | |
Small Business Trends
As the proud owner of a small business, you're probably familiar with juggling responsibilities. It comes with the territory. Managing multiple details is no simple task, and prioritizing your to-do list can be a recurring challenge.
READ MORE