| | |
| --- | --- |
| Q1 Wash Volume Reports now available | |
CCA
The 2019 first quarter results of the Wash Volume Report (WVR) have just been released by the Canadian Carwash Association. Total Q1 revenues for 1038 sites was just over $86 million compared to $90 million for Q1 last year. Canadian average revenue per site of $83,103 was 8% lower compared to the first quarter of last year. Average cycles per site at 9,670 were down 9% compared to the 2018 first quarter results while the average revenue per cycle of $8.59 in 2019 compared to $8.65 was largely unchanged from last year's Q1 results.

CCA Members now have exclusive access online to three years (12 quarters) of results by province or region. In addition, average precipitation data in millimetres has been added to the average cycles per site charts by province or region which shows the clear impact of weather on carwash operations.

Undertaken for the CCA by Kent Group Ltd., a research firm specializing in the gas station and car wash industry, the WVR is a national quarterly survey of carwash sites. Members of the CCA may participate in the WVR program and receive results specific to their regional at no extra cost beyond their membership fee. All CCA members can access the full first quarter results on the CCA website. Also available online is information on how you can add your carwash location to the WVR.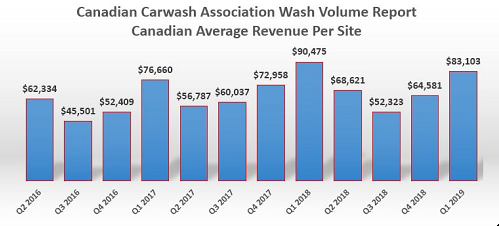 | | |
| --- | --- |
| CCA new Board Member profile | |
CCA

The Canadian Carwash Association elected six new Board of Directors at its Annual General Meeting. In this issue, we profile new director Morgan Arnelien, Carwash Program Co-ordinator, Energy Products, Federated Co-operatives Limited in Saskatoon, SK. Morgan provides guidance and strategic direction for over 130+ Co-op carwash locations across the Prairies and Western Canada. Prior to his current role Morgan was the Energy Marketing Co-ordinator at FCL, where he was responsible for developing carwash and gas bar marketing campaigns. Morgan is excited to offer his Western Canadian perspective and contribute to the CCA Board of Directors to add value for CCA members. To view the profiles of all CCA Directors visit http://canadiancarwash.ca/board_directors_cca.aspx.
| | | |
| --- | --- | --- |
| | | The all-new Turtle Wax® Pro M.A.X Power is a NEW high-ph touchless presoak that allows you to boost the pH level from Moderate to Aggressive to Xtreme to overcome challenging cleaning conditions. Request a FREE trial! |
| | |
| --- | --- |
| CFIB/CCA Benefits | |
CCA/CFIB
CCA members automatically receive full CFIB benefits. Check out the latest update on Trade Mark reform.

What you need to know!
Your business name, brand names, corporate colours, slogans, and logos are all part of your corporate image. Customers do business with companies they recognize and trust, which is why it's important to protect your corporate image. One way to do that is by registering those aspects of your business image that are uniquely yours.

Canada has completed a thorough overhaul of its trademark legislation, harmonizing with other countries to make it easier for you to protect your company's image across the globe. New regulations will come into effect on June 17, 2019, and we're here to break down what they mean for your business.

What's a trademark? Why should I get one?
A trademark is one or more words, sounds or designs used to identify the goods or services of a person or organization. Your trademark helps distinguish your goods or services from those of other businesses. A trademark registration is proof of ownership. If you find yourself in a dispute, the registered owner does not have to prove ownership; the duty is on the challenger.

How long will I own my trademark?
Currently, trademarks are valid for 15 years in Canada. Any trademarks registered on or after June 17, 2019, will only be valid for 10 years.

Other major changes are coming but include major benefits. The Canadian Intellectual Property Office has more information on trademarks, and you can call your CFIB Business Counsellor with any questions.
READ MORE
| | | | |
| --- | --- | --- | --- |
| | | Rockyview Industries has been a carwash industry leader with superior service and technology since 1992. Contact us at info@rockyviewindustries.com or 1-888-447-2077 | |
| | |
| --- | --- |
| Scared straight | |
Professional Carwashing & Detailing
One of my favorite topics to talk to students about in our CarWash College classes is safety. It doesn't matter what the topic of the week is — repair, maintenance, management or multi-site management — they all begin the same way: with the class reading aloud the safety requirements from the front of a Sonny's equipment manual.
READ MORE
| | |
| --- | --- |
| Go Car Wash makes first acquisition | |
Auto Laundry News
GO Car Wash, the new express car wash platform headquartered in Phoenix, Arizona, has acquired two Travel Clean Express Car Washes, one in Overland Park, Kansas, and another in Lee's Summit, Missouri. Travel Clean is one of the original conveyorized express car washes in the Kansas City market. This marks the first acquisition for GO Car Wash, which was founded in early 2019.
READ MORE
| | |
| --- | --- |
| Creating zen at the carwash | |
Professional Carwashing & Detailing
A moment of zen. For many people, life is a hectic marathon of work, chores and the daily duties that being alive requires, such as cooking, eating, cleaning and sleeping. Zen, on the other hand, is created during those in-between moments and is associated with peace and a relaxed state of mind. I recently had a conversation about carwashing with a co-worker.
READ MORE
| | |
| --- | --- |
| Overlooked startup costs for small businesses | |
Forbes
In any new business venture, meticulous financial planning is key. It can determine whether your business survives long enough to thrive. Accurately estimating your capital costs is a big part of that: If you overlook significant expenses, you run the risk of running out of money before the business can establish its footing, when it's most vulnerable to failure.
READ MORE
| | |
| --- | --- |
| 58 percent of small businesses spend 5 hours or less on marketing | |
Small Business Trends
How much time do you spend on marketing for your small business? A new survey carried out by OutboundEngine reveals 58% spend five hours or less on marketing. And stress is a major contributing factor for how much time small business owners spend.
READ MORE