---
| | |
| --- | --- |
| CCA/CFIB Member Benefits: Improve your business skills through free online courses | |
CCA

As carwash operators and owners, you wear many hats including customer service specialist, sales rep, chief financial officer, maintenance specialist and many more. Prioritizing your tasks every day can be a challenge. Your CCA membership now includes access to free online courses in health and safety, compliance, people management, customer relations among others. Offered by Vubiz these courses help you understand your requirements to be compliant with both provincial and federal regulations as well as keep your employees safe. Check out the extensive library of more than 40 online courses.
READ MORE
| | |
| --- | --- |
| DRIVE FOR SUCCESS: Annual Golf Tournament and Networking Event | |
CCA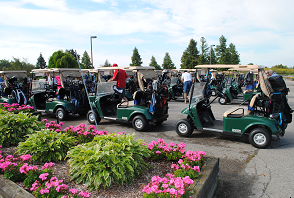 The annual Canadian Carwash Association golf tournament is inching closer and closer! Join fellow carwash owners and operators as well as industry suppliers for 18 holes of golf, networking and dinner. The 2018 tournament will be held at Blue Springs Golf Club in Action, Ontario on Thursday, September 13th, 2018.

The day begins with players teeing off at 10:00 a.m. and ending with a dinner which includes raffle prizes. Be sure to register your foursomes early. For sponsorship opportunities, contact the National Office at 416-239-0339 ext 222 or office@canadiancarwash.ca. READ MORE

| | |
| --- | --- |
| Full Service Carwash for Sale in Windsor | |
CCA
CCA is advertising a modern two-year old automatic full-service carwash with detail bay and wax bay with soft cloth polisher for sale in Windsor, ON. The carwash is located in an expanding commercial area with high traffic count and close to highways. It is an efficient operation with high customer satisfaction. Sale price includes land, building, equipment and business.

Contact Mark at mfs3463ev@gmail.com or 519-796-3760 for inquires.
---
| | |
| --- | --- |
| 4 ways to increase net profit | |
Professional Carwashing & Detailing
As operational expenses and labor costs are increasing every year, carwash operators are faced with a dilemma to either raise their prices — and risk losing customers — or absorb the costs and dwindle net profits. Business owners are stuck between a rock and a hard place.
READ MORE
| | |
| --- | --- |
| Workin' at the car wash | |
Tri-County Times
Auto washes, from full-service to 'quarter' washes, reflect local economy, community attitude. The hum of machinery, the sound of water spraying and the splat of soap landing on vehicles is all in a day's work for employees at Friendly's Car Wash in Fenton.
READ MORE
| | |
| --- | --- |
| How to remodel a carwash | |
Professional Carwashing & Detailing
The Car Wash Show™ is the place where most manufacturers release all the new products they have to the market. So, it is easy to walk away from the show in awe and with a long list of new equipment, signs, lights and more that you want to add to your site. However, the single most important thing you need to do before getting hooked on all that shiny new gear and writing a check is to form a detailed plan.
READ MORE
---
Missed last week's issue? See which articles your colleagues read most.
Don't be left behind. Click here to see what else you missed.
---
| | |
| --- | --- |
| Best 8 tips for email newsletter best practices | |
Small Business Trends
Building your brand is an important part of any entrepreneur's success. An email newsletter is a good tool to use.
READ MORE
| | |
| --- | --- |
| Why you'll make more money if you put your phone down and meet your neighbors | |
Forbes
If you run or market a business, I'm going to go out on a limb and assume you're very busy. But trust me, try this: Next time you're at work, go to a window. Look outside. Find the nearest business. It could be a coffee shop, restaurant, anything. Make a pledge that by the end of the week you will walk over and say hello.
READ MORE