---
| | |
| --- | --- |
| Membership has its rewards | |
CCA
All CCA members can now accept American Express and pay just 1.8% on most American Express transactions through benefits offered by CFIB. The ability to open your carwash business to higher-spending American Express customers is now more affordable and easy! To help your business succeed, CFIB has harnessed the collective power of our 110,000 members to lower the cost of attracting American Express Cardmembers. Through an exclusive offer with Chase® Merchant Services, CCA/CFIB members pay just 1.8% on most American Express transactions (1.68% plus a 0.12% assessment fee).
READ MORE
| | |
| --- | --- |
| Up your game this September | |
CCA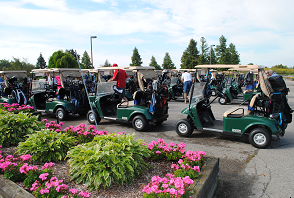 Join fellow CCA carwash owners and operators as well as industry suppliers for 18 holes of golf, networking and dinner at the annual Canadian Carwash Association golf tournament. The 2018 tournament will be held at Blue Springs Golf Club in Action, Ontario on Thursday, September 13th, 2018.

Plan now to get in a few practice swings over the summer and be ready to tee off at 10:00 a.m. and finish the day with a great meal and raffle prizes. Be sure to register your foursomes early. For hole sponsorship opportunities, contact the National Office at 416-239-0339 ext 222 or office@canadiancarwash.ca.

---
| | |
| --- | --- |
| Mister Car Wash acquires 4 Clean Machine Car Wash locations | |
Professional Carwashing & Detailing
Mister Car Wash has expanded its presence in Albuquerque, New Mexico, with the acquisition of four Clean Machine Car Wash locations, according to a press release. The acquisition gives Mister Car Wash a total of 11 locations in the Albuquerque market comprised of six full service and five express stores, including their new express site that opened in February 2018 in Bernalillo, the release continued.
READ MORE
| | |
| --- | --- |
| Communicating with customers | |
Carwash Online
What is the value of customer communication? Whether on-site or through digital channels, many customers today want to be heard. And, as poor customer reviews are more likely to find their way onto the various apps and review sites out there compared to positive reviews, carwash operators must make every effort to address any concerns related to the wash, including its level of service and employees, across all platforms.
READ MORE
---
Missed last week's issue? See which articles your colleagues read most.
Don't be left behind. Click here to see what else you missed.
---
| | |
| --- | --- |
| 82 percent of consumers expect immediate response on sales or marketing questions | |
Small Business Trends
Digital technology has empowered consumers to demand more from the companies they do businesses with. And more than ever, this is being manifested in real-time availability.
READ MORE
| | |
| --- | --- |
| 5 common mistakes small businesses make with seo | |
Forbes
Small businesses in particular can dominate local search if they employ good search engine optimization (SEO) techniques. However, according to Chris Rodgers, CEO and Founder of Colorado SEO Pros, there problems most small business encounter when it comes to their website copy.
READ MORE