---
| | |
| --- | --- |
| Metro Vancouver issues Commercial Vehicle Washing Industry Recommended Practices | |
CCA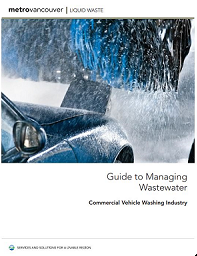 Metro Vancouver, which regulates and educates industry and businesses that discharge to the waste water system, has released a Guide to Managing Wastewater. The Guide outlines nine recommended practices that carwash operators should use to ensure compliance with existing regulations and to safeguard the wastewater system and the environment. CCA participated in the consultations with other representatives from the commercial vehicle washing industry in 2017 that lead to the development of the Guide. Best practices include capture wash water, interceptor system, interceptor maintenance, soaps, sign posting, cleaning chemicals, labelling, spill clean up and staff training.

The Guide is available here
Download the poster here

| | |
| --- | --- |
| Free CFIB Webinar: Cannabis legalization: save thousands with a drug and alcohol policy! | |
CFIB


In less than two months, cannabis will be legalized across the country. If you're not prepared, this could cost your business precious time and money!

CFIB has partnered with Fasken, a leading Canadian law firm, to help you prepare for the confusing regulatory burden you're going to face. In this free webinar, you will:

• Hear what legalization means for private businesses like yours
• Learn how to talk to your employees about cannabis
• Discuss the importance of a drug-and-alcohol policy

You will also receive a free drug-and-alcohol policy template from Fasken, saving you thousands of dollars on creating your own! Legalization will seriously affect your business and only this webinar will help you get ready for the new regulations. This webinar will fill up quickly, so register now!

Monday, September 24th @ 1pm EST
Wednesday, September 26th @ 1pm EST
---
| | |
| --- | --- |
| Direct mail marketing | |
Professional Carwashing & Detailing
Technology has become a major player for businesses across the country, but the carwash industry is not usually one of the first businesses people think of. If your carwash is struggling to find repeat customers and relying on outdated technology to find a loyal customer base, you may not be using the right resources.
READ MORE
| | | |
| --- | --- | --- |
| | | Tired of having clean cars come out looking dirty. The all-new Turtle Wax® Pro M.A.X Power is a NEW high-ph touchless presoak that allows you to boost the pH level from Moderate to Aggressive to Xtreme to overcome challenging cleaning conditions. Sign-up today to request a FREE trial! |
| | |
| --- | --- |
| Real Estate — Valuation multiples at risk | |
Auto Laundry News
Commercial car washing is often described as an equipment-driven business because equipment is required to clean vehicles, and that's where the bells and whistles are. Car washing is also a real estate business whether property is leased or the business owns its premises. Car washing is also increasingly becoming more like the vending-machine industry due to the degree of automation involved and increasing lack of personality.
READ MORE
| | |
| --- | --- |
| Critical carwash site selection and design considerations | |
Professional Carwashing
Earlier this year, the International Monetary Fund reported that the U.S. economy is projected to grow 2.7 percent this year. But, this isn't the only positive news found in an economy that not only appears to be recovering from the tumultuous Great Recession, which was in full swing a decade ago, but also actually growing.
READ MORE
---
Missed last week's issue? See which articles your colleagues read most.
Don't be left behind. Click here to see what else you missed.
---
| | |
| --- | --- |
| Why ephemeral content is here to stay | |
Mashaal Hashmi
One of the newest driving forces in future marketing strategies involves a type of content known as "ephemeral," which is a fancy word for "temporary." This technology was first introduced to the social media world with Snapchat. You can use this type of tool for your marketing campaigns to make them both relevant and useful. For example, brands can give their audience a brief glimpse into their "behind the scenes" work, such as how products are created, shared or promoted.
READ MORE
| | |
| --- | --- |
| 5 creative video marketing tips for small businesses | |
Business
Videos are the most engaging form of content on the web, and they're not just for big companies anymore. Convey your small business's message through video and your audience will be sure to hit the "play" button.
READ MORE