---
| | |
| --- | --- |
| Wash Volume Report Results Available for Q3 | |
CCA













The Canadian Carwash Association has just released the 2018 third quarter results of the Wash Volume Report (WVR) reporting that average revenue per site was down 7.2% at $55,710 compared to $60,037 in the third quarter of last year. The average cycles per site was down 12.9% at $5,994 compared to 6,881 for the quarter in 2017. The average revenue per cycle was up 6.5% at $9.29.

Undertaken for the CCA by Kent Group Ltd., a research firm specializing in the gas station and car wash industry, the WVR is a national quarterly survey of 845 carwash sites across Canada. Members of the CCA may participate in the WVR program and receive results specific to their regional at no extra cost beyond their membership fee. All CCA members can access the full national 2018 third quarter results on the CCA website. Also available online is information on how you can add your carwash site to the WVR.
CCA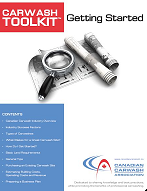 The Canadian Carwash Association (CCA) offers its membership the Carwash Toolkit™: Getting Started, a guide for those looking to build a new carwash from the ground up or purchase an existing carwash operation. The 31-page document provides an overview of the Canadian industry, what is required for a site, cost estimates and more.

The document is equally valuable for existing carwash operators to help in evaluating their own sites against best practices. The toolkit explores the various types of carwashes, general tips for best results, evaluating costs, building a business plan and more. For further information, please visit the CCA website at canadiancarwash.ca/tools.

| | |
| --- | --- |
| CFIB/CCA Benefits – Call a Recruiting expert | |
CCA/CFIB

Make sure you take advantage of all your CCA membership benefits. Hiring is one of the hardest things you do as a business owner, full of potential errors. Studies have found that between 20% and 50% of hires turn out to be mistakes — that's a lot of time and energy spent on finding the right people for your team.

Think like a STAR

When you ask a question about how someone reacted to a certain situation, you want to get as much detail as possible. A good way of teasing out more information is with the STAR technique:

• Situation: Ask them to describe the background or context of the story they're telling.
• Task: Ask for a description of what they were in charge of. What did they need to do, and what were the expectations?
• Action: What did they do in this situation, and how? How did they decide on their course of action?
• Results: What did their actions and choices result in? Can they quantify the results?
Successfully asking STAR questions means you should plan your questions carefully in advance. Make sure what you're asking is relevant to the position, and try to use standard criteria for every question and every applicant.

There will always be hires that don't work out, no matter how diligent you are in the recruitment phase. But if you embrace the idea that past behaviour is the best predictor of success, you'll dramatically increase your chances of making a great hire.

This article was adapted from material by CFIB's recruitment partner, Fitzii. To learn more about how Fitzii can help you hire better, visit CFIB's Fitzii page, or call them at 1-866-551-0732.
---
| | |
| --- | --- |
| Infographic: 9 reasons to invest in a loyalty program | |
Professional Carwashing & Detailing
Did you know that a 5 percent increase in customer retention can boost profits by 25 to 95 percent? Customer loyalty programs are changing the way business is done in the professional carwashing industry. In addition to providing fast, secure and more convenient cashless transactions, loyalty programs also help overcome the uncertainty and imbalance of profits due to a stretch of inclement weather.
READ MORE
| | |
| --- | --- |
| Modern marketing with LED lighting | |
Professional Carwashing & Detailing
One of the most eye-catching, affordable and effective marketing tools available to carwash locations today is modern LED lighting. Used properly, the fixtures' color, movement and illumination properties can work together to differentiate a site from the traditional storefront and signage utilized by nearby businesses. Working with lighting professionals, carwashes can use new light fixtures to stand out in crowded locations, market profitable services and even make wash sites safer and more inviting.
READ MORE
| | | |
| --- | --- | --- |
| | | Tired of having clean cars come out looking dirty. The all-new Turtle Wax® Pro M.A.X Power is a NEW high-ph touchless presoak that allows you to boost the pH level from Moderate to Aggressive to Xtreme to overcome challenging cleaning conditions. Sign-up today to request a FREE trial! |
| | |
| --- | --- |
| Are extras at automatic car washes worth it? | |
WJXT-TV
Pull up to any automatic car wash -- the kind where machines do all the work while you wait -- and you'll find a staggering menu of options. Should you pay more for spray-on wax? Is an undercarriage wash worth it? And what the heck is "wheel brite"?
READ MORE
---
Missed last week's issue? See which articles your colleagues read most.
Don't be left behind. Click here to see what else you missed.
---
| | |
| --- | --- |
| The dos and don'ts of branding your small business | |
Atlanta Small Business Network
Branding is such a broad concept, encompassing not just the output of marketing but the operations of a business and the activities of its employees (and every stakeholder group with which the business or institution interacts). Branding as a marketing practice usually relies on communications tools to deliver its content. There are principles that apply to its success, irrespective of industry category or type of institution.
READ MORE
| | |
| --- | --- |
| 5 outside-the-box profit boosters for your business | |
By Lisa Mulcahy
The healthiest bottom line possible is what every company is constantly striving for. Your team has no doubt brainstormed many effective conventional ideas to boost short-term profits — but a good, unexpected approach can often expand your earning capacity in fresh, long-term ways as well, as proven by research. Put these outside-the-box strategies into practice to garner excellent results.
READ MORE