| | |
| --- | --- |
| Charmcare Co., Ltd. — H2-BP (Wristband type blood pressure monitor) | |
Edison Awards

The smallest and lightest wristband blood pressure monitor In the world. It is the cuff type bp monitor to press only 1 artery (radial artery) to have the stable signal for accurate measurement with smallest, sized 25mm(width) x 14mm(thickness) and weighted 43g. it has been approved by KFDA (Korean FDA) as a medical device with the tolerance within +/-5mmhg, based on clinical trial by the university hospital in Korea. WATCH VIDEO


| | |
| --- | --- |
| Realityworks, Inc. — ECG Simulator | |
Edison Awards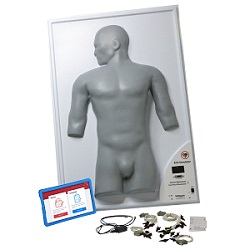 This one-of-a-kind ECG Simulator is used in nursing and health science programs to train students on accurate placement of ECG/EKG leads on the body through rib palpation; how to read 3-, 4-, 5- and 12-lead rhythms; and how to recognize those rhythms on screen and in hard copy. READ MORE


Upcoming Edison Awards Designation Schedule

MARCH 25th

• Applied Technology
• Energy & Sustainability
• Living, Working & Learning Environments
• Industrial Design

APRIL 1st

• Consumer Electronics & Information Technology
• Transportation & Logistics
• Media, Visual Communications & Entertainment
• Athletics, Sports & Recreation

APRIL 8th

• Innovative Services
• Material Science & Engineering
• Social Innovation
• Aerospace Innovation


---
| | |
| --- | --- |
| AI is top game-changing technology in healthcare industry | |
Forbes
Of the many ingredients that go into quality healthcare, comprehensive patient data is close to the top of the list. No one knows this more than Mayur Saxena, CEO and founder of Droice Labs. Saxena created his startup while he was pursuing his doctorate degree at Columbia University, and working at healthcare company conducting clinical trials on new medication.
READ MORE
| | |
| --- | --- |
| Advantia Health to open tech-enabled practice focused on women's diverse health needs | |
FierceHealthcare
Advantia Health is opening a flagship health practice in Washington, D.C., that will integrate primary care, gynecology, mental wellness and virtual care. The venture-backed women's health group is focused on rebuilding the model for women's healthcare by offering a practice that is designed for and by women, Lisa Shah, M.D., chief medical officer for Advantia Health, told FierceHealthcare.
READ MORE
| | |
| --- | --- |
| HIMSS launches new definition of digital health | |
MobiHealthNews
Ask 10 healthcare stakeholders what "digital health" is and odds are you'll get 10 different answers. It's an imprecise terminology, a reality that has vexed the industry and its press on more than one occasion.
READ MORE