This message was sent to ##Email##
To advertise in this publication please click here

---
.
2021 EDISON AWARDS UPDATE
The Edison Awards Is Celebrating Earth Day At Babcock Ranch: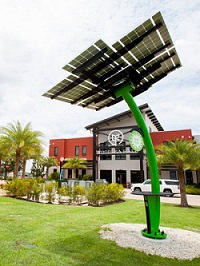 HOST – BABCOCK RANCH
In the spirit of Earth Day The Edison Awards is hosting our annual Meet the Innovators Day at the "Inclusive", environmentally and socially sustainable community of Babcock Ranch. Located just outside of The City of Fort Myers, FL Babcock Ranch is a multigenerational, solar powered town boasting parks, lakes, a charter school and 50 miles of trails open to all. Being truly innovative in nature Babcock Ranch will offer an open-air venue to interact, learn and celebrate. Learn more about Babcock Ranch here: https://vimeo.com/522837123.

MEET THE INNOVATORS SCHEDULE
Earth Day at Babcock Ranch will feature over ten Executive Level speakers with topics including The Future of Space, American Farmers Feeding Americans Sustainably, Modern Day Black Innovators, The Future of Power, Carbon Free World and a Fireside Chat with Arthrex Founder Reinhold Schmieding. We will feature Field Trips specific to Babcock Ranch's theme of sustainability including The Solar Farm, Vertical Farming and The Future of Homes. To see the Meet the Innovators Schedule please click here: https://edisonawards.com/2021schedule.php.
Registration Is Open — Come And See What Fort Myers Is All About!
Come and discover white beaches, outdoor adventure and a relaxed island paradise in The City of Fort Myers, Florida April 21-23rd for the Edison Awards Events and Celebrations. Named the #1 fastest-growing city in America by Wallet Hub for 2020, we couldn't be happier to have Fort Myers host the celebration of game-changing innovators of 2020 and beyond. Promoting a clean and energy efficient environment and sustainable future, there is much to discover and love about Fort Myers, FL and to register for The Edison Awards Event click here: https://edisonawards.com/2021edisonawards.php.
---
.
INDUSTRY NEWS - SOLAR POWER AND SUSTAINABILITY
Three energy-innovation takeaways from Texas' deep freeze
TechCrunch
Individual solutions to the collective crisis of climate change abound: backup diesel generators, Tesla powerwalls, "prepper" shelters. However, the infrastructure that our modern civilization relies on is interconnected and interdependent — energy, transportation, food, water and waste systems are all vulnerable in climate-driven emergencies. No one solution alone and in isolation will be the salvation to our energy infrastructure crisis.
Solar panels and batteries on your home could help prevent the next grid disaster
National Geographic
The power went out in Mauricio Montoya's snow-blanketed neighborhood at 5:30 on a Monday evening in February during the cold snap that devastated Texas. Night quickly fell, sinking his neighborhood in Pearland into eerie, near-complete darkness—except for his house. His lights stayed on, thanks to a solar panel array and a set of batteries that kept his home warm and lit until Thursday, when the power came back on for good.
The first commercially available hydrogen power storage system for home use
AZO Cleantech
As of 2021, new regulations in Germany require all new homes to be designed as very low-energy buildings. Founded by Zeyad Abul-Ella and Henrik Colell in 2014, the Berlin-based company Home Power Solutions (HPS) provides off-grid power supply solutions to help new homeowners meet this requirement and transition to clean renewable energy.
---
.
SPONSORS
 

Inspiring Minds

---

Connect with Edison Awards





Jason Zimmerman,

Director of Publishing, Multiview, 469-420-2686

 | Download media kit
Jacqueline Hansen, Senior Content Editor, Multiview, 469-420-2636| Contribute news

Edison Awards
8117 West 124th StreetPalos  |  Park, IL 60464 
469-420-2636  |  Contact Us  |  https://edisonawards.com/

Click here to unsubscribe. 

Learn how to add us to your safe sender list so our emails get to your inbox.

















 
7701 Las Colinas Ridge, Ste. 800, Irving, TX 75063