This message was sent to ##Email##
To advertise in this publication please click here

---
.
2021 EDISON AWARDS UPDATE
The Edison Awards Are Going Virtual!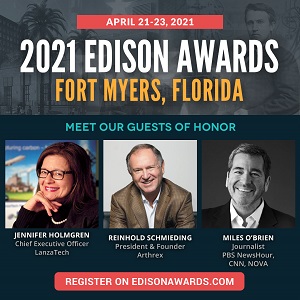 For the first time in Edison Awards history we are offering a virtual registration option to join in on the celebration of Earth Day at Babcock Ranch and the Edison Awards Gala Event. Register today and learn from executive leaders who are driving innovation in their companies. The award winning journalist Miles O'Brien will host the event.

Executive Presenters Include:

Jim Fitterling, Chairman and CEO at Dow
Dr. Jennifer Holmgren, CEO at LanzaTech
Reinhold Schmieding, President and Founder of Arthrex
Syd Kitson, CEO at Kitson and Partners- Babcock Ranch
Dr. Bob Maughon, Executive Vice President and Chief Technology and Sustainability Officer at Sabic
Dr. Carmichael Roberts, Entrepreneur I Founder and Managing Partner at Material Impact
Patrick Pennie, CEO at Emcyte
Jon Cropper, CEO at Futurlogic
Mario Azar, President Global Power Division at Black and Veatch
Matt Valle, Vice President Florida Power and Light Development at NextEra Energy Inc.
Michael Ellis, Vice President of Strategic Environmental Affairs at U.S. Sugar
Kevin DiMarzio, Vice President of Business Development at Redwire

For over 34 years the Edison Awards have recognized and honored the best in innovation and innovators. Highlights of the evening will include telling the stories of the winning products and recognizing companies from all of the world with the Edison Award Gold, Silver and Bronze distinction. Acceptance of our most prestigious award, the Edison Achievement Award goes to Dr. Jennifer Holmgren, CEO of LanzaTech whose company is taking waste carbon emissions and converting them into new products, cleaning our air and giving carbon a second chance, and Reinhold Schmieding, President and Founder of Arthrex whose company's mission is to Help Surgeons Treat Their Patients Better.™ Arthrex has pioneered the field of arthroscopy and develops more than 1,000 innovative products and procedures each year.

Register Your Team TODAY
Behmke Innovation Group partners with the Edison Awards

The Edison Awards is proud to call Behmke Innovation Group a partner with their mission being: Every business begins with an idea. At Behmke Innovation Group, we will help your vision become reality and give your business a competitive advantage. We're the key to your IP needs. To learn more click here.
---
.
INDUSTRY NEWS - SOLAR POWER
Solar this year is already outperforming 2020's record-breaking numbers
Solar Power World
Solar and wind power generation are already off to a great start in 2021, according to data analysis by the SUN DAY Campaign. The latest issue of EIA's "Electric Power Monthly" (with data through January 31, 2021) reveals that utility-scale solar thermal and photovoltaic plants produced 23.1% more electricity in January 2021 than they did a year earlier, while estimated small-scale solar (residential) increased by 18.8%. Combined, solar grew 21.7% and provided 2.4% of the nation's electrical output in the first month of 2021.
Solar-powered water filter removes lead, other contaminants
Water World
A new invention that uses sunlight to drive water purification could help solve the problem of providing clean water off the grid. The device resembles a large sponge that soaks up water but leaves contaminants — like lead, oil and pathogens — behind. To collect the purified water from the sponge, one simply places it in sunlight. The researchers described the device in a paper published this week in the journal Advanced Materials.
How solar microgrids are revolutionizing the energy industry
Innovation Origins
More and more people are becoming aware of the challenges that the world is facing, particularly when it comes to the destruction and depletion of its natural resources. For this reason, several people have made it an advocacy to fight for the environment and preserve the earth. In this fight, the use of natural energy sources such as the sun's power, are highly encouraged. Solar microgrids are revolutionizing the energy industry.
DNV publishes world's first standard for floating solar projects
PEI
The standard has been developed following a collaborative joint industry project (JIP) involving 24 industry participants. The JIP, which kicked off last summer, reviewed all aspects of developing floating solar projects on inland and near-shore waters. It focuses on five key topics: site conditions assessment, energy yield forecast, mooring and anchoring systems, floating structures, permitting and environmental impact.
---
.
SPONSORS
 

Inspiring Minds

---

Connect with Edison Awards





Jason Zimmerman,

Director of Publishing, Multiview, 469-420-2686

 | Download media kit
Jacqueline Hansen, Senior Content Editor, Multiview, 469-420-2636| Contribute news

Edison Awards
8117 West 124th StreetPalos  |  Park, IL 60464 
469-420-2636  |  Contact Us  |  https://edisonawards.com/

Click here to unsubscribe. 

Learn how to add us to your safe sender list so our emails get to your inbox.

















 
7701 Las Colinas Ridge, Ste. 800, Irving, TX 75063