YouTube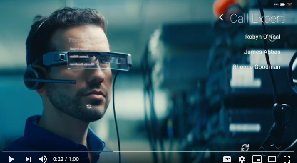 Epson has entered a nomination for an innovative service that is an affordable, easy-to-use, "see-what-I-see" remote assistance solution using Moverio AR smart glasses. Moverio Assist enables real-time collaboration between remote experts and field personnel, making repairs quicker with fewer mistakes, leading to increased productivity and reduced travel costs. Watch Video

---
| | |
| --- | --- |
| US banks are leaders in technology innovation | |
Banking Exchange
According to a new study by ACI Worldwide and Ovum, banks and intermediaries are ahead of other corporations in terms of several technology innovations. For example, 96 percent of retail banks and 94 percent of corporate banks report that they plan to develop new and innovative services focused on Real-Time over the remainder of 2019 and into 2020.
READ MORE
| | |
| --- | --- |
| How aftermarket technology can accelerate smart home innovation | |
Forbes
Aftermarket products and services for the smart home can address significant customer pain points, such as recording your favorite TV program, accessing streaming content or keeping your security cameras efficiently charged. But this technology still has an effect on mainstream devices today, especially within the smart home. But how exactly is it making those waves?
READ MORE
| | |
| --- | --- |
| Grass-roots innovation builds virtual queue | |
Defense Systems
A new automated queuing system at the Air Force keeps service members from wasting time waiting in line. Previously when airmen and -women wanted to make changes to their insurance coverage, they had to go to the Military Personnel Flight office, take a paper ticket and wait until their number was called. Because they had no way to know when it was their turn, they couldn't leave the building, according to Air Force spokesperson Maj. Bryan Lewis.
READ MORE
| | |
| --- | --- |
| Millennials and boomers agree on mainframe innovation, security | |
Tech Republic
A new survey from software company BMC showed that in spite of their differences, millennials and boomers both agree that mainframe environments are here to stay.
READ MORE