| | |
| --- | --- |
| Tiny satellites headed to mars likely are first of many | |
Space.com
Two tiny explorers are pushing the bounds of their kind, but if scientists have their way, the two adventurers will soon have plenty of company. The pair of small satellites, called the Mars Cube Ones (MarCO-A and MarCO-B), launched in May along with the Mars InSight lander. All three spacecraft are on their way to the Red Planet, which they will reach in late November.
READ MORE
| | |
| --- | --- |
| Space Innovation Nominations Are Now Open | |

The Edison Best New Product Awards™ is an annual competition honoring excellence in new product and service development, marketing, human-centered design, and innovation. Past winners have included Fortune 500s, small start-ups, and everything in between.
READ MORE
| | |
| --- | --- |
| Air Force Secretary lays roadmap to a new space force | |
Space News
Air Force Secretary Heather Wilson submitted the most detailed plan seen to date on how the military's space forces would transition to a new branch. She proposes a force of 13,000 people with an initial budget of about $3.3 billion.
READ MORE
| | |
| --- | --- |
| Graduates of SpaceX, NASA and Stanford are building an internet in space | |
CNBC
Alumni of SpaceX, NASA and Stanford University have formed a company that they say is on the cusp of building an internet-style service in space. Headquartered in California, the firm — Audacy — is on a mission to provide the first commercial space-based data relay system and has claimed the network should be fully operational by 2020. The U.S. Federal Communications Commission (FCC) authorized a crucial license to the firm earlier this month. The network will use two ground stations in San Francisco and Singapore to communicate with three linked Medium Earth Orbit (MEO) satellites that are scheduled to launch in 2019. MEO satellites are sited further away from Earth and so far have typically been used for GPS services.
READ MORE
| | |
| --- | --- |
| Designing space for scientific innovation | |
Physics World
World class equipment can be useless if the surrounding lab architecture is not conducive to optimum performance. Physics World talks to Wilson Architects, specialists in lab design, about some of the considerations unique to these highly technical spaces and how requirements are changing.
READ MORE
| | |
| --- | --- |
| The State of the Nanosatellite Industry | |
NewSpaceChicago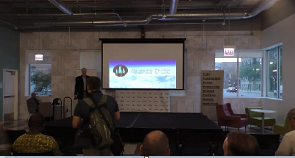 Nanosatellites have become a revolution in the satellite business because they are cost-effective, can be delivered faster, technology is improving rapidly, and they leverage advanced commercial off the shelf technologies. Typically not much larger than the size of a shoebox, nanosatellites can pack an amazing amount of functionality into a small space. READ MORE

---
Missed last week's issue? See which articles your colleagues read most.
Don't be left behind. Click here to see what else you missed.
---