| | |
| --- | --- |
| Nucleon Reverse Reconnaissance & Cyber Intelligence Services | |
Cybercure.ai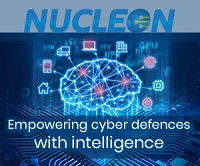 Nucleon is working to build a safer world. Today when the internet is connected to our daily life and we depend on the cyber world, it is very important to make sure the cyber world is secured as much as possible. Nucleon established cybercure.ai, an open network for anyone to gather information related to cyber incidents, whether its by consuming free indicators of cyber threats or by its popular blog explaining about the cyber security world. Nucleon is the first and only company that provides 0% false positives, which means that Nucleon offers cyber intelligence that clients can rely on and technologies that really stop threats. LISTEN TO PODCAST

---
| | |
| --- | --- |
| Tesla's 'Holographic Glass' patent makes way for better vehicle displays | |
Autobody News
Coupled with custom software that provides a quick, smartphone-like experience, Tesla's screens in its vehicles are already among the best in the auto industry. But in the spirit of the company's habit of constant innovation, it appears that Tesla is looking to improve the quality of its displays even more.
READ MORE
| | |
| --- | --- |
| Hotels are finding cheaper ways to connect to tech vendors | |
Yahoo!
Nearly every problem hoteliers face today has a promising fix created by a company somewhere. Too bad that smaller hotels often lack the time and money to connect to these solutions. But in a positive trend this year, several smaller hotel companies have been testing new tools that may offer cheaper ways for tech vendors to connect to their systems — and, in the same breath, foster faster innovation for guests.
READ MORE
| | |
| --- | --- |
| Open source hardware trends, Arm takes a different tack | |
Synced
The open-source movement that has driven software innovation is now creating a buzz in the microprocessor realm, thanks to the growing popularity of open-source microprocessor instruction set architecture RISC-V. Although the term "open source" conveys sentiments such as research sharing and community building, leading semiconductor IP provider Arm, which supports 95 percent of smartphone embedded processors, is not a fan.
READ MORE
| | |
| --- | --- |
| Smart ways your company can make the most out of IoT | |
RTInsights
The ultimate goal of an IoT implementation is to make connected things simple and secure so that it generates real-time data that can be analyzed and used to create desired business outcomes. In this age of digital transformation, companies are seeking ways to stay relevant and tap into new markets. With 86% of enterprises poised to invest more money in IoT this year, it's a great time to be part of the IoT supply chain.
READ MORE