---
| | |
| --- | --- |
| Deadline for nominations is November 21, 2018! | |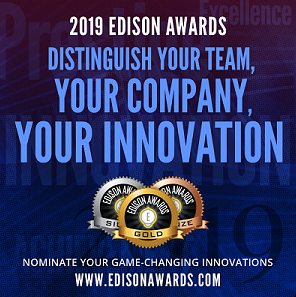 The Edison Best New Product Awards™ is an annual competition honoring excellence in new product and service development, marketing, human-centered design, and innovation. Past winners have included Fortune 500s, small start-ups, and everything in between.
| | |
| --- | --- |
|   |   INDUSTRY SHOWCASE — MOBILITY AND INNOVATION |
---
| | |
| --- | --- |
| Here's what happens when police pull over a driverless car | |
The Washington Post
As self-driving cars become increasingly common on American streets, an obvious question arises: What happens when police want to pull over a robot-driven vehicle that has no human backup driver? In their recently updated "Emergency Response Guide," Alphabet's Waymo — which has hundreds of autonomous Chrysler Pacifica minivans on the road in Phoenix — provides a protocol that may offer some glimpse of what is to come.
READ MORE
| | |
| --- | --- |
| What is the future of mobility? | |
Automobile
General Motors announced recently that it's getting into the electric bicycle business, just as The Wall Street Journal reported that the automaker is suspending the Book by Cadillac luxury subscription service. This appears a coincidence, but the two bits of news are not unrelated. They illustrate how GM, like all its major competitors, is trying to figure out what the transportation industry is going to look like in the coming decade.
READ MORE
| | |
| --- | --- |
| GM expanding Maven peer-to-peer car-sharing program | |
Automotive News
General Motors plans to expand its Maven peer-to-peer car-sharing initiative to 10 cities by the end of the year. The "Peer Cars" program allows owners and eligible lessees to rent their 2015 and newer Chevrolet, Buick, GMC and Cadillac cars and trucks to Maven users for cash. A pilot launched in July in Chicago, Detroit and Ann Arbor, Mich. — main hubs for Maven.
READ MORE
| | |
| --- | --- |
| NASA shares photo of 'flying saucer' crash | |
ExtremeTech
NASA's Astronomy Picture of the Day has been operating for years, but something odd appeared in the feed recently. A photo entitled "Flying Saucer Crash Lands in Utah Desert" hit the internet, and it does look a bit like the traditional flying saucer UFO. There are no aliens on the crashed saucer, though. The APOD authors are just being cheeky.
READ MORE
| | |
| --- | --- |
| Urban mobility for the modern worker | |
Forbes
With more and more of us living a gig lifestyle, the office can be anywhere with a power socket, an Internet connection and decent coffee. Whether a coworking space, a cafe, the local library or on-site with a client, there are any number of places you can call "home" at any given time.
READ MORE
| | |
| --- | --- |
| Innovation through collaboration | |
TechRadar
Over the past 50 years, the nature of innovation has changed significantly. In the 1970s innovation was primarily the domain of large companies – and it was often undirected. Unbelievable as it seems, I can recall a time when large companies simply asked research and development (R&D) staff to work on whatever interested them, in the hope that something commercial came from their work.
READ MORE
---
Missed last week's issue? See which articles your colleagues read most.
Don't be left behind. Click here to see what else you missed.
---