This message was sent to ##Email##
To advertise in this publication please click here
---
.
IAPSC NEWS
IAPSC Partner Webinar - Register Now!
IAPSC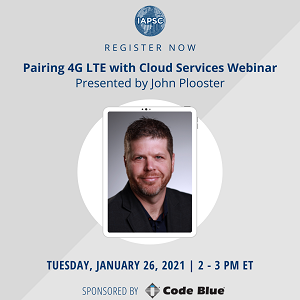 Working on a project that could use an emergency communication solution, aka the "blue light phone"? Are you dealing with infrastructure challenges, security concerns, or something more complex or intricate?

Code Blue Corporation has been the industry pioneering manufacturer for more than 30 years. Let us help with your project design requirements. We will be more than happy to help you find the products and services you need to deliver a smooth security deployment that is reliable and sophisticated.

Along with an overview of the features, advantages, and benefits of Code Blue solutions, the presentation will include:
Cloud and on-premise emergency communication solutions

Pairing 4G LTE with cloud services

Elevator connectivity using 4G LTE

Advanced solar-powered products

Systems management and diagnostics
Whether you're working on a current project design, researching for future projects - or simply curious about our products – our partner webinar is a great introduction to Code Blue and why We Are Security®.

This webinar has been approved for 1 CSC credit hour through IAPSC and 1 CPE credit hour through ASIS.
| | | |
| --- | --- | --- |
| | | Overtur™ is Allegion's digital environment for simplifying design, specification and management of door openings, including access control, between Divisions 8 and 28. It serves as a central hub of access control hardware information that allows team members to collaborate on a project in a single platform. |
It's Time To Renew Your IAPSC Membership
IAPSC
Thank you for your support in 2020! We want to remind you it is time to renew your IAPSC membership & reaffirmation for 2021 and maintain your connection to the leading association for independent professional security consultants.


Your membership and engagement are very important to us, so if you have a hardship, please let us know so we can discuss it further. If you should have any questions, please contact us at iapsc@iapsc.org.

We value your support & dedication to IAPSC and look forward to another successful year together.
IAPSC Webinars - Share Your Expertise
IAPSC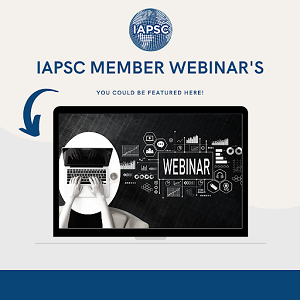 We hope you have enjoyed IAPSC's webinars as much as we have so far. If you missed any, click here to view our webinar library available in the IAPSC Member Portal.

As we look ahead to 2021, we are hoping to highlight IAPSC members and your wide range of knowledge in future webinars. Please find a couple of suggestions below we think our membership would be interested in learning more about.
Virtual Business Management - Successfully transitioning from in-person business to virtual business due to COVID-19. Many security consultants are struggling because they do not know how to continue business virtually, if your business has been doing well in this environment, share your tips & tricks!
Business Marketing - How to effectively advertise and market your business. Many businesses struggle because they don't know where to start and how to market correctly. If you have found success in this, we would love to hear what steps you took.
Using Your Network To Grow Your Business - Has your business found success networking with other IAPSC members? This is a tool that is commonly underutilized and other members would love to hear more about it.
If you or someone you know would be able to cover any of the proposed topics above or if you have another idea for an IAPSC Webinar, please contact us at iapsc@iapsc.org today.

We are looking forward to hearing from you!
 

Promoted by Murray Associates
Want to know what's happening in an organization? Easy. Just read the unsecured confidential paperwork left laying around. Confidential paperwork rarely gets the respect it deserves. Employee snoops and after-hours visitors are well aware of this common security breach. They'll target: unshredded trash, meeting paperwork abandoned in conference rooms, folders languishing on desktops awaiting signatures, or processing, items left in and around faxes, printers, and copiers, and information conveniently pinned to cubicle walls. Solving the problem is not difficult. This Confidential Paperwork Checklist makes it easy…



 
IAPSC 2021 Annual Conference – Safely Planned, Safely Executed
IAPSC
IAPSC's 2021 Annual Conference will be held June 7-9 at the Sheraton Gunter in San Antonio, Texas.

IAPSC staff is working closely with the venue to ensure we are proactively following safe meeting practices based on CDC and local guidelines. We look forward to sharing our plans with you. Please stay tuned for more details and registration coming soon! In the meantime, please visit IAPSC's website for hotel information.

Please contact IAPSC staff via email at iapsc@iapsc.org with any questions.
Set Yourself Apart and Become A Certified Security Consultant (CSC)!
IAPSC
Earning the Certified Security Consultant designation demonstrates your depth of knowledge, professional objectivity, integrity, and skills as a security consultant. The CSC requires a combination of experience, education, independence, ethics, and successfully passing an online examination.

The exam is open to both members and non-members as well as independent (external) and internal consultants. IAPSC members are pre-qualified to sit for the exam and receive a discount on the certification fee. Learn more here and apply today!




Webinar: Jan. 20, 2021 The Risk of Litigation in Healthcare Security
IAHSS
Hospitals, who are no strangers to lawsuits, often overlook suits involving premises liability and intentional torts but in reality have significant exposure to litigation surrounding their provision of "adequate" or "reasonable" security measures to protect their patients, visitors, contractors, employees, and the general public. This begs the question of what is an "adequate" amount of security for a healthcare organization? Security, and healthcare security in particular, is a situational discipline that does not lend itself to a one size fits all approach. What is a completely adequate level of security for one organization may be overkill for some and wholly inadequate for others based on the profile of the risks that they face.
---
.
GOVERNMENT
US Judiciary adds safeguards after potential breach in SolarWinds hack
BleepingComputer
The Administrative Office of the U.S. Courts is investigating a potential compromise of the federal courts' case management and electronic case files system, which stores millions of highly sensitive and confidential judiciary records. U.S. Judiciary is also working on immediately adding extra safeguards and security procedures to protect the highly sensitive court documents filed with the courts.
FBI, South Florida police team up to prevent trouble as inauguration nears
WTVJ-TV
The FBI and police departments in South Florida are joining forces to head off trouble here at home, in Tallahassee, and in the nation's capital in the coming days. Law enforcement teams worry social media messages can fuel another riot in Washington, D.C., and the FBI is putting out warnings about potential trouble.
---
.
BUSINESS & MANAGEMENT
How are cybercriminals stealing business data?
Security Boulevard
Thinking of business cybercrime risk as something that is created by cybercriminals targeting your business directly doesn't give you a complete picture of your company's real dangers. You're not getting a clear view of your actual risk unless you add another factor to the mix – the risk to your business that comes from cybercriminals stealing business data from other businesses.
New year, new cybersecurity concerns: A look at 2021's top trends
InfoSecurity Magazine
After an arduous 2020, the new year has finally arrived. While rollout of the COVID-19 vaccines suggests life could return to normal later in 2021, it's likely change will be slow in the near-term. This has implications for all aspects of our personal and professional lives, not the least of which is cybersecurity.
Cybersecurity insurance has a big problem
Harvard Business Review
In 2020, the world seemingly entered a new era of cyberattacks. Although there have been decades of viruses, breaches, and other forms of attack, last year saw increased bad actor sophistication, a propensity to pay in ransomware cases, and a broad swath of geopolitical uncertainty — conditions that hackers have found favorable.
---
.
IT SECURITY
Top health IT security challenges? Medical devices, cloud security
Health IT Security
Cloud security and connected medical device security are the biggest IT challenges healthcare entities are facing under the current landscape, according to 46% of IT leaders surveyed in a recent Masergy report, sponsored by Fortinet. Thirty-six percent of those leaders ranked the greatest challenge as the expanded remote and mobile workforce brought on by COVID-19.
Hackers leak COVID-19 vaccine data stolen during EU regulator breach
Health IT Security
The European Medicines Agency discovered hackers have posted online the COVID-19 vaccine data exfiltrated during an earlier cyberattack on the EU regulator. As previously reported, the hacked server contained vaccine data from pharma giants Pfizer and BioNTech.
7701 Las Colinas Ridge, Ste. 800, Irving, TX 75063