This message was sent to ##Email##
To advertise in this publication please click here
---
.
IAPSC NEWS
It's Time To Renew Your IAPSC Membership
IAPSC
Thank you for your support in 2020! We want to remind you it is time to renew your IAPSC membership & reaffirmation for 2021 and maintain your connection to the leading association for independent professional security consultants.


Your membership and engagement are very important to us, so if you have a hardship, please let us know so we can discuss it further. If you should have any questions, please contact us at iapsc@iapsc.org.

We value your support & dedication to IAPSC and look forward to another successful year together.
Have You Heard? IAPSC Has a New Communications Committee!
IAPSC
We took your feedback from the 2019 IAPSC Member Survey and are in the process of strengthening our virtual presence. To ensure we are providing the most relevant & timely content to our membership, we put together a short follow-up survey.

As we revamp our current newsletter, we would like to feature our members more often, in columns like "Ask a Security Consultant", "Project Spotlight" and "Member Profile", to name a few. If you would like to be included, please submit your content in the survey below.

Submit Your Feedback Now!
| | | |
| --- | --- | --- |
| | | Overtur™ is Allegion's digital environment for simplifying design, specification and management of door openings, including access control, between Divisions 8 and 28. It serves as a central hub of access control hardware information that allows team members to collaborate on a project in a single platform. |
IAPSC Webinars - Share Your Expertise
IAPSC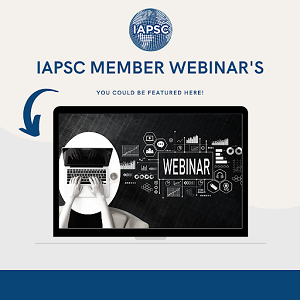 We hope you have enjoyed IAPSC's webinars as much as we have so far. If you missed any, click here to view our webinar library available in the IAPSC Member Portal.

As we look ahead to 2021, we are hoping to highlight IAPSC members and your wide range of knowledge in future webinars. Please find a couple of suggestions below we think our membership would be interested in learning more about.
• Virtual Business Management - Successfully transitioning from in-person business to virtual business due to COVID-19. Many security consultants are struggling because they do not know how to continue business virtually, if your business has been doing well in this environment, share your tips & tricks!
• Business Marketing - How to effectively advertise and market your business. Many businesses struggle because they don't know where to start and how to market correctly. If you have found success in this, we would love to hear what steps you took.
• Using Your Network To Grow Your Business - Has your business found success networking with other IAPSC members? This is a tool that is commonly underutilized and other members would love to hear more about it.
If you or someone you know would be able to cover any of the proposed topics above or if you have another idea for an IAPSC Webinar, please contact us at iapsc@iapsc.org today.

We are looking forward to hearing from you!
 

Promoted by Murray Associates
Want to know what's happening in an organization? Easy. Just read the unsecured confidential paperwork left laying around. Confidential paperwork rarely gets the respect it deserves. Employee snoops and after-hours visitors are well aware of this common security breach. They'll target: unshredded trash, meeting paperwork abandoned in conference rooms, folders languishing on desktops awaiting signatures, or processing, items left in and around faxes, printers, and copiers, and information conveniently pinned to cubicle walls. Solving the problem is not difficult. This Confidential Paperwork Checklist makes it easy…



 
Set Yourself Apart and Become A Certified Security Consultant (CSC)!
IAPSC
Earning the Certified Security Consultant designation demonstrates your depth of knowledge, professional objectivity, integrity, and skills as a security consultant. The CSC requires a combination of experience, education, independence, ethics, and successfully passing an online examination.

The exam is open to both members and non-members as well as independent (external) and internal consultants. IAPSC members are pre-qualified to sit for the exam and receive a discount on the certification fee. Learn more here and apply today!




---
.
GOVERNMENT
How State And Local Governments Can Reduce Cybersecurity Risk Without Spending Money
Security Boulevard
As the fallout from this past December's SolarWinds cyberattack settles, it is clear that the hack didn't just compromise federal organizations. The SolarWinds attack now appears to have infected government networks from federal departments all the way down to state and local government bodies. That a state-sponsored attack would proliferate beyond its initial targets is no surprise.
---
.
BUSINESS & MANAGEMENT
For Microsoft, Cybersecurity Has Become Bigger Than Business
CyberScoop
Since the cybersecurity firm FireEye hired Microsoft to help investigate a hack at the federal contractor SolarWinds, Microsoft has helped clean up the mess, alerted victims and distributed other details meant to fend off alleged Russian spies.
How To Prevent Your Remote Workers From Causing a Data Breach
Inc.
Even after the pandemic ends, many small and midsize businesses that were forced to send their employees home to work may choose not to bring some or all them back. Unfortunately, the ongoing transformation of American office life has presented a golden opportunity for cyber criminals.
How to Make Cybersecurity a Top Priority for Boards and CFOs
Harvard Business Review
Mark Hughes said: As an executive responsible for delivering security solutions to our global customers, I see cybersecurity moving higher on the agendas of boards of directors. At a time when most budgets are shrinking, worldwide security spending is expected to grow 8.1% annually and hit $174.7 billion by 2024, according to IDC.
---
.
IT SECURITY
Windows 10 Bug Corrupts Your Hard Drive on Seeing This File's Icon
BleepingComputer
An unpatched zero-day in Microsoft Windows 10 allows attackers to corrupt an NTFS-formatted hard drive with a one-line command. In multiple tests by BleepingComputer, this one-liner can be delivered hidden inside a Windows shortcut file, a ZIP archive, batch files or various other vectors to trigger hard drive errors that corrupt the filesystem index instantly.
Attackers Leave Stolen Credentials Searchable on Google
Dark Reading
The attackers behind a summer 2020 phishing campaign accidentally exposed the credentials they stole to the public Internet, where they could be discovered with a simple Google search. Last August, the operators launched a campaign with malicious emails disguised as Xerox scan notifications, Check Point researchers report in an analysis conducted alongside industrial cybersecurity firm Otorio.
Hackers Compromise Mimecast Certificate for Microsoft Authentication
CRN
A sophisticated threat actor compromised a Mimecast certificate used to authenticate several of the company's products to Microsoft 365 Exchange Web Services, Mimecast disclosed recently. The Lexington, Massachusetts-based email security vendor said the certificate used to authenticate its Sync and Recover, Continuity Monitor and Internal Email Protect products to Microsoft 365 has been compromised. Mimecast said it was recently informed of the compromise by Microsoft.
7701 Las Colinas Ridge, Ste. 800, Irving, TX 75063