| | |
| --- | --- |
| Leave your formal business attire at home — pack your island wear for this year's IAPSC Annual Conference! | |
IAPSC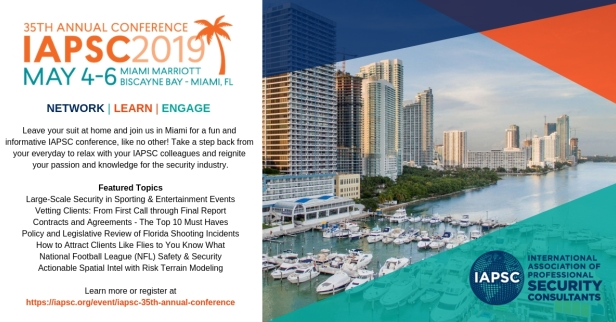 Register now for IAPSC's 35th Annual Conference in Miami, FL! Join fellow security consulting colleagues on May 4-6, 2019 for education and opportunities to network and to form new partnerships. The conference offers varied and relevant topics to meet the needs of our diverse membership and a fun "Havana Nights" themed dinner with local musicians and entertainers. Guests will have the opportunity to enjoy a unique tour of artwork featured throughout Miami's famous Wynwood Art District. Join us for a Miami casual atmosphere where everyone can engage in a combined session/exhibit room designed for maximum interaction, time and space to meet one-on-one with your consulting project associates and with manufacturing partners.

View the Conference Program HERE

REGISTER NOW

New IAPSC members save 50% on the registration fee to attend the Annual Conference. Apply now!

HOTEL: single rooms start at $173/night
| | |
| --- | --- |
| Outstanding Security Performance Awards (OSPAs): Nomination Period Opens on March 4th | |
IAPSC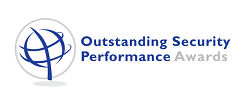 For the past three years, the Outstanding Security Performance Awards (OSPAs), have been recognizing and rewarding outstanding performance in the security sector. Three IAPSC members have been recipients of the OSPA's Outstanding Security Consultant award category: Michael A. Silva, CPP (2018), James H. Clark, CPP (2017) and David G. Aggleton, CPP, CSC (2016). This OSPA recognizes the security consultant – individual or company – who demonstrates outstanding performance in any aspect of security consulting.

Nominations for the 2019 awards opens on March 4. Founder of the OSPAs Professor Martin Gill said: "The security sector plays a vital role in safeguarding us all and it is encouraging to see so many individuals, teams and companies nominated for an OSPA." Gill further added "The OSPAs is currently running in 8 countries and I urge everyone who knows someone who is outstanding to commit to nominating them so the 'best' can be identified across the World." Award winners will be announced at a networking lunch at Global Security Exchange (GSX) in Chicago on Monday, September 9, 2019.
READ MORE
| | |
| --- | --- |
| Elliot A. Boxerbaum Memorial Security Design Project of the Year Award | |
IAPSC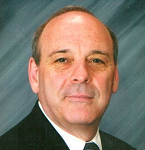 The Elliot A. Boxerbaum Memorial Award will be presented to a consulting or engineering company that designed and specified a completed security design project, accepted by the client in 2018 or Q1 2019. It will recognize collaboration, design excellence, uniqueness, creativity, and administration factors which contributed to a highly successful security project. The presentation will occur at CONSULT 2019, SecuritySpecifiers Technical Security Symposium on Sunday, October 20 in Bernalillo, New Mexico. The award is named for the late IAPSC member Elliot A. Boxerbaum, MA, CPP, CSC, founder and president of Security Risk Management Consultants, Inc. Elliot passed away in June 2014, from ALS, and, on behalf of the award-winning firm, a donation will be made to the ALS Association - Central & Southern Ohio Chapter by SecuritySpecifiers and CONSULT 2019. For entry information, contact: award@SecuritySpecifiers.com.
| | |
| --- | --- |
| IAPSC Launches Business Development and Marketing Interest Group | |
IAPSC

In order to increase networking opportunities by area of specialty, the IAPSC Board of Directors is proud to introduce a Business Development and Marketing Interest Group. IAPSC members Kevin Murray and Al Zajic are the Co-Chairs of this group. The IAPSC Interest Groups provide new opportunities for IAPSC members to survey the needs of the membership in their specialized areas and discuss current topics, best practices and guidelines, challenges members are experiencing, and trends in the industry. These groups may also be a forum for collaborating on working group projects, seminars, and networking activities. Each Interest Group will schedule quarterly 1-hour web-based audio/video conference calls, each with a specific agenda established in advance. Members will have the opportunity to call in and participate either by phone only or by audio/video connection via the Internet.

Join this Interest Group discussion on Friday, April 19 at 9AM Pacific Time; 12 noon Eastern Time.

REGISTER
| | |
| --- | --- |
| Advertise Opportunities in the IAPSC Newsletter | |
IAPSC
The IAPSC eNewsletter is distributed twice a month to security consultants nationwide for a circulation of over 5,000. Advertising opportunities are available here. Past issues can be viewed at: you can bookmark a URL to your browser to find current and past issues at: https://iapsc.org/news-events/newsletters/.
---
| | |
| --- | --- |
| Security Pros Agree Military Should Conduct Offensive Hacking | |
Dark Reading
It has been nearly six months since the Trump administration issued an order granting the military more authority to launch offensive cyber operations against American enemies. Sixty percent of cybersecurity experts approve of the decision, a new Washington Post study indicates.
READ MORE
---
| | |
| --- | --- |
| How Polls Are Hacked: What Every Business Should Know | |
CSO
The recent revelation that Michael Cohen paid to rig a presidential primary poll underscores the risks they present to business. Here's how to identify and prevent poll rigging.
READ MORE
| | |
| --- | --- |
| The Secret To Comprehensive, Scalable, And Effective Cybersecurity | |
Forbes
Businesses have struggled with cybersecurity since the dawn of cyber threats, but it is becoming more and more challenging as network infrastructure becomes more complex.
READ MORE
---
| | |
| --- | --- |
| Zero trust browsing: Protect your organization from its own users | |
Help Net Security
To the casual observer, the cyberattack landscape is constantly shifting. In recent years, the threats and scams have evolved from Nigerian princes to stranded travelers, pop-ups warning of outdated software to ransomware, cryptojacking, phishing and spear phishing.
READ MORE
| | |
| --- | --- |
| New Offensive USB Cable Allows Remote Attacks over WiFi | |
Bleeping Computer
Like a scene from a James Bond or Mission Impossible movie, a new offensive USB cable plugged into a computer could allow attackers to execute commands over WiFi as if they were using the computer's keyboard.
READ MORE