| | |
| --- | --- |
| IAPSC Board of Directors Election Opens March 20 | |
IAPSC
Watch your email for an electronic election ballot coming to all IAPSC members. We're going green, so no more paper ballots – members now have the opportunity to cast a ballot electronically until April 21. After April 21, members can vote in person at the IAPSC Annual Member Meeting on Monday, May 6, 2019 at 4:45 pm - 5:30 pm during the Annual Conference at the Marriott Biscayne Bay in Miami.

Candidates for Officers nominated for election to serve a one-year term:

• President: Lynda Buel
• Vice President: Michael Silva
• Treasurer: Michael D'Angelo
• Secretary: Rene Rieder, Jr.
• Immediate Past President (automatic): Alan Brockbank

Candidates nominated to serve a two-year term: Sean Ahrens, Chris Hayes, Ron Heil, Russell Kolins, William LaTorre, J. Kelly Stewart, Vince Vittatoe

The following are serving the second year of their two-year term on the Board and are not eligible for nomination at this time: Dave Aggleton, William Durso, Mitch Fenton, Hector Sanchez.
| | |
| --- | --- |
| Become a Certified Security Consultant (CSC) & Pave Your Path to Success | |
IAPSC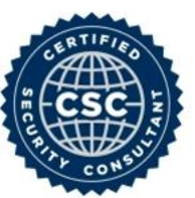 Earning the Certified Security Consultant designation demonstrates your depth of knowledge, professional objectivity, integrity, and skills as a security consultant. The CSC requires a combination of experience, education, independence, ethics, and successfully passing an online examination. The exam is open to both members and non-members as well as independent (external) and internal consultants. IAPSC members are pre-qualified to sit for the exam and receive a discount on the certification fee. Learn more here and apply today!

---
| | |
| --- | --- |
| Malware in Your Software: How Apps Can Compromise National Security | |
Inside Sources
State-sponsored hackers may or may not compromise hardware in the U.S. technology supply chain, but one cybersecurity firm says compromised software is definitely a national security risk — especially on mobile phones.
READ MORE
---
| | |
| --- | --- |
| Small Businesses In The Crosshairs Of Utility Fraud | |
PYMNTS
As small businesses (SMBs) heighten their awareness of fraud and cybercrime, fraudsters add to their own lists of tactics to steal money. Recent years have shed light on the Business Email Compromise (BEC), ransomware and phishing (just to name a few), with cybercriminals taking advantage of vulnerabilities in the B2B payments process to score.
READ MORE
| | |
| --- | --- |
| Retailers have become the top target for credential stuffing attacks | |
SECNews24
Retailers are now the favorite target of cybercriminals looking to cash in through easy, automated credential stuffing attacks. Point-of-sale (PoS) malware has been — and still is — a common way to infiltrate retail systems and steal valuable credit card data.
READ MORE
---
| | |
| --- | --- |
| Unintended Inferences: The Biggest Threat To Data Privacy And Cybersecurity | |
TechRepublic
Find out why data privacy breaches and scandals (think Facebook, Marriott and Yahoo), artificial intelligence and analytics have implications for how your business manages cybersecurity.
READ MORE
| | |
| --- | --- |
| Cybercriminals Earning Over $3B Annually Exploiting Social Platforms | |
HITBSecNews
Malware prevention company Bromium has announced the findings of an independent academic study into cybercriminals' increasingly aggressive exploitation of social media platforms.
READ MORE