This message was sent to ##Email##
To advertise in this publication please click here
| | | |
| --- | --- | --- |
| Whether you are new to IAPSC or have been a member for years, we invite you to join us for our member orientation & networking event being held virtually next week. | | Did you know IAPSC has a free Security Consulting RFP distribution service? When your project requires one of the many security consulting services our members offer, you will receive quality performance from every member of our elite security association. |
Historical Lock Video
IAPSC's President, Charles Sennewald, shares this historical and interesting video - take a minute to enjoy it below!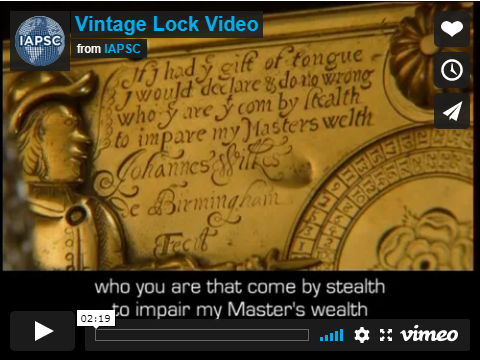 ---
.
INDUSTRY NEWS
Are 'disrupted' employees a new cybersecurity threat?
Security Magazine
As work-from-home policies persist for many enterprises amid the global pandemic – and may become permanent in the long run – the cyber threat landscape has become much more complicated. Current work arrangements are so far from the norm that a new threat has emerged: the "disrupted" employee. We are all familiar with the concept of a malicious employee actively trying to damage the company or exfiltrate data out of financial interest or revenge. Much more common is an employee who is fully compliant and follows your security policies as second nature.
| | | |
| --- | --- | --- |
| | | Overtur™ is Allegion's digital environment for simplifying design, specification and management of door openings, including access control, between Divisions 8 and 28. It serves as a central hub of access control hardware information that allows team members to collaborate on a project in a single platform. |
AI makes edge and IoT smarter
CIO
Lots of things are being called "smart" these days — everything from light bulbs to cars. Increasingly, the smarts come from some form of artificial intelligence or machine learning. AI is no longer limited to big central data centers. By moving it to the edge, enterprises can reduce latency, improve performance, reduce bandwidth requirements, and enable devices to continue to operate even when there's no network connectivity.
Workplace violence rises, particularly for nurses, frontline workers
Security Magazine
According to the Emergency Nurses Association, healthcare workers account for approximately 50% of all victims of workplace violence. Doctors are attacked as well, but according to statistics from the Emergency Nurses Association, not as often as nurses, likely because they often spend less time interacting with patients.
 

Promoted by Murray Associates
Eavesdrop from afar, merely by pointing at a window. The idea is alluring to some, horrific to others. News media reports of just such a bugging device, based on laser beam technology, have been circulating for some time now. A litany of claims "…can hear from miles away," and compound-claims "…through closed windows," culminates with the coda "No one is safe." Like the X-Ray vision glasses of comic book fame, laser beam eavesdropping claims tend to be exaggerated. But, like the concept of X-Ray vision, laser listening can be accomplished with the right equipment and conditions…



 
How to conduct a thorough risk assessment for your business
The Boss Magazine
Operating a business, whether large or small, comes with various types of risks. These possible hazards can potentially damage a business, while some may induce severe destruction that may be time-consuming and expensive to fix.
 

IAPSC News

---

Connect with IAPSC





Jason Zimmerman,

Director of Publishing, Multiview, 469-420-2686

 | Download media kit
Jacqueline Hansen, Senior Content Editor, Multiview, 469-420-2636| Contribute news

International Association of Professional Security Consultants
136 Everett Road  |  Albany NY, 12205 
415-536-0288  |  Contact Us  |  iapsc.org/

Click here to unsubscribe. 

Learn how to add us to your safe sender list so our emails get to your inbox.

















 
7701 Las Colinas Ridge, Ste. 800, Irving, TX 75063