This message was sent to ##Email##
To advertise in this publication please click here




Alan Brockbank Memorial Criminal Justice Scholarship" has been established through the CCC Foundation by the family of Alan Brockbank as a way to celebrate his amazing and accomplished life. Alan began his education at Clinton Community College, earning an Associate's degree in 1990. He returned in 2004, teaching as an adjunct instructor in CCC's Criminal Justice program.
| | | |
| --- | --- | --- |
| The policy of the IAPSC is to encourage all members to exercise their right to vote for the candidates of their choice. For more information & to complete the ballot, please visit the IAPSC Member Portal before 11:59 PM (EST) on October 7, 2021. | | Together with hotel staff, the IAPSC conference event space has been designed with physical distancing in mind. Attendees will have more personal space for the education sessions, meals, and throughout the exhibit hall. |
IAPSC 2021: Call for Nominations
IAPSC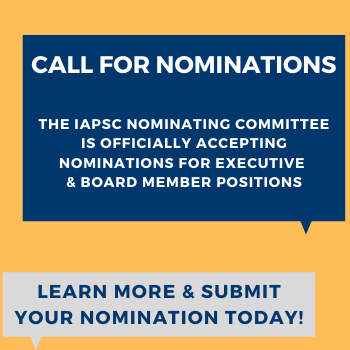 The IAPSC Nominating Committee is accepting nominations from members in good standing for the following positions for the term of beginning January 1, 2022, through December 31, 2024:
President;
Vice President;
Secretary;
Treasurer;
& Four (4) Board Seats
Candidates for any and all positions must be recommended by at least one IAPSC member in good standing. Please click here to provide this committee with your nominating choices by August 11, 2021, so that we may put out a slate of candidates for the election.
Set Yourself Apart and Become A Certified Security Consultant (CSC)
IAPSC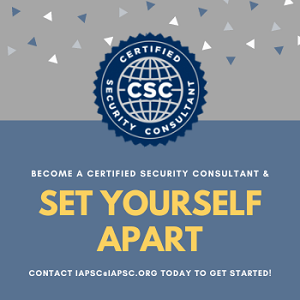 Earning the Certified Security Consultant (CSC) designation demonstrates your depth of knowledge, professional objectivity, integrity, and skills as a security consultant. The CSC requires a combination of experience, education, independence, ethics, and successfully passing an online examination.

The exam is open to both members & non-members as well as independent (external) & internal consultants. IAPSC members are pre-qualified to sit for the exam and receive a discount on the certification fee. Learn More




---
.
INDUSTRY NEWS
Cryptocurrency and anti-money laundering compliance
PECB Insights
This article presents an overview of anti-money laundering as applied to cryptocurrency. Cryptocurrency is young and efforts to adapt and apply the rules banks and financial institutions follow are still in the early stages.
 

Promoted by Murray Associates
Workplace recording threats can come from: employees, contractors, visitors, and economic spies. The Top Four motives for surreptitious recording are: Industrial Espionage, HR Issues, Blackmail, and Video Voyeurism. Sometimes secret recordings are leaked to the press just to effect change. Covert recordings are often made with: smartphones apps, fake key fobs, and mini voice recorders, disguised USB sticks, covert video cameras, and wireless microphones. Your organization may already have a written Workplace Recording Policy. If you do, dust it off and bring it up-to-date. If not, you need to create one. Keep the following points in mind…



 
My role in travel risk management and ISO 31030
PECB Insights
The subject of an internationally recognized standard for travel risk management has personal meaning to me because of my past involvement in this field and my role in the review of ISO 31030.
Cryptocurrency and anti-money laundering compliance
PECB Insights
This article presents an overview of anti-money laundering as applied to cryptocurrency. Cryptocurrency is young and efforts to adapt and apply the rules banks and financial institutions follow are still in the early stages.
The importance of an ISO standard for travel risk management
PECB Insights
Now that hundreds of millions have been vaccinated, people are beginning to travel again. In the U.S., TSA checkpoint travel numbers are increasing although not up to pre-COVID levels. On May 15, 2021, the TSA reported 1,453,267 travelers compared to 193,340 travelers on the same date in 2020.
How IoT is keeping businesses connected in an expanding network
HelpNet Security
IoT is advancing the technical lives of millions, with the network of connected devices becoming more populated with each passing year. From toothbrushes to toasters, IoT has reached new heights in terms of consumer devices. Look past these however, and it is clear that IoT is indeed a serious proposition for enterprises and an essential ingredient for successful business transformation.
WHO outlines principles for ethics in health AI
The Verge
The World Health Organization released a guidance document outlining six key principles for the ethical use of artificial intelligence in health. Twenty experts spent two years developing the guidance, which marks the first consensus report on AI ethics in healthcare settings.
IoT is the key to reopening safe workplaces
IoT Evolution
When the pandemic began in 2020, schools, stores, businesses, and even country borders around the world closed their doors. But, something special happened in the Internet of Things (IoT) universe. We saw IoT companies getting creative with using connected technology to help organizations not only address COVID-19 challenges, but emerge stronger as a result.
Study: COVID-19 shift to remote work led 80% of organizations to boost focus on identity security
Total Security Advisor
The Identity Defined Security Alliance (IDSA), a nonprofit that provides vendor-neutral resources to help organizations reduce the risk of a breach by combining identity and security strategies, has released a study titled, "2021 Trends in Securing Digital Identities," based on an online survey of over 500 IT decision makers. The report examines the impact that the COVID-19 pandemic and increase in remote work had on identity and access management (IAM) in the enterprise, as well as the implementation of identity-focused security strategies. It also provides several key takeaways.
 

IAPSC News

---

Connect with IAPSC





Jason Zimmerman,

Director of Publishing, Multiview, 469-420-2686

 | Download media kit
Jacqueline Hansen, Senior Content Editor, Multiview, 469-420-2636| Contribute news

International Association of Professional Security Consultants
136 Everett Road  |  Albany NY, 12205 
518-694-4578  |  Contact Us  |  iapsc.org/

Click here to unsubscribe. 

Learn how to add us to your safe sender list so our emails get to your inbox.

















 
7701 Las Colinas Ridge, Ste. 800, Irving, TX 75063