This message was sent to ##Email##
To advertise in this publication please click here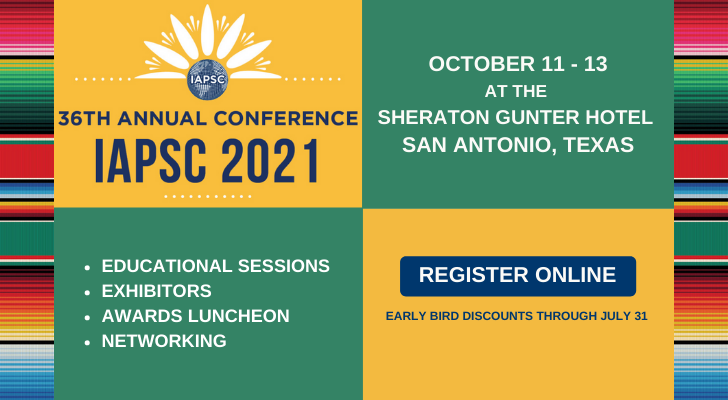 Registration is live for The 36th Annual IAPSC Conference in San Antonio, Texas at the Sheraton Gunter Hotel October 11 - 13. Purchase discounted early bird tickets through the end of July.
Register to hear from a panel of IAPSC's leading security technology experts on the latest trends. This webinar has been approved for one CSC credit hour through IAPSC and one CPE credit hour through ASIS. See you online Thursday, July 29th at 2:00 p.m. EST.



The IAPSC Nominating Committee is accepting nominations from members in good standing for the following positions. Board terms will run two years starting January 1, 2022, through December 31, 2024:

President;
Vice President;
Secretary;
Treasurer;
& Four (4) Board Seats

Candidates for any and all positions must be recommended by at least one IAPSC member in good standing. Please click here to provide this committee with your nominating choices by August 11, 2021, for the slate of candidates.


New Member Orientation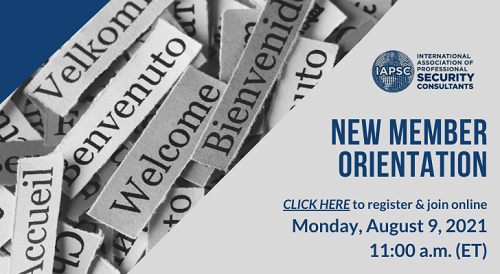 ATTENTION new members: register to attend the virtual orientation. We will discuss the best IAPSC resources and membership benefits to participate in special interest groups and committees, exclusive education, certification, and networking opportunities, and more. Bring questions with you or email IAPSC@IAPSC.org. Hope to see you there!
 

Promoted by Murray Associates
Workplace recording threats can come from: employees, contractors, visitors, and economic spies. The Top Four motives for surreptitious recording are: Industrial Espionage, HR Issues, Blackmail, and Video Voyeurism. Sometimes secret recordings are leaked to the press just to effect change. Covert recordings are often made with: smartphones apps, fake key fobs, and mini voice recorders, disguised USB sticks, covert video cameras, and wireless microphones. Your organization may already have a written Workplace Recording Policy. If you do, dust it off and bring it up-to-date. If not, you need to create one. Keep the following points in mind…



 
Tapping Into IAPSC's Rich Pool of Talent
Did you know that IAPSC members collectively have over 3,000 years of law enforcement and security experience? And that the average IAPSC member has at least 20 years of experience, with some having 40 years of experience or more? And that the range of skills possessed by members is incredible and covers nearly every specialized aspect of security?
---
.
INDUSTRY NEWS
Violent Crime Typology and Continuum
CRIMRXIV
Violent crimes represent a small but significant portion of the reported crime in the United States. Categorically, violent crimes occur at a much lower frequency as compared to property crimes and disorder crimes. However, violent crimes can cause significant harm.
Your access control system is at risk
Security Watch
Let's face it. There are probably thousands of opportunities to threaten the security of an existing access control system. It's an inherent dynamic of the technology–hacker relationship. We make it, they break it. Unfortunately, when technology is compromised it often means an upgrade is in order; not only for the technology itself but for the hardware that supports it.
The state of IoT security: Enterprises are leaving their front doors unlocked
IoT For All
Companies are spending billions to protect their networks as they move to the cloud. Bloomberg expects cybersecurity spending to exceed $200 billion a year by 2024, with network and endpoint security segments likely to see the most significant growth. The majority of that spending is dedicated to migrating from on-premises networks to cloud networks and the security challenges that come with that move.
One third of small businesses experience workplace violence
Facility Executive
Workplace violence has occurred at one-third of small businesses, and many owners and managers worry the problem is getting worse, according to a new survey from HSB. The poll by Zogby Analytics found 34% of small and mid-size businesses that responded had experienced at least one serious employee threat or violent incident.
Physical threats increase as employees return to the office
HelpNet Security
As COVID-19 vaccinations continue, companies embrace hybrid work, employees return to the office and the U.S. opens up, violence and physical threats to businesses are occurring at an unsettling, record-high pace, according to the Ontic Center for Protective Intelligence.
As the use of AI spreads, congress looks to rein it in
WIRED
There's a bipartisan agreement in Washington that the U.S. government should do more to support development of artificial intelligence technology. The Trump administration redirected research funding towards AI programs; President Biden's science advisor Eric Lander said of AI last month that "America's economic prosperity hinges on foundational investments in our technological leadership."
 

IAPSC News

---

Connect with IAPSC





Jason Zimmerman,

Director of Publishing, Multiview, 469-420-2686

 | Download media kit
Jacqueline Hansen, Senior Content Editor, Multiview, 469-420-2636| Contribute news

International Association of Professional Security Consultants
136 Everett Road  |  Albany NY, 12205 
415-536-0288  |  Contact Us  |  iapsc.org/

Click here to unsubscribe. 

Learn how to add us to your safe sender list so our emails get to your inbox.

















 
7701 Las Colinas Ridge, Ste. 800, Irving, TX 75063