This message was sent to ##Email##
To advertise in this publication please click here




Alan Brockbank Memorial Criminal Justice Scholarship" has been established through the CCC Foundation by the family of Alan Brockbank as a way to celebrate his amazing and accomplished life. Alan began his education at Clinton Community College, earning an Associate's degree in 1990. He returned in 2004, teaching as an adjunct instructor in CCC's Criminal Justice program.
| | | |
| --- | --- | --- |
| The policy of the IAPSC is to encourage all members to exercise their right to vote for the candidates of their choice. For more information & to complete the ballot, please visit the IAPSC Member Portal before 11:59 PM (EST) on October 7, 2021. | | Together with hotel staff, the IAPSC conference event space has been designed with physical distancing in mind. Attendees will have more personal space for the education sessions, meals, and throughout the exhibit hall. |
Key highlights
Check out the featured articles from IAPSC. Scroll through to hear more or click the titles below and be directed to the website.
Have newsworthy industry content to share? Email IAPSC@IAPSC.org.
IAPSC member spotlight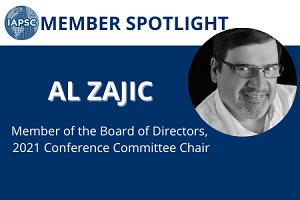 Hear from Al Zajic, Member of the Board of Directors & Conference Committee Chair, on his tenure with IAPSC & why he is looking forward to this year's Annual Conference in San Antonio.
IAPSC new member orientation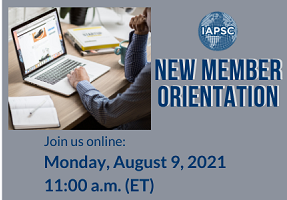 New & senior IAPSC members are welcome to join orientation next week. Refresh your knowledge of member resources & exclusive benefits. Registration is encouraged.
 

Promoted by Murray Associates
This week one of our clients frantically called us and said, "I think I found a bug! Now what should I do?" This happened in between our scheduled inspections for them. The device was a small digital voice recorder, with voice activation capability, taped inside a tall metal wastepaper can in the Board Room. The Board Meeting was scheduled for the following morning. We responded on an emergency basis. Unfortunately, the eavesdropping device was removed before they called us for help. This brings up an important point. If you find a bug, what should you do? Do these thing…



 
---
.
INDUSTRY NEWS
AI doesn't have to be too complicated or expensive for your business
Harvard Business Review
For most companies that are interested in using AI, there isn't a clear model to follow. The approach to building AI used by massive internet companies like Amazon and Google just doesn't translate — most companies don't have overflowing troves of data they can use to train models.
Harmonizing security and connectivity in a digital world
IoT For All
Here's an interesting exercise to start the day: Look at your checklist, calendar, or just your own mental plan and ask yourself how many items on the list you can accomplish without opening a device, being logged in to a digital account, or simply accessing some stream of data.
How companies oversee IoT device management
Built In BETA
Companies have been using Internet of Things (IoT) devices for a long time, from agricultural companies monitoring weather and crop conditions to industrial companies tracking the output and safety within manufacturing facilities.
IoT devices and apps are changing med management for the better
Venture Beat
If you've ever felt like every doctor's appointment ends with a new prescription, you're probably a little overwhelmed by trying to keep your medications straight. Which ones are okay to take at night and which ones have to be taken with breakfast? Did you order a refill for that medication that's about to run out? And did you even take those pills this morning like you were supposed to?
Steps to prevent violence on the job
OH&S
Americans face workplace violence each and every year. According to a press release, the first step in preventing workplace violence is realizing and recognizing signs of stress. The second step is to make sure workers have a plan in place to respond to violence if it occurs in the workplace. OSHA defines workplace violence as "any act or threat of physical violence, harassment, intimidation or other threatening disruptive behavior that occurs at the workplace."
 

IAPSC News

---

Connect with IAPSC





Jason Zimmerman,

Director of Publishing, Multiview, 469-420-2686

 | Download media kit
Jacqueline Hansen, Senior Content Editor, Multiview, 469-420-2636| Contribute news

International Association of Professional Security Consultants
136 Everett Road  |  Albany NY, 12205 
518-694-4578  |  Contact Us  |  iapsc.org/

Click here to unsubscribe. 

Learn how to add us to your safe sender list so our emails get to your inbox.

















 
7701 Las Colinas Ridge, Ste. 800, Irving, TX 75063