| | |
| --- | --- |
| Save the Date: IAPSC's 35th Annual Conference | |
IAPSC



May 4-6, 2019 | Marriott Biscayne Bay, Miami, FL

IAPSC Members: Keep an eye on your email inbox for a special invitation from the conference planning committee later this week!

2019 Conference Planning Committee: Al Zajic - Conference Chair; Michael D' Angelo; Mitch Fenton; Kelly Klatt; William Latorre; Frank Pisciotta; Hector Sanchez; Karim Vellani.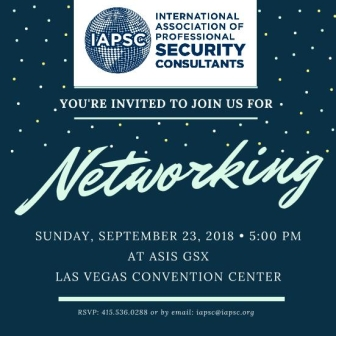 | | |
| --- | --- |
| Join IAPSC for Networking in Las Vegas | |
IAPSC
If you're headed to Las Vegas for GSX, ASIS' annual conference, September 23-27, 2018, join your IAPSC colleagues for a Sunday evening networking reception on September 23, 2018 in Room N218 at the Las Vegas Convention Center. RSVP required to 415.536.0288 or iapsc@iapsc.org

Also, members are needed to assist at the IAPSC table in the exhibit hall. If you can spare an hour or two to help out at the table sharing info about security consulting and the IAPSC, let us know by emailing: iapsc@iapsc.org


| | |
| --- | --- |
| Join an IAPSC interest group this summer! | |
IAPSC
If you're interested in connecting with other members on topics of mutual interest, we invite you to join us on GoToMeeting for our Monthly meetings.

Forensics and Security Management Interest Group
Friday, August 17 @ 9:00 AM PT; 12 Noon ET

Security Design and Engineering Interest Group
Friday, September 21 @ 10:00 AM; 12 Noon ET

Cybersecurity Interest Group
Friday, October 19 @ 10:00 AM; 12 Noon ET

For more info and to RSVP, go to: https://iapsc.org/events/
| | |
| --- | --- |
| Successful Security Consulting Seminar | |
IAPSC
Sunday, 23 September | 8:00 am – 5:00 pm

Looking to successfully launch a new security consultant practice or jump-start an existing one? Back by popular demand, this unique program can show you how! Learn from seasoned consultants how to develop and market yourself and avoid costly mistakes that can sabotage your success. Gain practical information to save you time, money, and frustration. You'll return home with sample proposals and reports that give you a clear advantage when competing for a security consulting assignment.

Registration starts at $250 for this one-day pre-conference program offered at ASIS' Annual Conference: GSX in Las Vegas, NV.

Learn More here.

Register Now here.
---
| | |
| --- | --- |
| Advice for the U.S. government: Stop talking and start doing | |
Cyberscoop
When it comes to cybersecurity, the United States government is great at talking the talk, yet consistently falls short of walking the walk. Unless the U.S. government actually implements the cybersecurity best practices it touts, the nation and its citizens will continue to be at an increased risk of a cyberattack.
READ MORE
---
| | |
| --- | --- |
| 5 ways small security teams can defend like fortune 500 companies | |
Dark Reading
Your security budget is small. You know this. You have a staff of three that must do "all things cybersecurity" for a midsize or large enterprise. Or maybe you're a solo security manager whose outsourced security monitoring service only occasionally sends real incidents. You might even be that IT guy who is expected to wear multiple security hats for a few hours each week.
READ MORE
| | |
| --- | --- |
| Cybersecurity & business: Not just an IT problem | |
Business 2 Community
Connected technology, Internet-enabled (IoT) devices and other digital services each come with their own security risks. But when used in concert with businesses and their data, these technologies can present more substantial cybersecurity risks than those used for personal use.
READ MORE
---
| | |
| --- | --- |
| Under GDPR, data breach reports in UK have quadrupled | |
Bank Info Security
GDPR imposes a number of new requirements on organizations that handle personal information. But one of the biggest changes is that organizations must track all breaches, as well as report certain types of breaches to authorities "within 72 hours of becoming aware of the breach, where feasible," according to the Information Commissioner's Office, which is the U.K.'s data privacy watchdog and GDPR enforcer.
READ MORE
| | |
| --- | --- |
| Stop overextending your cybersecurity staff | |
FCW
The proliferation of connected services and devices continues to transform both our professional and personal lives, but these valuable tools are also exerting unprecedented pressure on cybersecurity for organizations across government and industry. The rapid adoption of "smart" products — coupled with an explosion of hacks and breaches — has resulted in a critical shortage of skilled cybersecurity professionals.
READ MORE
| | |
| --- | --- |
| Major websites still fail to steer users towards better passwords | |
Help Net Security
The death of passwords is predicted with regular frequency, but we're still to see it actually happen. It's possible that it will happen one day but, in the meantime, it would be helpful if popular online services would steer users towards choosing better passwords.
READ MORE