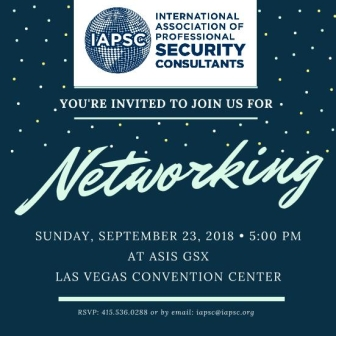 | | |
| --- | --- |
| Join IAPSC for Networking in Las Vegas | |
IAPSC
If you're headed to Las Vegas for GSX, ASIS' annual conference, September 23-27, 2018, join your IAPSC colleagues for a Sunday evening networking reception on September 23, 2018 in Room N218 at the Las Vegas Convention Center. RSVP required to 415.536.0288 or iapsc@iapsc.org


| | |
| --- | --- |
| Assist at the IAPSC Membership Booth during ASIS | |
IAPSC
IAPSC members are needed to assist at the IAPSC table in the exhibit hall at ASIS in Las Vegas, September 25-27. If you can spare an hour or two to help out at the table sharing info about the benefits of IAPSC, let us know by emailing: iapsc@iapsc.org

The IAPSC membership booth will be Exhibit Hall Booth # 4124.
| | |
| --- | --- |
| Successful Security Consulting Seminar | |
IAPSC
Sunday, 23 September | 8:00 am – 5:00 pm

Looking to successfully launch a new security consultant practice or jump-start an existing one? Back by popular demand, this unique program can show you how! Learn from seasoned consultants how to develop and market yourself and avoid costly mistakes that can sabotage your success. Gain practical information to save you time, money, and frustration. You'll return home with sample proposals and reports that give you a clear advantage when competing for a security consulting assignment.

Registration starts at $250 for this one-day pre-conference program offered at ASIS' Annual Conference: GSX in Las Vegas, NV.

Learn More here.

Register Now here.
| | |
| --- | --- |
| Become a Certified Security Consultant (CSC) & Pave Your Path to Success | |
IAPSC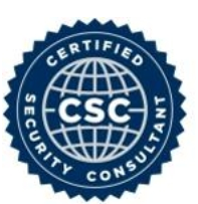 Earning the Certified Security Consultant designation demonstrates your depth of knowledge, professional objectivity, integrity, and skills as a security consultant. The CSC requires a combination of experience, education, independence, ethics, and successfully passing an online examination. The exam is open to both members and non-members as well as independent (external) and internal consultants. IAPSC members are pre-qualified to sit for the exam and receive a discount on the certification fee. Learn more here and apply today!

| | |
| --- | --- |
| Join an IAPSC interest group this summer! | |
IAPSC
If you're interested in connecting with other members on topics of mutual interest, we invite you to join us on GoToMeeting for our Monthly meetings.

Security Design and Engineering Interest Group
Friday, September 21 @ 10:00 AM; 1:00 PM ET

Cybersecurity Interest Group
Friday, October 19 @ 9:00 AM; 12 Noon ET

Forensics and Security Management Interest Group
Friday, November 16 @ 9:00 AM PT; 12 Noon ET

For more info and to RSVP, go to: https://iapsc.org/events/
---
| | |
| --- | --- |
| Def Con hackers couldn't crack a mock voter database; It's a rare bright spot for election security | |
The Washington Post
They tried all weekend to hack the database, which was modeled after a real Ohio county's and bolstered with extra layers of digital defenses. One got close, but nobody was able to manipulate the voter information inside.
READ MORE
---
| | |
| --- | --- |
| 3 reasons companies fail to assess the scope of a data breach | |
CSO
First comes the embarrassing breach announcement. Then, a few days or weeks later, another one — a few million stolen records were missed the first time around. Then another announcement, with another upward correction. With each new revelation, the hacked organization loses credibility and faces greater liability.
READ MORE
---
| | |
| --- | --- |
| 52 percent of businesses have weak cybersecurity vulnerability assessment strategies | |
TechRepublic
While 48 percent of companies are practicing mature cybersecurity vulnerability assessments (VA), 52 percent of enterprises are not, according to a recent study from Tenable. The new study was inspired by Tenable's previous research report, which found a seven-day gap between how long it takes for attackers to gain access to an exploit, and how long it takes companies to realize an attack has occurred, according to a Tenable blog post.
READ MORE
| | |
| --- | --- |
| That fax machine you never use could be a massive cybersecurity risk; Here's how | |
Fortune
That fax machine you don't really know how to use? Turns out, it could let hackers access every file in your network. Using only a phone line and fax machine, researchers at Check Point Research were able to gain access to every computer connected to a Hewlett Packard all-in-one printer.
READ MORE
| | |
| --- | --- |
| 10 threats lurking on the dark web | |
Dark Reading
Security pros can never rest. Even with the operation last year that took down AlphaBay and Hansa, industry experts say many groups continue to trade in malware, ransomware, and stolen credentials on the Dark Web, and that the criminals who were caught simply reorganized.
READ MORE