This message was sent to ##Email##
To advertise in this publication please click here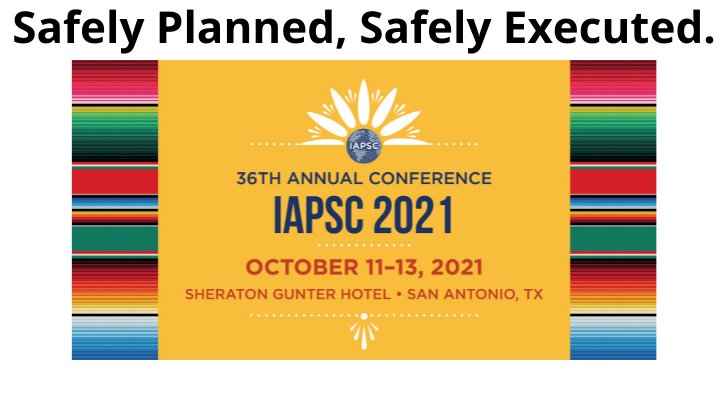 The top priority for IAPSC is to put on a comfortable & safe Annual Conference in downtown San Antonio, TX at the Sheraton Gunter Hotel on October 11-13.
| | | |
| --- | --- | --- |
| IAPSC member Stacey Porter shares insight that flying in 2021 has been a different experience. As you prepare for the IAPSC Conference in San Antonio, check out his tips from traveling in a post-pandemic environment | | IAPSC changed their main line. Please update your records to 518-694-4578. |
Key highlights
Check out the featured articles from IAPSC. Scroll through to hear more or click the titles below and be directed to the website.
Have newsworthy industry content to share? Email IAPSC@IAPSC.org.
---
.
INDUSTRY NEWS
Risk assessment needs a redo
Security Magazine
The current state of risk assessments is in serious need of an upgrade. Risk assessment isn't the sexiest topic, but it can't be ignored, especially when you're trying to pass an audit or protect your business from serious threats. It's a fundamental concept but one that isn't being done well and often, or many times isn't being done at all.
 

Promoted by Murray Associates
Who Cares About Voice Recorder Size? Lots of folks, for many and varied reasons… Sneaky people who want to eavesdrop and entrap others. Anyone worried about being recorded. Law enforcement detectives and Private Investigators also care. They might not have the budget necessary for a covert NAGRA Dollar Bill recorder, but do have the smarts to slap a TileRec between two one-dollar bills. Technical Surveillance Countermeasures (TSCM) Technicians whose job it is to find illegal, electronic surveillance devices also care. It all boils down to these two things: People hiding voice recorders, and… thwarting the people doing it…



 
Joint Commission Issues New Workplace Violence Standards
EHS Daily Advisor
The Joint Commission, which oversees accreditation of hospitals and other healthcare facilities, issued new and revised workplace violence standards that take effect January 1, 2022. The workplace violence prevention standards will apply to all Joint Commission-accredited hospitals and critical access hospitals.
The AI Revolution Is Happening Now
Forbes
The World Economic Forum attributes the Fourth Industrial Revolution (4IR) to the growth and consolidation of technologies such as artificial intelligence (AI), machine learning (ML), deep learning (DL), the Internet of Things (IoT) and more. Even though we can confidently claim that artificial intelligence has impacted every facet of different industries, it would still be an understatement.
How to make AI more ethical
VentureBeat
A recent Pew Research study found that a majority of experts and advocates worry AI will continue to focus on optimizing profits and social control and will not likely develop an ethical basis within the next decade.
 

IAPSC News

---

Connect with IAPSC





Jason Zimmerman,

Director of Publishing, Multiview, 469-420-2686

 | Download media kit
Jacqueline Hansen, Senior Content Editor, Multiview, 469-420-2636| Contribute news

International Association of Professional Security Consultants
136 Everett Road  |  Albany NY, 12205 
518-694-4578  |  Contact Us  |  iapsc.org/

Click here to unsubscribe. 

Learn how to add us to your safe sender list so our emails get to your inbox.

















 
7701 Las Colinas Ridge, Ste. 800, Irving, TX 75063