| | |
| --- | --- |
| IAPSC presents Successful Security Consulting seminar in Las Vegas | |
IAPSC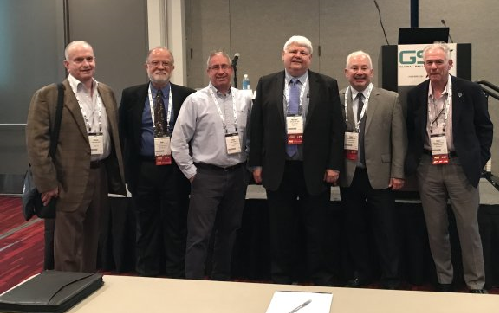 Over 70 prospective security consultants attended the IAPSC's annual Successful Security Consulting (SSC) seminar at ASIS' GSX in Las Vegas last week. The faculty of seasoned IAPSC member professionals included Tommy Burns, Ken Wheatley, Frank Pisciotta, Michael Silva, Alan Brockbank, and David Aggleton (pictured above, left to right). IAPSC would also like to extend a special thanks to Michael Silva for coordinating the effort as chair of the IAPSC's Education Committee.

SAVE THE DATE! Mark your calendar for the next IAPSC Successful Security Consulting seminar – May 4, 2019 in Miami, FL. This program will be offered as a pre-seminar at the IAPSC Annual Conference. Details and registration coming later this year.
| | |
| --- | --- |
| The IAPSC Awards Committee is now accepting nominations for 2019 | |
IAPSC
The Awards Committee is responsible for nominating candidates for these awards:

The Charles A. Sennewald Distinguished Service Accolade is awarded by the IAPSC to a security executive, educator, author, or industry leader who has made an outstanding and significant contribution to the security profession.

Meritorious Life Membership is awarded to an IAPSC member in good standing for more than 10 years who has made significant and measurable contributions to the association through their service and leadership.

The Outstanding Security Performance Awards (OSPAs) recognize and reward companies and individuals across the security sector in 11 categories including Outstanding Security Consultant.

Nominations should be submitted to the attention of Awards Chair Dave Aggleton via iapsc@iapsc.org. Each nomination must include the CV for the candidate and justification for their nomination. Meritorious candidates must be nominated by two other members.
| | |
| --- | --- |
| Nominations for the 2019 IAPSC Board of Directors Election | |
IAPSC
The Nominating Committee is now accepting nominations of members in good standing for the IAPSC Board of Directors election in 2019. Offices of President, Vice President, Secretary, and Treasurer will serve a for the one (1) year term 2019-2020. Elected Directors will serve a two (2) year term 2019-2021. The election will be held and new terms will begin at the Annual Members Business Meeting during the IAPSC Annual Conference on May 4-6, 2019 in Miami, FL. Nominations are due by February 1, 2019. For more information or to submit a nomination, please contact iapsc@iapsc.org.
| | |
| --- | --- |
| Welcome New IAPSC Member: Walter R. Simmons | |
IAPSC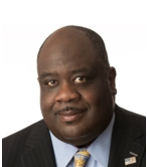 From working at the prestigious Columbia University to leading innovative teams for Johns Hopkins Medicine and Johns Hopkins University, Walter Simmons has amassed over 25 years of Corporate Security expertise in organizational development, assessing security infrastructure vulnerabilities, analyzing and mitigating risk, studying and analyzing workflow processes and employing innovative, cost-saving business operations solutions.

Walter possesses expert knowledge in assessing program/process maturity, developing, designing and deploying "Best Practice" security practices and setting strategic direction to create global learning ecosystems that support the building of organized and high-performing teams. View his IAPSC Profile
| | |
| --- | --- |
| IAPSC's 35th Annual Conference | |
IAPSC

The IAPSC Annual Conference is coming up on May 4-6, 2019 in Miami, FL.

You're invited to join your IAPSC Colleagues for one of the premier conferences for security professionals. You'll participate in two full days of education to keep you at the forefront of your industry with plenty of opportunities to network, form partnerships, and meet with top of the line security manufacturers.

Discussion Highlights:
• Winning RFPs
• Trends in Security for Nightclubs and Bars
• Eeny, Meeny, Miny, Moe – Where Do I Begin?
• The Top 10 Contract/Agreement Must Haves
• Parkland Shooting: An Update and Lessons Learned
• Vetting Forensic Cases: From First Call Through Trial
• Criminologist: Crimes and Neighborhoods
• The Value of Networking as a Security Consultant

Download the promotional flyer [PDF]

Registration will open in Fall 2018. Visit iapsc.org for the latest program updates and conference information.


| | |
| --- | --- |
| IAPSC Annual Sponsorship Opportunities are now available for 2019! | |
IAPSC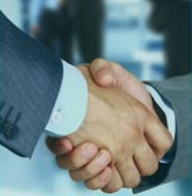 Why become an IAPSC sponsor? Because partnership with the International Association of Professional Security Consultants (IAPSC) is your opportunity to introduce your organization to one of the most well-respected security associations in the world! Our members have the capacity to influence millions in security spending. A partnership with the IAPSC is your opportunity to connect with best-in-class security consultants in a variety of specialties. The IAPSC Annual Sponsorship model offers our sponsoring partners year-round exposure and networking with our consultant members.

Download the brochure to learn more.

| | |
| --- | --- |
| IAPSC Member Benefit Highlight: Best Practices | |
IAPSC
Established in 1984, it is the mission of the IAPSC to continually advance the practice of the security consulting profession. One critical means by which this mission is to be achieved is through the establishment of consensus-based and peer reviewed Best Practices where the knowledge, expertise, and experience of the IAPSC membership, along with that of the security industry in general, is utilized.

The Best Practice documents currently available through the IAPSC reflect the recommended methods for Detention of Shoplifting Suspects, Forensic Methodology, and Use of Force by Security Personnel.

Members have FREE access to these documents by logging in to the Members' Section and then visiting the Members' Library HERE.

Non-members may purchase the individual documents HERE.
| | |
| --- | --- |
| Become a Certified Security Consultant (CSC) & Pave Your Path to Success | |
IAPSC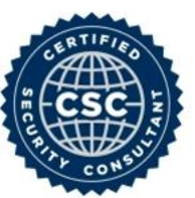 Earning the Certified Security Consultant designation demonstrates your depth of knowledge, professional objectivity, integrity, and skills as a security consultant. The CSC requires a combination of experience, education, independence, ethics, and successfully passing an online examination. The exam is open to both members and non-members as well as independent (external) and internal consultants. IAPSC members are pre-qualified to sit for the exam and receive a discount on the certification fee. Learn more here and apply today!

| | |
| --- | --- |
| Join an IAPSC Interest Group | |
IAPSC
If you're interested in connecting with other members on topics of mutual interest, we invite you to join us on GoToMeeting for our Monthly meetings.

Cybersecurity Interest Group
Friday, October 19 @ 9:00 AM; 12 Noon ET

Forensics and Security Management Interest Group
Friday, November 16 @ 9:00 AM PT; 12 Noon ET

Security Design and Engineering Interest Group
Friday, December 21 @ 10:00 AM PT; 1:00 PM ET

For more info and to RSVP, go to: https://iapsc.org/events/
---
| | |
| --- | --- |
| White House Issues National Cyber Strategy | |
Info Security
Taking a critical step forward in national cyber defense, the White House recently published the National Cyber Strategy, aimed at strengthening America's cybersecurity capabilities. President Trump wrote, "With the release of this National Cyber Strategy, the United States now has its fully articulated cyber strategy in 15 years."
READ MORE
---
| | |
| --- | --- |
| A law enforcement view of emerging cybercrime threats | |
Help Net Security
Cybercriminals are adopting creative new techniques to target their victims at an unprecedented pace and are constantly seeking methods to avoid law enforcement detection. To stay ahead of them, law enforcement should target cybercriminals offering "off-the-shelf" cyber-attack services or products to make it more difficult for low-level cybercriminals to carry out high-level attacks.
READ MORE
| | |
| --- | --- |
| Beware of Hurricane Florence Relief Scams | |
Krebs on Security
If you're thinking of donating money to help victims of Hurricane Florence, please do your research on the charitable entity before giving: A slew of new domains apparently related to Hurricane Florence relief efforts are now accepting donations on behalf of victims without much accountability for how the money will be spent.
READ MORE
---
| | |
| --- | --- |
| New Cold Boot Attack Gives Hackers the Keys To PCs, Macs | |
Dark Reading
An updated version of the Cold Boot Attack lets threat actors bypass security mechanisms and access data that remain in memory after a machine shuts down. Modern machines from Apple, Dell, Lenovo, and other major tech firms are affected, researchers report.
READ MORE
| | |
| --- | --- |
| New Mozilla Firefox Attack Causes Desktop Version to Crash | |
Bleeping Computer
A new attack has been created that can crash or freeze the Mozilla Firefox desktop browser simply by visiting a web page that contains an embedded JavaScript script. This attack was created by Sabri Haddouche, a security researcher at Wire, who has been releasing denial-of-service attacks that cause popular web browsers to crash or freeze. Some of the attacks created by Haddouche could even be used to crash an iPhone using CSS and HTML.
READ MORE
| | |
| --- | --- |
| Analysis of Half-a-Billion Emails Reveals Malware-Less Email Attacks Are On the Rise | |
Help Net Security
FireEye analyzed over half-a-billion emails from 1H 2018, and found that 32 percent of email traffic seen in the first half of 2018 was considered 'clean' and actually delivered to an inbox. Their report also found that 1 in every 101 emails had malicious intent. When compared to the previous six-month period, the changes in both these numbers depict that the email landscape continues to see an increase in email-based threats.
READ MORE