SCWA — On the Road Again — Colorado Springs, CO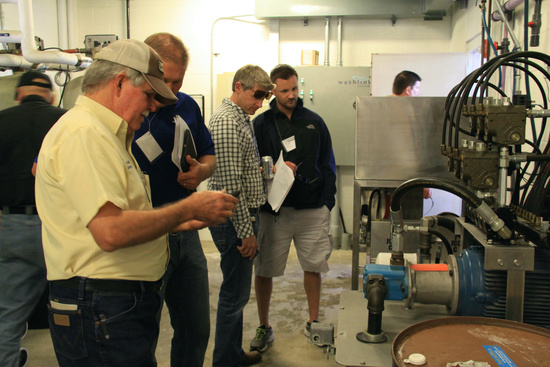 COLORADO SPRINGS CAR WASH TOUR & REGIONAL MEETING

Tuesday – August 4, 2015
Marriott Colorado Springs

Register Today!

Share this article:
One size doesn't fit all
Auto Laundry News
In an attempt to keep things simple and to maximize profits most detail shops operate under the package system. Customers choose their level of service from a set menu of bundles with a few a la carte items sprinkled in for good measure. That is not the case at Car Pool Detail in Richmond, Virginia, where managing partner Gina Budhai makes sure every customer is treated to a one-of-a-kind service tailored to the particular needs of their vehicle.
| | |
| --- | --- |
| Share this article: | |
Colorado MOPS Group Raises Nearly $900 at Car Wash Fundraiser
Kwik Car Wash
The sun was shining and the shammies were out last Saturday as Kwik Car Wash kicked off their first charity wash of the season, benefitting PEPC MOPS (Mothers of Preschoolers) II. Overall, the group was able to raise nearly $900 for their scholarship funds and service projects. In addition to earning 50 percent of Kwik Car Wash's wash sales from the fundraiser's duration, MOPS members and volunteers were able to raise additional funds by vacuuming and towel drying vehicles after their wash.
| | |
| --- | --- |
| Share this article: | |
Clear weather arrives for flood-ravaged Texas, Oklahoma
NBC News
Relief is on the way for rain-battered Texas and Oklahoma, forecasters said May 31, with a weeklong period of clear weather due that is expected to help recovery efforts. Severe weather has claimed 31 lives since Memorial Day, and the respite was expected to help searchers in their efforts to find 10 people still missing in the Texas floods.
| | |
| --- | --- |
| Share this article: | |
How to start a car wash: Don't make lazy legal mistakes
Professional Carwashing & Detailing
As with any other jargon, discussing the legal terms associated with your car wash can be exhausting. However, according to the National Federation of Independent Business, putting off legal matters can turn into painful mistakes and lawsuits. Make sure you talk with a knowledgeable small-business attorney to avoid the following mistakes, which the NFIB article notes are some of the most common errors small businesses make.
| | |
| --- | --- |
| Share this article: | |
Missed an issue of SCWA Today? Click here to visit the SCWA Today archive page.
Archer City, Texas, ends restrictions
KAUZ-TV
After years of record-breaking drought, record-breaking rainfall has healed a once bone-dry Texoma town. Archer City, Texas, leaders elected to end drought restrictions and allow residents to use water in their yards and cars. There are still a few minor rules when it comes to water use.
| | |
| --- | --- |
| Share this article: | |
Automakers add millions more cars to Takata air bag recalls
USA Today
Automakers were adding millions of cars May 28 to their official lists of models recalled because of potentially dangerous Takata air bag inflators. Fiat Chrysler Automobiles said it will add another 1.4 million vehicles globally. Honda announced the addition of 350,000 in the U.S. BMW added 420,100, also in the U.S.
| | |
| --- | --- |
| Share this article: | |
The story of Brian Campbell: 'The car wash industry's No. 1 fan'
Professional Carwashing & Detailing
A memorable moment recently occurred in a room filled with mostly car wash professionals. Standing at the front, where all eyes were directed, was Paul Fazio, CEO of SONNY'S The Carwash Factory and co-leader of a state of the industry presentation at the Southwest Car Wash Association's Convention and Expo, held earlier this year in Arlington, Texas. "I had a bit of the butterflies this morning heading into this room until I saw Brian Campbell in the hall who gave me a big smile and hug — that always calms me down," said Fazio.
| | |
| --- | --- |
| Share this article: | |
7 steps to keep investments healthy
Auto Laundry News
In at least one way, investments can be compared to a newborn baby: both need someone to take charge if they are to thrive. Fortunately, taking charge of your investments can be much less of a challenge than taking charge of a newborn baby. Here are seven steps you can take now to help keep your investments healthy.
| | |
| --- | --- |
| Share this article: | |
Shooting at Bryan, Texas, car wash leaves 1 injured; suspect sought
KBTX-TV
Police are searching for a suspect after a shooting on Texas Avenue in Bryan, Texas, left one person injured. According to BPD, the victim says he was being followed on Texas Avenue May 26 and pulled into the Ducky's Car Wash. The suspect came up the vehicle and shot the victim.
| | |
| --- | --- |
| Share this article: | |