SCWA Member Surveys
Recent SCWA Member Surveys identify the top issues that will impact the car wash owners in the next three years. One issue mentioned often is new automotive technology.

NTSB Calls For Collision Prevention Systems
Share this article:
SCWA — On the Road Again — Colorado Springs, CO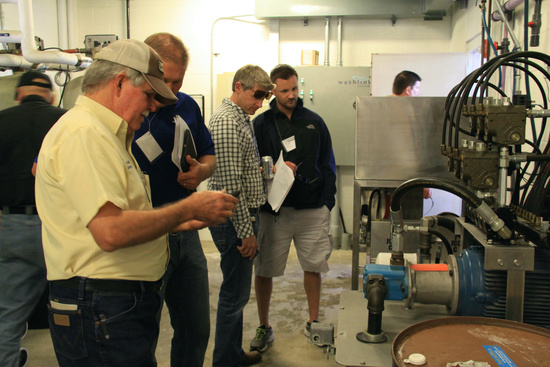 COLORADO SPRINGS CAR WASH TOUR & REGIONAL MEETING

Tuesday – August 4, 2015
Marriott Colorado Springs

Register Today!

Share this article:
Security technology to protect against car wash theft
Professional Carwashing & Detailing
Car washes focus a great deal of attention on attracting customers to their businesses and making them feel comfortable. When customers feel at ease, they feel welcomed at your wash. Many things including location, décor, staff, reliable equipment, building design and more can contribute to a patron's comfort at your business.
| | |
| --- | --- |
| Share this article: | |
Finish correction: New technology produces results
Auto Laundry News
Today's technology allows detailers to obtain permanent correction using the most advanced tools, pads, and polish that were not available previously. The backbone to this system is a powerful large stroke orbital tool that removes most defects and was developed along with new pads and new polish for a system approach that allows even a novice detailer to obtain professional results.
| | |
| --- | --- |
| Share this article: | |
Find success with mobile marketing
Professional Carwashing & Detailing
Although text messaging has been around for more than 20 years, a number of car wash owners and marketers still haven't tried it or considered using it as part of their marketing mix. In some cases, car wash owners may have been a bit early taking the service to market, or they didn't put the necessary muscle behind it to give it a fair chance. Text messaging is still one of the most effective marketing tools car wash owners can use to drive sales, foster loyalty and build their brands.
| | |
| --- | --- |
| Share this article: | |
Wet spring brings more heavy rain, flooding Denver streets
The Denver Post
The wet spring continued with heavy rain, causing isolated street flooding around metro Denver. National Weather Service rainfall data show 1.54 inches fell near Interstate 70 and Interstate 225. The rainfall has varied with 0.94 inches recorded in east-central Denver and 1.02 inches near the Rocky Mountain Arsenal National Wildlife Refuge at the northern edge of the city.
| | |
| --- | --- |
| Share this article: | |
Looking to get published?
MultiBriefs
In an effort to enhance the overall content of SCWA Today, we'd like to include peer-written articles in future editions. As a member of SCWA, your knowledge of the industry lends itself to unprecedented expertise. And we're hoping you'll share this experience with your peers through well-written commentary. Our group of talented editors can help with final edits. If you're interested in participating, please contact Ronnie Richard to discuss logistics.
| | |
| --- | --- |
| Share this article: | |
Missed an issue of SCWA Today? Click here to visit the SCWA Today archive page.
Texas floods may have damaged 10,000 cars
Autoblog
As many as 10,000 vehicles have been damaged or totaled as a result of the recent flooding in Texas, according to the National Insurance Crime Bureau. The number may actually be higher, as the NICB is counting only vehicles that had been insured. Such vehicles have been or will be sent to a company that specializes in assessing vehicular damage. Some may be scrapped while others will be sold for parts, but all of them will have titles that are forever marked as flood-damaged.
| | |
| --- | --- |
| Share this article: | |
4 tips on how to grow leaders within an organization
By Betty Boyd
Growing leaders within an organization is a great opportunity, but leadership is not developed overnight. It takes a long, steady process of coaching, mentoring and giving people a chance to excel. Current leaders must step up and mold the future of the organization. Here are four tips to better help grow leaders within your organization.
| | |
| --- | --- |
| Share this article: | |
US probes complaints that Jeep SUVs brake for no reason
The Associated Press via WRAL-TV
The National Highway Traffic Safety Administration is investigating complaints coming from owners of 2014 model year Jeep Grand Cherokees that the car's autonomous braking system turns on for no reason. The auto safety regulator posted the notice June 5.
| | |
| --- | --- |
| Share this article: | |
Cashless — Beyond bills and coins
Auto Laundry News
Historically, car washing has been a cash business and run mostly by mom and pops owning one or two locations — self-serve, full-serve or exterior-only. Today, these trends have given way to credit payment and absentee owners placing bets of $3 million or more to create chains of express washes. The car wash industry has also been reshaped by how consumers communicate and shop.
| | |
| --- | --- |
| Share this article: | |
Missed last week's issue? See which articles your colleagues read most.