SCWA Working With Aurora Car Washers
SCWA is working with car wash owners in Aurora, Colorado to prevent the City of Aurora from adding a new sales tax for self serve operators. Aurora car wash operators have united to ask the City Council to not implement the 3.75% sales tax on the coin operated businesses being recommended by the City Tax & Licensing Division. According to SCWA and local car wash operators – the information being used by the Tax & Licensing is not completely accurate and includes misinformation. The car wash points can be found here.

Click here for an article about the issue from the Aurora Sentinel
Share this article:
SCWA — On the Road Again — Colorado Springs, CO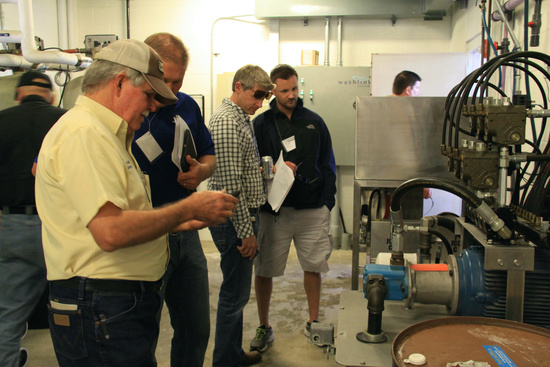 COLORADO SPRINGS CAR WASH TOUR & REGIONAL MEETING

Tuesday – August 4, 2015
Marriott Colorado Springs

Register Today!

For Sponsorships – Please call the SCWA Headquarters 800-440-0644

Share this article:
The Leukemia & Lymphoma Society Raises Over $700 at Kwik Car Wash Fundraiser
Kwik Car Cash
On Saturday, June 6, 2015, the Leukemia & Lymphoma Society's 'Team In Training' — Rocky Mountain Chapter was able to raise $732 at their car wash fundraiser held at the Kwik Car Wash on Lincoln Ave. In addition to earning 50 percent of Kwik Car Wash's wash sales from the fundraiser's duration, volunteers were able to raise additional funds by vacuuming and towel drying vehicles and hosting a bake sale onsite.

| | |
| --- | --- |
| Share this article: | |
The lure of vacuums
Professional Carwashing & Detailing
Vacuum systems are in residence at virtually every car wash across America. They are lined up like robots ready to do your customers' bidding in their attempt to give the interiors of their vehicles a fighting chance against dirt and grime. While consumers primarily use your car wash to keep the exteriors clean and shiny, they quickly take advantage of available tools, such as your vacuum system, to clean up the interior as well.
| | |
| --- | --- |
| Share this article: | |
El Nino expected to last through the winter
USA Today
There's a 90 percent chance El Nino will last through the fall and an 85 percent chance it will hang around through next winter, a prediction that boosts hope for much-needed rain and snow in California's catastrophic drought. El Nino, which began in March, is "ongoing and strengthening," the Climate Prediction Center reported this week. Ninety-nine percent of California remains in a drought as of the most recent U.S. Drought Monitor.
| | |
| --- | --- |
| Share this article: | |
How to get the perfect finish
Professional Carwashing & Detailing
Today's technology allows detailers to obtain permanent correction using the most advanced tools, pads and polish not available previously. The backbone to this system is a powerful, large-stroke orbital tool that removes most defects and has been developed along with new pads and new polish for a system approach that allows even a novice detailer to obtain professional results.
| | |
| --- | --- |
| Share this article: | |
Missed an issue of SCWA Today? Click here to visit the SCWA Today archive page.
Bug removal: A key differentiator
Auto Laundry News
It's a love-hate relationship. We love bugs when they drive customers to our washes, and hate them when they refuse to leave the car without a fight. Like an illness, if caught early, they can be eradicated without too much trouble. If left to fester, they will etch the clear coat causing angst for both the car owner and the car wash operator.
| | |
| --- | --- |
| Share this article: | |
Automakers want NHTSA to launch recall ad campaign
The Detroit News
Automakers want the National Highway Traffic Safety Administration to launch a multimillion-dollar advertising campaign to push owners of recalled cars to get them repaired. In a joint letter, the Alliance of Automobile Manufacturers and Association of Global Automakers asked NHTSA Administrator Mark Rosekind to launch an "intensive public awareness campaign about the importance of recall participation by consumers."
| | |
| --- | --- |
| Share this article: | |
Automotive lightweighting drives plastic materials and processes
By Don Rosato
Innovative materials together with new production methods and reinforcing structures will play an important role in reducing automotive vehicle weight. Lower vehicle weight not only improves fuel efficiency but also reduces the load on the brakes and suspension systems. Currently, 15 percent of the average car's total weight is plastic material. Experts predict this use will more than double over the next five years as the auto industry gears up to meet new emissions regulations.
| | |
| --- | --- |
| Share this article: | |
Moving with trends may lead to profit
Auto Laundry News
Trend analysis is the practice of collecting information and attempting to spot an underlying pattern or trend in the information. In the analysis of information, amounts are presented as a percentage of a base year. The trends described herein were obtained by analyzing data taken from Auto Laundry News Self-Service Surveys.
| | |
| --- | --- |
| Share this article: | |
Missed last week's issue? See which articles your colleagues read most.