Colorado Kwik Car Wash's Annual Great Grill Give-Away and Project Healing Waters Car Wash Fundraiser Saturday, June 27th
AWS
The Great Grill Give-Away is back at Kwik Car Wash! Two lucky customers will win a Brinkmann 6-Burner Gas Grill package worth over $500 just by washing their car this summer. Contest entry forms will be handed out with every car wash during the month of June. There is no limit on the number of entries, so the more you wash, the better your odds. Winners will be selected on Saturday, June 27th at the Kwik Car Wash Independence Day BBQ and Charity Car Wash benefiting Project Healing Waters of Denver.

One winner will be selected from each of the two Kwik Car Wash locations. Winners will receive a complete Kwik Car Wash Grill Package, including a Brinkmann 6-Burner Dual Fuel Gas Grill, a grill cover, grilling utensils, a custom grilling apron and Kwik Car Wash koozies.

In addition, Kwik Car Wash will be donating 50 percent of wash sales to Project Healing Waters of Denver, (http://www.projecthealingwaters.org) an organization dedicated to the physical and emotional rehabilitation of disabled active military service personnel and disabled veterans through fly fishing and associated activities including education and outings.
Share this article:
SCWA — On the Road Again — Colorado Springs, CO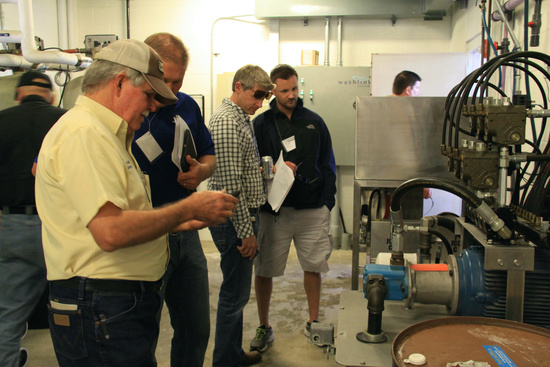 COLORADO SPRINGS CAR WASH TOUR & REGIONAL MEETING

Tuesday – August 4, 2015
Marriott Colorado Springs

Register Today!

For Sponsorships – Please call the SCWA Headquarters 800-440-0644

Share this article:
Do car washes have high variable costs?
AZ Central
A business has high variable costs when many of its costs change depending on the amount of business it does. Because a car wash requires more supplies, utilities and employees when it's doing a high volume of business, car wash owners can expect high variable costs. In fact, almost all of the costs associated with running a car wash are variable ones.
| | |
| --- | --- |
| Share this article: | |
Missed an issue of SCWA Today? Click here to visit the SCWA Today archive page.
Mobile carwashes on the rise in West Texas
Midland Reporter-Telegram
A different type of rig has taken over Midland, Texas, but rather than being out in the fields, these are dotting parking lots and personal residences. With the deafening sound of pressure washers filling the air, mobile car washes blow dirt and grime off trucks and cars. The gleaming cars signal dollars for the owners of the fleets of mobile car-wash rigs doing business in parking lots and driveways. On the sunny days between spring thunderstorms, more and more mobile car washes have flooded the streets with soapy water, washing the West Texas dirt and grime off cars and trucks alike.
| | |
| --- | --- |
| Share this article: | |
Data Theft — Is it really that big of a deal?
Auto Laundry
Stories about data breaches have been much in the news of late. While large retailers, where the theft of personal data affects tens of thousands of customers, generate most of the headlines, even the smallest of businesses are not immune to this scourge and face potential exposure to costs, liabilities, and administrative headaches. In this article, we discuss two of the most common data-breach questions small-business owners ask.
| | |
| --- | --- |
| Share this article: | |
Ensuring profit during the critical first years in business
Entrepreneur via Carwash.com
According to Gallup, "About 50 percent of new U.S. companies fail in their first five years." For aspiring entrepreneurs, that statistic can either be a source of anxiety or a source of strength. Building a profitable startup that can withstand the test of time is no small feat, but it is not as daunting a task as the numbers make it out to be. To set your business up for success, there are five important tips to remember.
| | |
| --- | --- |
| Share this article: | |
Equipment repair warning: Vital carwash safety tips
Carwash.com
Mike Benmosche writes: "Repairing carwash equipment is a major segment of everyday operations. Recently, I attended a five day course at Sonny's CarWash College learning some of the basics. An added benefit that came out of the instruction on this topic was an opportunity to view the process from a safety standpoint. Each of the various pieces of equipment had some common, as well as, their own unique exposures and remedies."
| | |
| --- | --- |
| Share this article: | |
2,220 reasons your next car should brake for you
CityLab
If one U.S. federal agency has its way, a self-braking system that prevents rear-end crashes will become as standard in American cars as seatbelts and airbags. The National Transportation Safety Board made this recommendation to safety officials and automakers alike in a new report detailing the benefits of collision avoidance technology. "You don't pay extra for your seatbelt," said Chairman of NTSB, Christopher A. Hart. "And you shouldn't have to pay extra for technology that can help prevent a collision altogether."
| | |
| --- | --- |
| Share this article: | |
How did Costco become a car-selling giant?
Business Insider via MSN
Costco is becoming a huge force in the auto world. The warehouse retailer sold 400,000 vehicles in 2014, twice as many as in 2008, Bloomberg Business reports. "Without fanfare, the membership-only merchant better known for selling flatscreen TVs and jumbo-size boxes of cereal has pulled within spitting distance of No. 1 car retailer AutoNation, which sold 533,000 vehicles last year," according to Bloomberg. Customers prefer Costco over traditional car dealerships for one reason: prices are fixed.
| | |
| --- | --- |
| Share this article: | |
Study sees a 'new normal' for how climate change affects weather extremes
The Washington Post
Every time the world witnesses a weather related disaster — most recently, extreme flooding in Texas and Oklahoma and a deadly heatwave in India — the attribution battle begins. Some scientists and commentators seek to explain how the event could have been worsened by climate change, even as others scoff and dismiss the connection. Meanwhile, researchers turn to climate modeling studies and other approaches to formally examine whether the odds of a given event had shifted in a warmer climate brought on by human-induced greenhouse gas emissions — which they sometimes answer in the affirmative, and sometimes not.
| | |
| --- | --- |
| Share this article: | |
Missed last week's issue? See which articles your colleagues read most.