SCWA — On the Road Again — Colorado Springs, CO
Hotel Reservation Deadline July 12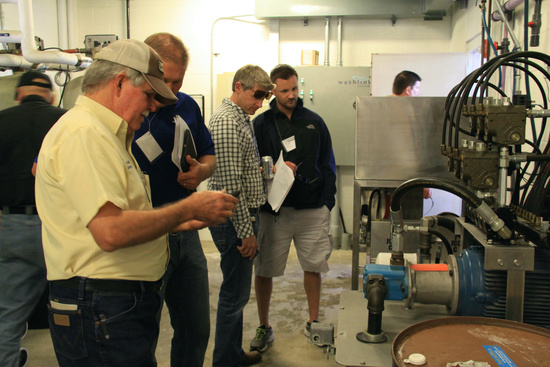 COLORADO SPRINGS CAR WASH TOUR & REGIONAL MEETING

Tuesday – August 4, 2015
Marriott Colorado Springs

Register Today!

For Sponsorships – Please call the SCWA Headquarters 800-440-0644

Share this article:
Colorado Residents Win Kwik Car Wash's Great Grill Give-Away
Kwik Car Wash
Mike Jablonski of Parker, Colorado and Yvonne Miller of Littleton, Colorado were the envy of their neighbors this past Fourth of July weekend with their brand new gas grills. Jablonski and Miller were the recent winners of Kwik Car Wash's 4th-Annual "Great Grill Give-Away." The lucky winners both received a grill package worth over $500, including a Brinkmann 5-Burner Gas Grill, a grill cover, grilling utensils, and custom aprons and koozies.

| | |
| --- | --- |
| Share this article: | |
Conversions: Question the motive, verify the viability
Auto Laundry News
When considering a conversion of a wand bay or an in-bay automatic car wash to a conveyorized car wash, the first question that should be addressed is why? Among the possible answers are competition, location, the customers' needs, and the value of the services currently being offered.
| | |
| --- | --- |
| Share this article: | |
Best practices in water testing
Professional Carwashing & Detailing
While the types of water contaminants car wash owners and operators will encounter and the water treatment solutions they will employ vary from location to location, there is one constant that all car washers must take as a first and critical step — testing the water quality. This is also an ongoing best practice all car washes must follow in order to deliver a consistent, quality wash with optimal water quality. Whether you are looking to simply soften water or install a reclaim system with reverse osmosis, knowing what's in the water is the road map to pretreatment, treatment, maintenance and an overall improvement of your wash quality.
| | |
| --- | --- |
| Share this article: | |
Is size it? Express, flex, what's next?
Auto Laundry News
About 10 years ago, mobile car washer, futurist and now-think-tank blogger Lance Winslow predicted the car wash industry would converge on two types of operations: Most areas would be populated in the vision of Dan Hanna Sr., meaning high-volume exterior washes at low and affordable prices and full-serve in the affluent markets. According to the International Carwash Association's latest estimates of the fleet and industry wash revenues, it appears as though Winslow may be right.
| | |
| --- | --- |
| Share this article: | |
Wichita Falls, Texas, car wash still working to conserve
KAUZ-TV
The drought may be over, but at least one car wash in the Texoma region is continuing to make efforts to conserve. The All-American Car Wash was one of the many car washes in Texoma that had to make massive investments and changes to schedules to stay operating within the confines of Wichita Falls drought restrictions. Because of those investments and efforts it now takes less than three gallons of water to clean a car.
| | |
| --- | --- |
| Share this article: | |
Missed an issue of SCWA Today? Click here to visit the SCWA Today archive page.
So many roads to gain marketing impact
Professional Carwashing & Detailing
Many car wash owners and operators understand how important an advertising and marketing program can be to their businesses. Impulse car wash customers are on the rise, meaning your wash can potentially win business with each and every car that passes by. However, it is the marketing and advertising groundwork ahead of time that helps realize and maximize this impulse-buy potential.
| | |
| --- | --- |
| Share this article: | |
When mistakes happen, letting go will help you get ahead
By Michael J. Berens
When mistakes happen at work, do you tend to dwell on them and worry about what your boss and co-workers may think? If so, you may not only be causing yourself a lot of stress, but you may also be holding yourself back. Several recent studies show fixating on mistakes can negatively affect your performance and your ability to interact effectively with others. By learning to let go, you can minimize the consequences of your mistakes and improve your standing in the company.
| | |
| --- | --- |
| Share this article: | |
In Texas, rain ends potable reuse rein
Water Online
A so-called "toilet-to-tap" project in Texas — the first of its kind in the nation — is ending along with the state's record drought. "It's been almost a year since the Emergency Reuse Pipeline in Wichita Falls went online, and now that lakes are full, city officials say it's time to start the decommission process," Nexstar Broadcasting reported.
| | |
| --- | --- |
| Share this article: | |
Peoria, Arizona, poised to launch pair of key water-saving projects
Daily News-Sun
The Peoria, Arizona, City Council is expected to approve contracts to complete a pair of key water-conservation projects. The governing body is being asked by city staff to authorize MGC Contractors, Inc., of Phoenix for the second phase of expansion of the Butler Drive Reclaimed Water system. The $1.2 million dollar pact would pay cover installation of a 1.5 million gallons per day booster pump station, including electronics and instruments, pipes and valves, and a disinfection system.
| | |
| --- | --- |
| Share this article: | |
Ford auto recall: Software prevents drivers from turning car off
The Associated Press via KCCI-TV
Ford is recalling 433,000 vehicles, including 2015 Focus, C-MAX and Escape models, because of a software problem that could keep their engines running after drivers try to shut them down. Ford Motor Co. says there is a flaw in the body control module software in the vehicles.
| | |
| --- | --- |
| Share this article: | |
Missed last week's issue? See which articles your colleagues read most.