SCWA — On the Road Again — Colorado Springs, CO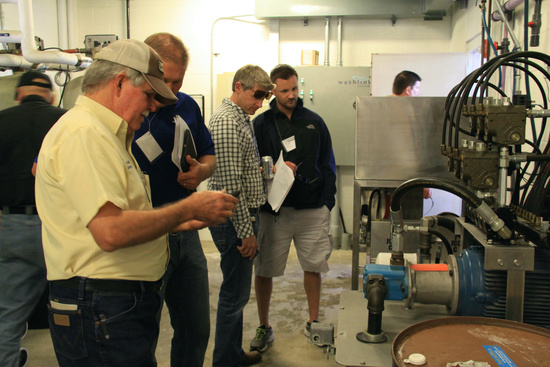 COLORADO SPRINGS CAR WASH TOUR & REGIONAL MEETING

Tuesday – August 4, 2015
Marriott Colorado Springs

Register Today!

Car Wash tour locations include: Wild Blue Car Wash; Speedy Shine; Pit Stop; All Seasons Car Wash; WaterWorks – PLUS we will tour the U.S. Olympic Training Center.

| | |
| --- | --- |
| Share this article: | |
Prepare for the sale: The real secret to selling a car wash property
Auto Laundry News
After many years of building up your car wash business and promoting and marketing your services, a decision is made to sell the operation. Perhaps you own a chain of large, full-service car washes with convenience stores, fueling centers, lube shops, and detail shops or a small, standalone four-bay self-service car wash. As with any investment, you will need to sell it to realize its full investment potential. The big payday is in the sale of the investment, not in the weekly draw. There are a number of steps to follow to prepare your investment for sale.
| | |
| --- | --- |
| Share this article: | |
Honda recalls 4.5 million more vehicles over Takata air bags
The New York Times
Honda on July 9 announced another multimillion-vehicle recall to replace air bags supplied by Takata, this time targeting 4.5 million vehicles in Japan and other markets outside North America. The Japanese automaker said it was recalling 1.63 million Fit compacts and CR-V crossovers in its home market. It withheld details of the recalls outside Japan, pending formal notices to each country's safety regulator, except to say there were no new recalls in the United States or Canada, the epicenter of the crisis so far.
| | |
| --- | --- |
| Share this article: | |
Rainy weather likely to continue all year as El Niño builds strength
Houston Chronicle
A wet year for Texas will probably get even wetter, and above-average rains will likely linger through next spring. That's according to a new forecast, released July 9 by the National Oceanographic and Atmospheric Administration, which suggests the current El Niño event could become the strongest on record.
| | |
| --- | --- |
| Share this article: | |
Eastern New Mexico officials turn to playa lakes for water conservation
KVII-TV
Eastern New Mexico's water supply is limited, which is prompting officials to look for different ways to make every drop count. This is due in part to the Ogallala Aquifer, which is quickly depleting. This aquifer supplies Eastern New Mexico with most of its water supply. Elected officials and residents met on July 9 to learn more about water conservation efforts in the region.
| | |
| --- | --- |
| Share this article: | |
Missed an issue of SCWA Today? Click here to visit the SCWA Today archive page.
Slow down to move fast in hiring
Auto Laundry News
SONNY'S CarWash Factory President Anthony Analetto writes for Auto Laundry News, "I believe the problem starts for most of us in kindergarten. First we're taught the story of the tortoise and the hare — learning that thoughtful actions and persistence will win the day, and slow and steady wins the race. As our schooling progresses, we're taught that the early bird catches the worm, success comes from doing things in leaps and bounds, and somewhere along the line, we learn to trust our gut instinct. Decades later we, as owners and managers, try to create and execute conscientious plans under time pressure, making rapid-fire decisions in order to get things done more quickly."
| | |
| --- | --- |
| Share this article: | |
Mark VII welcomes new manager of special projects
Professional Carwashing & Detailing
Mark VII Equipment Inc. has named Randy Wingert as manager of special projects, according to a press release. Wingert has held marketing management positions in the car care industry, including Turtle Wax and Ryko Solutions, for more than 25 years, stated the release. He will be based at Mark VII's factory located in Denver, continued the release.
| | |
| --- | --- |
| Share this article: | |
Drive-in profits with attractive websites
Entrepreneur via Professional Carwashing & Detailing
A recent article featured on Entrepreneur, titled "5 Branding Secrets to Help Boost Website Conversions," discusses the importance of presenting your business' brand online in an aesthetically pleasing way. In the article Marie Dean, contributing writer, quotes Dr. Brent Coker from the University of Melbourne's Faculty of Business and Economics to emphasize the importance of creating a beautiful digital presentation to attract and retain customers.
| | |
| --- | --- |
| Share this article: | |
Borrowing lower tax rates using LLCs, FLPs
By David B. Mandell, JD, MBA, and Carole Foos, CPA
Everyone wants to reduce income taxes, including car washes. Limited liability companies (LLCs) and family limited partnerships (FLPs) are tools that can allow for tax savings on passive income by "borrowing" the lower tax rates of family members. FLPs and LLCs are quite similar. You can think of them as closely related, like brothers and sisters, as they share many of their best characteristics. This article will explain how to use these methods.
| | |
| --- | --- |
| Share this article: | |
Missed last week's issue? See which articles your colleagues read most.