SCWA — On the Road Again — Colorado Springs, CO
ONLY 2 Weeks Away!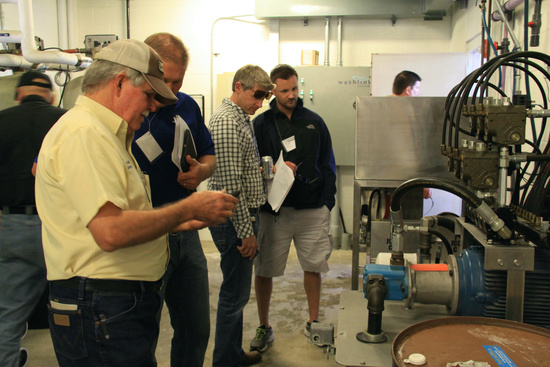 COLORADO SPRINGS CAR WASH TOUR & REGIONAL MEETING

Tuesday – August 4, 2015
Marriott Colorado Springs

Register Today!

Car Wash tour locations include: Wild Blue Car Wash; Speedy Shine; Pit Stop; All Seasons Car Wash; WaterWorks – PLUS we will tour the U.S. Olympic Training Center.

Share this article:
Rotary Community Corps of Parker, Colorado, Raises Over $1,100 at Car Wash Fundraiser
Kwik Car Wash
On Saturday, July 11, 2015, the Rotary Community Corps (RCC) of Parker was able to raise over $1,100 at their car wash fundraiser held at Kwik Car Wash. In addition to earning 50 percent of Kwik Car Wash's wash sales from the fundraiser's duration, RCC members and volunteers were able to raise additional funds by vacuuming and cleaning windows.

| | |
| --- | --- |
| Share this article: | |
5 tips for washing custom wheels
Professional Carwashing & Detailing
Custom and aftermarket wheels have become an increasingly popular vehicle accessory as drivers look to make a statement, and add personality and style to the exterior of their vehicle. The emergence of online companies and the continued popularity of custom shops allow even the novice auto enthusiast to complete this upgrade with little to no automotive knowledge. Here are five tips for properly detailing custom wheels.
| | |
| --- | --- |
| Share this article: | |
El Nino could mean more flash flooding for Central Texas through next year
KVUE-TV via KHOU-TV
Central Texas is right in the middle of "Flash Flood Alley." Unfortunately, we see it all the time, water rescues amidst rushing water. And the Memorial Day floods could be a sign of what is to come. Right now, El Nino is brewing in the eastern Pacific Ocean, and it's only getting stronger. El Nino is the warming of the waters around the equator. In turn, this sets up a storm path right over Texas. So in the winter and fall, Texans will see a series of storms. That means more rain and flash flooding could be likely as well.
| | |
| --- | --- |
| Share this article: | |
Arizona chain to replace existing car wash
Professional Carwashing & Detailing
As part of an acquisition agreement with Ocean Blue Car Wash, the administration at Bennett Oil has demolished Classic Station Car Wash's fuel station, canopy and system, according to The Daily Courier. "[Ocean Blue Car Wash] felt like the station obstructed the view from the carwash portion, and the carwash is really what [its] focus is," said Lenora Nelson, president of Bennett Oil, in the article.
| | |
| --- | --- |
| Share this article: | |
Missed an issue of SCWA Today? Click here to visit the SCWA Today archive page.
The coming shift in demographics
Auto Laundry News
"The baby boomers are coming." That was the clarion call sounded some years ago by retailers and marketers alike in anticipation of that large demographic entering the consumer economy. Well, now the baby boomers are "going," to be replaced by a much smaller demographic group, the Gen Xers, a development that holds implications for every product and service provider.
| | |
| --- | --- |
| Share this article: | |
No expense spared
Auto Laundry News
When it comes to making a wash profitable you can pinch every penny and look to cut costs, or you can invest in equipment and materials to ensure customers drive off the lot satisfied and with a clean car. The owners of Diamond Express Car Wash have chosen the latter.
| | |
| --- | --- |
| Share this article: | |
Toyota recalls 625,000 cars over software malfunction
Deutsche Welle
The world's largest carmaker, Toyota, has recalled around 625,000 hybrid vehicles over a software malfunction that can bring the gas-electric cars to a sudden stop. The call backs mostly affected the popular Prius model.
| | |
| --- | --- |
| Share this article: | |
Ashland sells Valvoline's car-care assets
Auto Laundry News
Highlander Partners L.P., a middle-market private investment firm based in Dallas, has announced that it has completed the previously announced acquisition of Valvoline's car-care product assets from Ashland Inc. Highlander will acquire the assets, including the manufacturing and distribution facilities in Hernando, Mississippi, through Niteo Products LLC, a newly formed affiliate.
| | |
| --- | --- |
| Share this article: | |
North Texas Municipal Water District's award-winning water conservation education campaign provides model for state
NTMWD via inForney.com
Water4Otter, a new water conservation education campaign, is making a huge impact on young students in the North Texas Municipal Water District's (NTMWD) service area. According to recent research, 78 percent of students who participated in Water4Otter discussed water conservation with their parents and offered ways to save water around the house.
| | |
| --- | --- |
| Share this article: | |
Missed last week's issue? See which articles your colleagues read most.