SCWA — On the Road Again — Colorado Springs, CO
ONLY 6 Days Away!!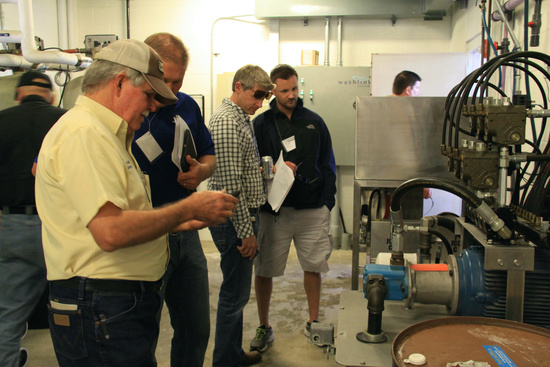 COLORADO SPRINGS CAR WASH TOUR & REGIONAL MEETING

Tuesday – August 4, 2015
Marriott Colorado Springs

Register Today!

Car Wash tour locations include: Wild Blue Car Wash; Speedy Shine; Pit Stop; All Seasons Car Wash; WaterWorks – PLUS we will tour the U.S. Olympic Training Center.

Share this article:
Introducing customers to smart car washing
Professional Carwashing & Detailing
Most, if not all, of your customers know the importance of keeping their cars in shape by means of thorough maintenance. When talking about car maintenance, the first thing to keep in mind is washing. Many people find car washing quite intricate, and therefore often try to find ways to avoid it. Car wash owners and operators should consider this fact and offer their customers the option to opt for smart car washing techniques.
| | |
| --- | --- |
| Share this article: | |
Study highlights new water-saving tool to help Colorado River Basin
Las Vegas Review-Journal
A new study suggests that government entities in the seven-state, drought-stricken Colorado River Basin could save 40,000 acre-feet of water each year using a process called performance contracting to improve conservation efforts. Another 24,000 acre-feet, including 1,400 acre-feet in Nevada, could be saved by using the same process to install high-tech water meters, the study says. The savings would come about from additional conservation by customers, who would see their bills increase as their usage was more accurately measured.
| | |
| --- | --- |
| Share this article: | |
El Niño likely to be strong, but no record yet
CNBC
Strong El Niño conditions will likely persist well into next year, but speculation that the event could shatter records may be premature. There is an 80 percent chance the weather phenomenon — which causes unusually warm ocean temperatures in the Equatorial Pacific — will continue through the Northern Hemisphere's spring next year, according to an update July 27 by the National Oceanic and Atmospheric Administration's Climate Prediction Center. While some recent models have suggested El Niño could become the strongest on record, those concerns may be overplayed, according to Mike Halpert, deputy director of the CPC.
| | |
| --- | --- |
| Share this article: | |
Feds open probe as Fiat Chrysler recalls 1.4 million cars to thwart hackers
USA Today
In what appears to be an industry first, Fiat Chrysler launched a giant recall July 24 to try to shield its vehicles from computer hackers. The U.S. unit of the automaker ordered a voluntary safety recall on 1.4 million vehicles to update software in the infotainment system to prevent the possibility that they could be hacked.
| | |
| --- | --- |
| Share this article: | |
Missed an issue of SCWA Today? Click here to visit the SCWA Today archive page.
Car wash plans to feature entertainment area for patrons
Professional Carwashing & Detailing
Matt Reinhardt, owner of the WASH SPOTT in Lamar, Colorado, reported that his new car wash will use less water than an average household per day, according to The Prowers Journal. If construction goes as planned, Reinhardt plans to open the wash in November, the article stated. "We expect to be able to do a basic wash for about 100 cars in an hour," said Reinhardt in the article.
| | |
| --- | --- |
| Share this article: | |
The Texas drought's over, but the Texas slow-motion water crisis is not
StateImpact Texas
The latest drought report from the Texas Water Development Board has some good news. After more than five years, spring rains saturated the ground enough to finally end our long drought — our long soil moisture drought. But that doesn't mean water shortages don't still plague some parts of the state, and that water challenges won't stay with Texas into the foreseeable future.
| | |
| --- | --- |
| Share this article: | |
Highway bill would double auto recall fines
The Detroit News
A compromise six-year highway reauthorization bill introduced July 21 would make significant changes in auto safety policy including doubling maximum fines for delayed recalls to $70 million per campaign, allowing for email notification of recalls and barring rental car firms from leasing unrepaired recalled vehicles. The compromise 1,030-page bill unveiled by Sen. Majority Leader Mitch McConnell, R-Ky., and Sen. Barbara Boxer, D-Calif., would also create a two-year pilot program that would assess the value of informing consumers of vehicle recalls any time they get license plates. It would be open to up to six states.
| | |
| --- | --- |
| Share this article: | |
APANA introduces cloud-based solution to save water
Professional Carwashing & Detailing
APANA announced general availability of its cloud-based solution for industrial and commercial companies to save money and water, according to a press release. APANA is a technology and services company aimed at helping businesses manage water, stated the release. The company's cloud-based solution is a comprehensive technology platform designed to help businesses identify and eliminate unnecessary water use and contamination, reported the release.
| | |
| --- | --- |
| Share this article: | |
Missed last week's issue? See which articles your colleagues read most.