SCWA — On the Road Again — Houston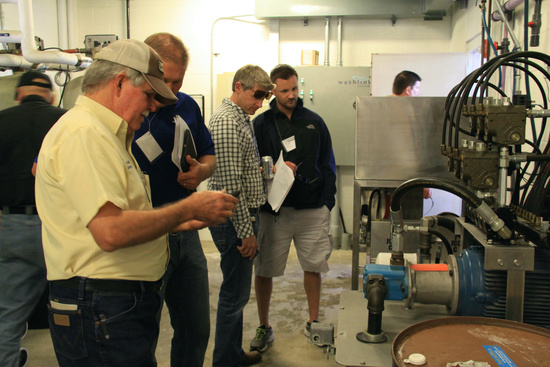 HOUSTON CAR WASH TOUR & REGIONAL MEETING

Tuesday – November 10, 2015
Marriott Houston North

Register Today!

Houston Sponsorship Now Available

Share this article:
Become a destination for impulse carwashing
Professional Carwashing & Detailing
In Professional Carwashing & Detailing's July feature, "So many roads to gain marketing impact," Editorial Director Rich DiPaolo discusses why it is important to stay on top of customer buying trends to develop a successful marketing and advertising strategy. "Impulse carwash customers are on the rise, meaning your wash can potentially win business with each and every car that passes by. However, it is the marketing and advertising groundwork ahead of time that helps realize and maximize this impulse-buy potential," explains DiPaolo in the article.
| | |
| --- | --- |
| Share this article: | |
Drought recedes in New Mexico, but East Texas is drying out
Southwest Farm Press
When it comes to weather, all bets are off. Incredibly abundant and beneficial spring rains across most of Texas turned the tables on drought conditions that have prevailed the last several years. Although almost all of the Southwest has experienced drought relief to some degree since the first of the year, Texas has been especially fortunate.
| | |
| --- | --- |
| Share this article: | |
IRS drops a bomb on small employers
Mississippi Business Journal
Employers with fewer than 50 employees were promised a break by not having to provide group health insurance under the Affordable Care Act. But now the IRS has served notice that under the rule that has been in effect since July 1 such employers are subject to $100 per worker per day excise tax if they help their employees with their health-care costs. That could amount to a staggering $36,500 per worker annual tax.
| | |
| --- | --- |
| Share this article: | |
Mexicans fleeing cartel live in limbo in Texas border town
CBS News
The dusty streets of Fabens, Texas remind many of its politically exiled residents, of home, just across the border in Mexico. But it was just across that border, in the Juarez Valley of Guadalupe, that José Holguín lost his oldest son to the violence of El Chapo's Sinaloa Cartel. "We were struck with great difficulty when our son was murdered. That's when we started to think, how are we going to survive? We can't be here in Juarez," said Holguín.
| | |
| --- | --- |
| Share this article: | |
Where are the hurricanes? El Nino keeps a tight lid on the Atlantic season
The Washington Post
We're nearly halfway through the typical Atlantic hurricane season, and yet not a single hurricane has formed. It's not a totally abnormal season yet, but it is a testament to the intensity of the strengthening El Niño in the tropical Pacific, and the season is becoming more of an outlier with each passing day that we don't see a hurricane.
| | |
| --- | --- |
| Share this article: | |
How to start a carwash: Promoting your new business
Professional Carwashing & Detailing
Entrepreneur recently featured an article on its website titled, "5 Tips on How to Pitch Your Startup to Get the Press You Need," which discusses how startups must consider the four P's of marketing: product, placement, price and promotion. Jerrid Grimm, contributing writer, explains in the article that once the first three P's have been addressed, it is time to focus on the fourth — promotion — to get the word out about your new business.
| | |
| --- | --- |
| Share this article: | |
Missed an issue of SCWA Today? Click here to visit the SCWA Today archive page.
Car wash business in the Corporate Area buckling under drought conditions
Jamaica Observer
It wasn't the expected wetness as we drove passed the sign which read 'car wash'. The parched ground surface of Just Clean Car Care Services gave no indication of a well-used car wash. As the drought continues, despite showers of blessings recently, and becomes more severe across the island, car wash operators in the Corporate Area have been negatively impacted by the poor weather conditions and National Water Commission (NWC) implemented restrictions.
| | |
| --- | --- |
| Share this article: | |
VW recalls 420,000 cars in the US to fix airbags
Automotive News
Volkswagen AG is recalling as many as 420,000 cars in the U.S. to fix a flaw that may prevent their airbags from deploying in an accident. The recall affects seven models made between 2010 and 2014, including the Golf, Jetta and Passat, the U.S. National Highway Traffic Safety Administration said today on its website. Debris may contaminate the clock spring that keeps the cars' airbags powered, tearing the spring and cutting off the electrical connection to the front airbag on the driver's side, the safety regulator said.
| | |
| --- | --- |
| Share this article: | |
Path to citizenship favored by 65 percent of Americans
International Business Times
An overwhelming majority of Americans favor a plan that would allow undocumented immigrants to remain in the United States and ultimately become citizens, according to a Gallup poll released. The poll comes out as national debate swirls around the more than 10 million immigrants estimated to be living in the United States illegally.
| | |
| --- | --- |
| Share this article: | |
Prevent injuries at the wash
Professional Carwashing & Detailing
Can you imagine what it's like to tell a family that their son or daughter has gotten seriously hurt or, worse, killed? As an owner/operator of a carwash, you may have to have that conversation someday. I know you'll agree that you would do anything in your power to prevent such a tragedy. If you own a business, you have a responsibility to keep your employees safe.
| | |
| --- | --- |
| Share this article: | |
Steve Collins joins Mark VII sales team
Auto Laundry News
Arvada, CO-based Mark VII Equipment Inc., the North America subsidiary of WashTec AG of Germany, has announced that Steve Collins has assumed responsibility for direct sales in Florida. He replaces Al Cope, who has decided to retire. Collins' background includes sales experience and 28 years in operations management at a multi-site car wash operator. He will be based in Tampa.
| | |
| --- | --- |
| Share this article: | |
Missed last week's issue? See which articles your colleagues read most.