Forecast models are now calling for this El Niño to be the strongest on record
The Washington Post
As of recently, the average of the group of forecast models used to predict the intensity of El Nino are calling for an event that would surpass the record-strong El Nino of 1997-'98. El Nino, which is a measure of how abnormally warm the tropical Pacific Ocean is, can be classified as "very strong" if surface waters are running at least 2 degrees Celsius warmer than average for at least three months in a row. While this can be a difficult metric to achieve — it's only happened twice before — it's looking more like this year will not only jump that hurdle, but also surpass the old record.
| | |
| --- | --- |
| Share this article: | |
Wash experience: There are people in those cars!
Auto Laundry News
The question every tunnel car wash owner must face today is this: Is tunnel car washing simply a "production" business, where success is driven by volume, speed, and profits built on scale? Or is it the business of putting on a "production" for customers, where we deliver a pleasant experience with lights, colors, and sounds customers enjoy, culminating in the clean car they value?
| | |
| --- | --- |
| Share this article: | |
Grace for Vets urges carwashes to join the cause
Professional Carwashing & Detailing
Grace for Vets is encouraging car washes to get involved, according to a press release. The industrywide program is free to join and supports veterans and active-duty military, stated the release. Any wash type can participate in Grace for Vets, reported the release, "as long as they are giving free washes." "It's all about giving back and recognizing those who have and are currently serving their country," added the release.
| | |
| --- | --- |
| Share this article: | |
SCWA — On the Road Again — Houston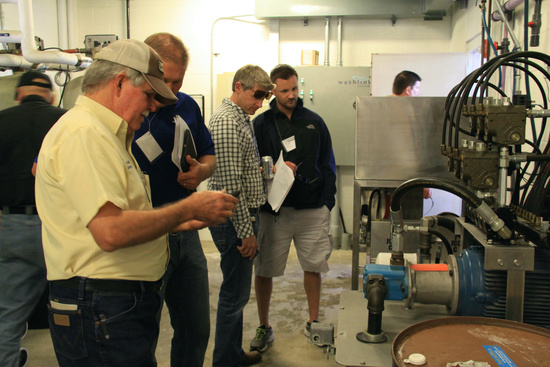 HOUSTON CAR WASH TOUR & REGIONAL MEETING

Tuesday – November 10, 2015
Marriott Houston North

Register Today!

Houston Sponsorship Now Available

Share this article:
Not everything is bigger in Texas
Auto Laundry News
While most things are certainly bigger in Texas, not every success story in the Lone Star State needs to be supersized. Bobby and Vicki Lewallen's latest venture isn't a marvel of excess, but rather a perfectly sized testament that sometimes less is more. The 12-year car wash veterans recently opened their fourth location sandwiched in the middle of a busy shopping center and have been enjoying success just one month since opening their latest Auto Paradise site in Midland.
| | |
| --- | --- |
| Share this article: | |
Tools of the trade
Professional Carwashing & Detailing
Whether in the car washing or auto detailing business, car care professionals all use tools. It is nearly impossible to get through a work day without them. Tools are an investment. In car washing, tools are used to make repairs or install equipment. In auto detailing, tools are needed to perform services, speed up processes or make things easier. Without these tools, operations would suffer or, worse, cease to exist.
| | |
| --- | --- |
| Share this article: | |
Missed an issue of SCWA Today? Click here to visit the SCWA Today archive page.
Organized crime ring busted at Baytown, Texas, car wash
Houston Chronicle
Authorities charged 10 people recently who they said had been members of an organized crime ring operating out of a Baytown, Texas, car wash and detailing shop. More than six months ago, Baytown detectives noticed open-air drug sales at the Bamboo Hut Car Wash and Detail on Garth Road in Baytown, according to Lt. Eric Freed, with the Baytown Police Department.
| | |
| --- | --- |
| Share this article: | |
Undocumented immigrants' economic impact unclear in Texas
Times Record News
The plans to fix immigration came out to the forefront recently, as with current GOP front-runner Donald Trump releasing his own plan and the various critiques. It's a fair time to return to the question: What effect do immigrants living in the country illegally have on the economy, that other all-important political football? Much has been noted that, on the federal level, immigrants living in the country illegally do pay payroll taxes in many cases and thereby contribute. But what about Texas?
| | |
| --- | --- |
| Share this article: | |
How the most innovative companies systematically disrupt
By Dr. Min Basadur
Some time ago, psychologist William J.J. Gordon suggested that inventing and learning are opposite forces that feed each other in turn. Inventing is characterized as a process of breaking old connections. Learning is characterized as a process of making new connections stick. When we invent, we "make the familiar strange." This permits us to view old phenomena in new ways, although this can be uncomfortable at first. When we learn, we "make the strange familiar."
| | |
| --- | --- |
| Share this article: | |
Ford recalls 26,400 trucks for seat belt issue
MLive
Ford Motor Co. recently announced the recall of 26,400 F-650 and F-750 trucks from the 2011-2013 and 2015 model years in North America for a potential issue with seat belts. The Dearborn, Michigan, automaker said the front passenger and center seat belts may not be anchored in the correct position relative to the seat, which could increase the risk of injury in a crash. The company said it is not aware of any accidents or injuries related to the issue.
| | |
| --- | --- |
| Share this article: | |
CDC report reveals car wash chemical can be dangerous
Professional Carwashing & Detailing
Based on a study conducted by the Washington Department of Labor and Industries, a report published by the Centers for Disease Control and Prevention found new evidence that chemicals commonly used in car washes can be dangerous for workers, according to Pulse Headlines and News. The research evaluated workers' compensation reports from 2001-13, stated the article, and found that 48 employees suffered burns from car wash products containing hydrofluoric acid.
| | |
| --- | --- |
| Share this article: | |
Missed last week's issue? See which articles your colleagues read most.