Pioneering the social media frontier at your car wash
Auto Laundry News
"Go west, young man" is a phrase attributed to Horace Greely concerning America's westward expansion in the mid-1800s. At the time, the idea of the American West embodied opportunity, and was viewed as an exciting new territory where hard work, determination, and a bit of adventurous spirit could bring abundant success. A truly new frontier is rare nowadays in our global society, but after spending time listening to car wash owners and operators at the recent International Carwash Show in Las Vegas, it was clear that, within our industry, social media remains something of an uncharted territory.
| | |
| --- | --- |
| Share this article: | |
Deluge of recalls dings auto customer satisfaction
USA Today
A record year of recalls took a heavy toll on customer satisfaction with the auto industry, according to a new study. The American Customer Satisfaction Index reported recently that its gauge for car-buyer satisfaction fell to 79 on a 100-point scale in 2015 from 82 last year. The 3.7 percent drop was fueled by concerns over the massive increase in recalls throughout the auto industry since early 2014.
| | |
| --- | --- |
| Share this article: | |
CSI hires new sales consultant, increases reach in Texas
Professional Carwashing & Detailing
Cleaning Systems Inc. announced a plan to increase its market reach across Texas, according to a press release. Mike Wiggins has joined CSI as a new sales consultant to help the company achieve this goal, stated the release. Wiggins has more than 10 years of experience in the car wash industry, reported the release, and has owned a tunnel and self-serve car wash.
| | |
| --- | --- |
| Share this article: | |
SCWA — On the Road Again — Houston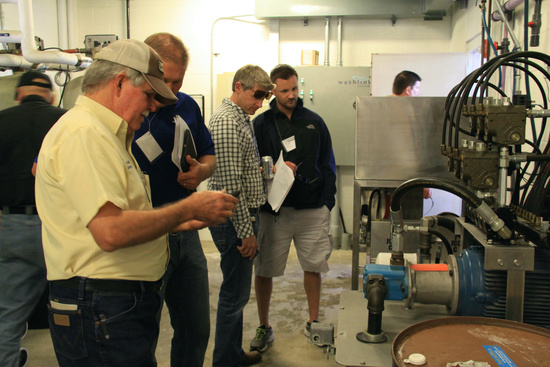 HOUSTON CAR WASH TOUR & REGIONAL MEETING

Tuesday – November 10, 2015
Marriott Houston North

Register Today!

Houston Sponsorship Now Available

Share this article:
Flash droughts popping up across East Texas
Lubbock Avalanche-Journal
Although Texas improved its drought conditions after heavy rainfall across the state this spring, portions of East Texas are slipping back into drought. At the beginning of the month, less than 5 percent of the state was experiencing a drought, according to the U.S. Drought Monitor, which provides weekly updates on drought conditions. Flash droughts popping up across East Texas this summer have caused 34 percent of the state to be in either a moderate or severe drought.
| | |
| --- | --- |
| Share this article: | |
Missed an issue of SCWA Today? Click here to visit the SCWA Today archive page.
Kwik Car Wash hosts Dog Days of Summer event
Professional Carwashing & Detailing
Kwik Car Wash recently teamed up with The Pooch Mobile dog grooming service to raise money for Youth and Pet Survivors, according to a press release. The fourth annual Dog Days of Summer event raised more than $1,225, stated the release, and a total of 40 dogs were washed this year.
| | |
| --- | --- |
| Share this article: | |
September forecast calls for warm east, cool west
The Weather Channel
If you're sick of summer's persistent weather where you live, you may see big changes in September. The latest September outlook from The Weather Channel indicates that warm temperatures will be found from the Great Lakes into the Ohio and Tennessee Valleys and into portions of the South. In general, locations east of the Rockies will see temperatures that are above average for this time of year.
| | |
| --- | --- |
| Share this article: | |
The future of payments
Auto Laundry News
Over the past few years the payments industry has been on a fast track of innovation, but it wasn't always that way. During the late '90s and early 2000s, merchants relied on a dial-up countertop terminal to accept credit cards and a cash drawer for cash and checks. The standards for payment equipment were fairly low and the players in the industry weren't quick to develop new and improved options.
| | |
| --- | --- |
| Share this article: | |
Water Congress convenes to talk land-use, conservation measures in Colorado
The Colorado Statesman
With Colorado's population expected to double in the next 35 years, the state water plan calls for conservation, coupled with an as-yet undefined cultural change. It might look something like Denver's Stapleton neighborhood, or perhaps the Highlands area of west Denver, with smaller single-family homes on smaller lots, or more higher-density development, such as condos, townhouses and apartments. According to a panel of water and land-use experts at last week's Colorado Water Congress, Coloradans might have to learn to live with smaller lawns, smaller parks and other landscaping changes to help conserve water.
| | |
| --- | --- |
| Share this article: | |
Fiat Chrysler recalls prompt calls for greater auto oversight
The Hill
Alleged violations of the Motor Vehicle Safety Act by Fiat Chrysler have sparked fresh calls for the Obama administration to increase federal oversight of the American auto industry. Fiat Chrysler was recently fined $105 million by the National Highway Traffic Safety Administration for allegedly failing to properly notify drivers, car dealerships and federal regulators about recalls that affected about 11 million vehicles. The company has also been accused of neglecting to repair cars in a timely fashion, as required by a 1966 law.
| | |
| --- | --- |
| Share this article: | |
Missed last week's issue? See which articles your colleagues read most.