| | |
| --- | --- |
| From design to recycling: How wellness will affect fashion | |
MDS
Wellness is making its way in the fashion industry, having the concepts techie, eco and recycling as its mark of identity. In this new stage, the consumer must play a proactive role.
READ MORE
| | | |
| --- | --- | --- |
| | | Use the EasyWeb torque controller to maintain tension during unwinding or winding operations on printing and web finishing lines. As a lower-cost alternative to the high-precision transducer-based tension controllers DFE offers, the EasyWeb works from a diameter calculator signal to continually adjust winding torque and achieve roughly consistent running tension throughout the process. |
TAPPINET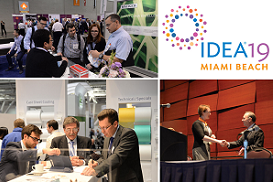 With the biggest nonwovens and engineered fabrics event this year just a month away, IDEA® is ready to connect industry's innovative game-changers across the entire nonwovens and engineered fabrics supply chain at the Miami Beach Convention Center, in Miami Beach, FL, March 25-28.

Event organizer, INDA, the Association of the Nonwoven Fabrics Industry, expects over 7,000 participants to make valuable business connections with more than 500 exhibitors from 70-plus countries during the four-day, triennial event. Registration is open at https://www.idea2019.com/.
READ MORE
---
| | |
| --- | --- |
|   |  MISSED AN ISSUE OF TAPPI'S CAUGHT IN THE NET? VISIT AND SEARCH THE ARCHIVE TODAY. |
---
| | |
| --- | --- |
| Flying coach may get a lot better with smart seating | |
Simple Flying
It is not everyday that we see new improvements in coach designed to improve comfort. Qatar Airways may be looking to introduce staggered seating, which may help some passengers. Now, Benjamin Hubert has designed a new seat for Airbus.
READ MORE

| | |
| --- | --- |
| Carpe introduces antiperspirant wipe | |
Nonwovens Industry
Carpe, the whole-body antiperspirant company, announced the launch of its new antiperspirant wipe. The wipes, which are amply sized at 10.5x9 in., deliver a generous dose of Carpe's pamplemousse scented antiperspirant formula.
READ MORE
| | |
| --- | --- |
| Bricked self-lacing shoes showcase 21st century first-world problems | |
Android Headlines
World hunger, trade wars and political division may be all-too-prominent issues but the latest update for Nike's self-lacing Adapt shoes is causing Android users some very real grief, based on a wealth of new reviews for the associated app.
READ MORE