| | |
| --- | --- |
| Is this the generation that will trash tampons and pads for good? | |
Fast Company
For as long as there have been women, there have been periods. It's just taken a few millennia, give or take, to shake off the stigma of basic reproductive biology and acknowledge them publicly. And we're sharing that knowledge, in tweets and in open discussion. Not only is period talk no longer taboo, but a documentary on period shaming won an Oscar this year.
READ MORE
| | | |
| --- | --- | --- |
| | | Get your web machine operators up-to-speed with minimal setup and training time with the streamlined, intuitive graphic user interface on the new SteadyWeb™5 Tension Controller. Setup is a breeze with the 4.3-inch screen and color graphics and prompts. Soft keys and a large front dial simplify scrolling through menus and settings. MORE |
| | |
| --- | --- |
| TAPPI Fiberglass Mat Committee Meeting Registration Open! 2019's Installment Anchored by Tour of GAF's Ennis Mat and Shingle Plants!!! | |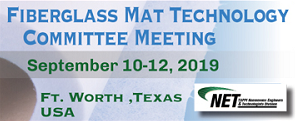 Register Now for the 2019 TAPPI Fiberglass Mat Technology Committee Meeting in Fort Worth , Texas. Register Now!!!

---
| | |
| --- | --- |
|   |  MISSED AN ISSUE OF TAPPI'S CAUGHT IN THE NET? VISIT AND SEARCH THE ARCHIVE TODAY. |
---
| | |
| --- | --- |
| Teijin develops polishing pads using ultra-fine fiber | |
Nonwovens Industry
Teijin Frontier Co., Ltd., the Teijin Group's fibers and products converting company, has developed polishing pads that are expected to enhance silicon wafer quality control while also lowering production costs. The new silicon pads are made with nonwoven Nanofront ultra-fine nanofiber, which is made with a flexible, water-absorbent polymer impregnated with polyurethane resin.
READ MORE
| | |
| --- | --- |
| FESPA to launch new Sportswear Pro event | |
Innovation in Textiles
FESPA is expanding its textile portfolio with the launch of Sportswear Pro, a new exhibition dedicated exclusively to sportswear manufacturing.
READ MORE

| | |
| --- | --- |
| When denim blends with science get ready to wear the future | |
Sourcing Journal
Industry 4.0 transforms all industries. But fashion, in particular, benefits perhaps the most, opening up an extensive range of new functional and aesthetic possibilities for garments.
READ MORE
| | |
| --- | --- |
| Researchers create washable sensor that can be woven into materials | |
Science Daily
Researchers have developed a low-cost sensor that can be interlaced into textiles and composite materials. While the research is still new, the sensor may pave the way for smart clothing that can monitor human movement.
READ MORE