| | |
| --- | --- |
| P&G feminine hygiene leaders Tampax, Always launch Organic 'Pure' | |
MediaPost
Procter & Gamble is the latest to go to market with an organic tampon and pad. The CPG giant announced the launch of Tampax Pure tampons and Always Pure pads, each "free of dyes, fragrances, and chlorine bleaching." The Tampax version has a "100% organic" cotton core. Always Pure pads are made with a top layer made from "sustainably sourced cotton," according to the company.
READ MORE
| | | |
| --- | --- | --- |
| | | If you measure the tension on your running web, you can control it. Get the most reliable web tension measurement device available anywhere. The Tension Roll transducer installs quickly and more easily than a separate idler roll and load cells on a machine. Choice of load ratings and roll finish. MORE |
| | |
| --- | --- |
| TAPPI Fiberglass Mat Committee Meeting Registration Open! 2019's Installment Anchored by Tour of GAF's Ennis Mat and Shingle Plants!!! | |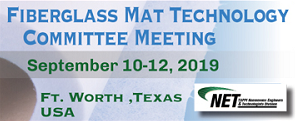 Register Now for the 2019 TAPPI Fiberglass Mat Technology Committee Meeting in Fort Worth , Texas. Register Now!!!

---
| | |
| --- | --- |
|   |  MISSED AN ISSUE OF TAPPI'S CAUGHT IN THE NET? VISIT AND SEARCH THE ARCHIVE TODAY. |
---
| | |
| --- | --- |
| Big plans for Ukrainian technical textiles sector | |
Innovation In Textiles
Ukraine plans to attract up to US$ 300 million of investments in the development of the domestic technical textiles and nonwovens industry in the next several years, according to the Ukrainian Cabinet of Ministers.
READ MORE
| | |
| --- | --- |
| Amazon wants your body… for scanning | |
The Motley Fool
It appears Amazon is getting further into biometrics. At the same time news outlets are reporting the company is developing a smartwatch that can detect wearer's emotions, Amazon is also making a move to build better body-modeling technology.
READ MORE

| | |
| --- | --- |
| Future smart clothes promise to keep you the perfect temperature at all times | |
Yahoo!
Cranking the AC or putting on and taking off additional layers of clothing isn't always the most practical or convenient way of regulating your body temperature. Wouldn't things be easier if you could just use smart wearable technology to solve the problem for you? A new research project developed by engineers at the University of California, San Diego, aims to help.
READ MORE
| | |
| --- | --- |
| Survey finds sustainability affects clothing purchases | |
California Apparel News
The results of a survey of 7,300 men and women in various countries revealed that more shoppers are taking into account the role clothing brands are playing in sustaining the environment and preventing climate change.
READ MORE