| | |
| --- | --- |
| Feminine hygiene goes natural | |
Nonwovens Industry
The rate of introduction of new, natural-based feminine hygiene products is redefining the category as brands both large and small respond to the female's need for alternative ingredients. One year ago ANSES released its assessment for feminine hygiene products which recommended that manufacturers improve processes and raw materials to eliminate certain substances from the products.
READ MORE
| | | |
| --- | --- | --- |
| | | Get your web machine operators up-to-speed with minimal setup and training time with the streamlined, intuitive graphic user interface on the new SteadyWeb™5 Tension Controller. Setup is a breeze with the 4.3-inch screen and color graphics and prompts. Soft keys and a large front dial simplify scrolling through menus and settings. MORE |
| | |
| --- | --- |
| TAPPI Fiberglass Mat Committee Meeting Registration Open! 2019's Installment Anchored by Tour of GAF's Ennis Mat and Shingle Plants!!! | |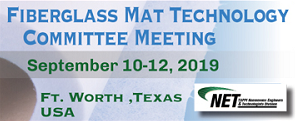 Register Now for the 2019 TAPPI Fiberglass Mat Technology Committee Meeting in Fort Worth , Texas. Register Now!!!

| | |
| --- | --- |
| Environmental sustainability of absorbent hygiene and personal care products highlight Hygienix™ conference topics this fall in Houston | |
Textile World
Environmental sustainability of absorbent hygiene and personal care products will headline the conference topics for Hygienix™ 2019 coming this fall to the Hyatt Regency Houston Hotel in Houston, Texas, on Nov. 11-14. Experts will address such pressing industry topics as plastics in the environment, the growing movement of reusable femcare products, the nonwoven industry's new position statement on plastics, the impact of absorbent hygiene products in landfills and more. Registration is now open on the Hygienix™ website.
READ MORE

| | |
| --- | --- |
| Duvaltex launches Clean Impact Textiles for commercial interiors | |
Innovation in Textiles
Duvaltex, a market leader in North America for contract textiles, will introduce its new Clean Impact Textiles at the Neocon show in Chicago. The company says that this not only represents the first recycled biodegradable polyester textile for commercial interiors, but also a major step forward in establishing an advanced bi-circular economy model for textiles whereby polyester fabric, at the end of its useful life, can flow through either a biological or technical cycle.
READ MORE
| | |
| --- | --- |
| Fibers, finishes take aim at textile waste reduction, circularity | |
Home Textiles Today
In the recent past, "performance" products simply wicked moisture or repelled benzoyl peroxide stains. Consumers considered cotton and bamboo inherently eco-friendly just by dint of being plants and most major retailers had zero interest in textile certifications. A lot has changed fairly rapidly — and more change is in the pipeline. A certain amount of baseline sustainability is mandatory now, and products that take the concept even further are true differentiators. No surprise then that the menu for "Intel Inside" solutions is expanding to meet the demand.
READ MORE
---
| | |
| --- | --- |
|   |  MISSED AN ISSUE OF TAPPI'S CAUGHT IN THE NET? VISIT AND SEARCH THE ARCHIVE TODAY. |
---