| | |
| --- | --- |
| New york could soon become first state to require feminine hygiene products to list ingredients | |
WNBC-TV
New York could soon become the first state to require ingredient labels on feminine hygiene products under legislation awaiting action by the governor.
READ MORE
| | | |
| --- | --- | --- |
| | | Get your web machine operators up-to-speed with minimal setup and training time with the streamlined, intuitive graphic user interface on the new SteadyWeb™5 Tension Controller. Setup is a breeze with the 4.3-inch screen and color graphics and prompts. Soft keys and a large front dial simplify scrolling through menus and settings. MORE |
| | |
| --- | --- |
| TAPPI Fiberglass Mat Committee Meeting Registration Open! 2019's Installment Anchored by Tour of GAF's Ennis Mat and Shingle Plants!!! | |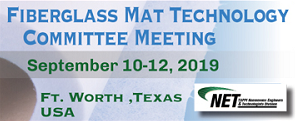 Register Now for the 2019 TAPPI Fiberglass Mat Technology Committee Meeting in Fort Worth , Texas. Register Now!!!

| | |
| --- | --- |
| Breathable lava suits: volcanologist field-tested and approved | |
Phys.org
When working near lava at 1,300 to 2,000 degrees Fahrenheit, the terms 'lightweight' and 'comfortable' might not apply to a volcanologist's protective clothing.
READ MORE
| | |
| --- | --- |
| Nanit's new infant outfit works with smart camera to monitor baby's breathing | |
MobiHealthNews
Baby-focused tech company Nanit released a new line of infant clothing called Breathing Wear that, when combined with its smart camera and app, lets new parents keep tabs on their child's sleep and breathing patterns.
READ MORE
---
| | |
| --- | --- |
|   |  MISSED AN ISSUE OF TAPPI'S CAUGHT IN THE NET? VISIT AND SEARCH THE ARCHIVE TODAY. |
---
| | |
| --- | --- |
| Burlington to produce fabric for the new Army Green Service uniform | |
Textile World
Burlington Industries LLC, a division of Elevate Textiles, is proud to announce it will supply wool blended fabrics for use in the newly-updated Army Green Service Uniform, specifically the jacket, tie, and bottoms. These fabrics will be produced at the company's facilities in Raeford and Cordova, North Carolina.
READ MORE

| | |
| --- | --- |
| Under Armour files patent application for shoes that will be able to read your blood pressure | |
Forbes
Under Armour has already made a big push into "smart" clothing, but they took that focus up another notch earlier recently when they filed an official patent for a new shoe that can take the user's blood pressure during their workout and provide actionable data that will help them recover more quickly.
READ MORE
| | |
| --- | --- |
| Suominen launches Fibrella Combo | |
Nonwovens Industry
Suominen's new Fibrella Combo is a dual product for excellent topsheet softness packed with superior fluid management of an acquisition and distribution layer (ADL) – all in one nonwoven. It's designed to replace topsheet and ADL in the absorbent hygiene product and can be used directly on top of the core.
READ MORE