| | |
| --- | --- |
| Could your clothes predict a heart attack? | |
Business Cloud
Adam Crofts is thinking big. While big brands Fitbit, Garmin and Apple sell millions of products each year nobody has successfully managed to make smart clothing mainstream – but the Manchester-based entrepreneur thinks he's got the answer.
READ MORE
| | | |
| --- | --- | --- |
| | | If you measure the tension on your running web, you can control it. Get the most reliable web tension measurement device available anywhere. The Tension Roll transducer installs quickly and more easily than a separate idler roll and load cells on a machine. Choice of load ratings and roll finish. MORE |
| | |
| --- | --- |
| TAPPI Fiberglass Mat Committee Meeting Registration Open! 2019's Installment Anchored by Tour of GAF's Ennis Mat and Shingle Plants!!! | |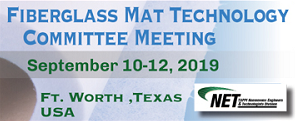 Register Now for the 2019 TAPPI Fiberglass Mat Technology Committee Meeting in Fort Worth , Texas. Register Now!!!

---
| | |
| --- | --- |
|   |  MISSED AN ISSUE OF TAPPI'S CAUGHT IN THE NET? VISIT AND SEARCH THE ARCHIVE TODAY. |
---
| | |
| --- | --- |
| Cutting-edge scrubs | |
Specialty Fabrics Review
Medical scrubs need to be practical and comfortable, but that doesn't mean they can't be stylish. That's the proposition behind Barco® Uniform's Grey's Anatomy™ collection of medical apparel for women and men. Recently, the company upped its game with the introduction of Grey's Anatomy EDGE, a new line in the globally popular brand.
READ MORE
| | |
| --- | --- |
| Samsung patents smart clothing tech that has a built-in energy harvester | |
TechGenyz
Samsung introduced its own smart clothing brand, The HumanFit at IFA 2015. At the same time, the Koreans also showed a working concept of a smart suit. As well as some smart fashion accessories, including a solar bag for ladies. Last year, Samsung showed a smart belt at CES, which is also connected to your smartphone.
READ MORE

| | |
| --- | --- |
| Orion Engineered Carbons Moving To U.S. Domestic Filer Status | |
Textile World
Orion Engineered Carbons S.A., a worldwide supplier of specialty and high-performance carbon black, recently announced that the company will for all its SEC filings from January 1, 2020 ,onwards become a U.S. Domestic Filer and will thus file its 2019 Annual report as such.
READ MORE
Textile World
Suominen, a global nonwovens company, launches FIBRELLA® Combo. It is a spunlaced dual product for excellent topsheet softness packed with superior fluid management of an acquisition and distribution layer (ADL) — all in one nonwoven. It is designed to replace topsheet and ADL in an absorbent hygiene product such as incontinence and feminine hygiene pads and pantyliners, and can be used directly on top of the core.
READ MORE