---
| | | |
| --- | --- | --- |
| Date | Event | Location |
| Feb. 8, 2018 | RN Advocacy Day — Register Today | Scottsdale, AZ |
| April 6, 2018 | Spring Nursing Education Collaborative – Register Today | Gateway Community College |
| April 16-19, 2018 | Arizona Nurse Leader Academy — Registration Open | Mesa, AZ |
| April 27-29, 2018 | Renewal Retreat for Nurses — SAVE THE DATE! | Scottsdale, AZ |
---
| | |
| --- | --- |
| 2018 National Sample Survey of Registered Nurses (NSSRN) | |
Nurses play a critical role in the lives of patients throughout the nation. That is why the U.S. Department of Health and Human Services is dedicated to providing policy makers and researchers with the most comprehensive data on registered nurses and nurse practitioners. To accomplish this, we need your help.

The NSSRN will be sent to over 100,000 registered nurses in March of 2018. Nurses who receive the survey will be able to fill out the survey electronically or through a paper questionnaire. It is imperative that if you receive a copy of the survey, you participate and send back as soon as possible.

This vital national survey is the primary source of data on the nursing workforce, the largest group of healthcare providers.
| | |
| --- | --- |
| Time is Up on Nurse Abuse | |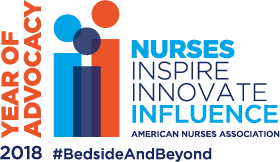 Time is up on harassment, abuse, and assault in the workplace across all industries and professions. In support of ANA's #EndNurseAbuse initiative, 'Nurse Alice' Benjamin, MSN, RN, ACNS-BC, pens a letter recounting her experience with abuse while caring for patients. She also invites ANA members and all concerned individuals to sign the #EndNurseAbuse pledge. Nurse Alice's letter was sent to ANA members and is posted on the Capitol Beat.

With 2018 being the 'Year of Advocacy', the stage is set for us to exercise our influence and collective voice to #EndNurseAbuse. Here are two easy ways that you can help today:
Take the pledge to #EndNurseAbuse and then share it on social media and with your members to help us reach a goal of 10,000 signatures
Sign up for the #EndNurseAbuse Professional Issues Panel to discuss and address barriers to reporting violence and abuse in healthcare settings
| | |
| --- | --- |
| Sodexo Partners With ANA Enterprise To Transform the Health And Wellness of America's 3.6 Million Nurses | |
The ANA Enterprise today announced Sodexo has joined the Healthy Nurse, Healthy Nation™ (HNHN) Grand Challenge as a major partner in support of this transformative initiative. The ANA Enterprise is the organizing platform of the American Nurses Association (ANA), the American Nurses Credentialing Center (ANCC), and the American Nurses Foundation. Sodexo Healthcare in North America provides Quality of Life Services in Facilities Management, Environmental Services, Clinical Technology Management and Food & Nutrition at 1,200 hospitals in the United States and Canada. Sodexo's multi-million dollar contribution to the American Nurses Foundation is in direct support of the ANA Enterprise's HNHN Grand Challenge. Read More
| | |
| --- | --- |
|   |  EDUCATIONAL EVENTS & RESEARCH |
---
| | |
| --- | --- |
| 2018 Lung Force Expo & Asthma Educator Institute | |
April 7, 2018 | Black Canyon Conference Center, Phoenix
LUNG FORCE Expo is a great opportunity for patients, caregivers and healthcare professionals to learn more about the latest trends, resources and research surrounding lung cancer, COPD, and other lung diseases. The one-day event features experts from a variety of lung health-related fields presenting on current research and hot topics, an exhibitor showcase and a chance for patients, caregivers and the local medical community to connect. CEU available. Register today at lung.org/expo

April 16 & 27, 2018 | Phoenix, AZ
The Asthma Educator Institute™ (AEI) is a two-day preparatory course for individuals that want to implement asthma guidelines-based care and those qualified to take the National Asthma Educator Certification Board (NAECB) examination. The AEI was developed with experts in the field with asthma and it reflects the National Institute of Health, Expert Panel Report 3: Guidelines for the Diagnosis and Management of Asthma. CEU available. More info
| | |
| --- | --- |
| Cancer Caregiver Seminar | |
April 28, 2018 | Paradise Valley, AZ
We invite you, your patients, or their family to attend the 2018 CCEP Cancer Caregiver Seminar, "Helping your loved one deal with side effects ". FREE Cancer Caregivers Seminar! Cancer Caregivers, you are not alone. Presented by: Barbara Kavanagh, MSW President and CEO of AzMN and Suzanne Hyde, MSW, LCSW (Subject to change). Helping a loved one deal with side effects is a very real challenge. Learn how to minimize the distress on yourself and the one you care for. More info
| | |
| --- | --- |
| Doctors Without Borders Recruitment Info Session | |
Feb. 13, 2018 (Flagstaff) & Feb. 15, 2018 (Tucson)
Doctors Without Borders/Médecins Sans Frontières (MSF) will be holding recruitment information sessions in Arizona. This is your opportunity to meet our recruitment team and learn about how you can join our pool of dedicated aid workers. We're currently recruiting for a variety of medical and non-medical positions. More Info: Flagstaff or Tucson.
| | |
| --- | --- |
|   |  NEWS FROM AROUND THE INDUSTRY |
---
| | |
| --- | --- |
| New law gives nurses and healthcare workers religious protections — Medicaid changes | |
Nurse.org
Recently, the Trump administration introduced a new federal office — The Division of Conscience and Religious Freedom. The newly created division of the Department of Health and Human Service's Office for Civil Rights is said to protect health care workers who refuse to partake in certain medical procedures due to moral or religious objections. Under the new protections doctors, nurses and other medical professionals are permitted to refuse care or deny certain procedures that go against their moral or religious beliefs. Such procedures include, abortion, sterilization or assisted suicide, said the Department of Health and Human Services (HHS) in an announcement.
READ MORE
| | |
| --- | --- |
| Applying, refining guideline improves pediatric asthma care | |
Medscape (free login required)
Implementation and continual modification of a clinical practice guideline (CPG) improves hospital-based care and outcomes for pediatric patients with asthma, a new study published online Jan. 24 in Pediatrics shows. Although standardization of pediatric asthma care has been demonstrated to improve outcomes in some hospital areas, implementation of a CPG has not previously been shown to improve hospital-wide outcomes for pediatric asthma.
READ MORE
| | |
| --- | --- |
| Enhanced nurse licensure compact makes it easier for nurses to practice in other states via telehealth | |
FierceHealthcare
A new Enhanced Nurse Licensure Compact (eNLC), which will make it easier for nurses to practice in other states and via telemedicine, was implemented late last week. The enhanced compact is effective in 29 member states, allowing nurses with eNLC multistate licenses to begin practicing in any of those states without the need for an additional license, according to the National Council of State Boards of Nursing. The eNLC was implemented January 19.
READ MORE
| | |
| --- | --- |
| Research shows diabetes patients more prone to serious infections | |
News-Medical
Diabetes patients have an increased risk of suffering serious infections or death compared to the general public, new research has shown. The study analyzed the electronic GP and hospital records of more than 100,000 English adults aged 40 to 89 years with a diabetes diagnosis, and compared them to those without a diabetes diagnosis. The researchers estimated that 6 percent of infection-related hospital admissions, such as for pneumonia, and 12 percent of infection-related deaths among adults could be attributed to diabetes.
READ MORE
| | |
| --- | --- |
| DEA: Deregulation allows NPs to prescribe opioid use disorder treatment | |
Monthly Prescribing Reference
The U.S. Drug Enforcement Agency (DEA) has announced a measure to increase access to opioid addiction treatment for individuals residing in underserved and rural areas. PAs and nurse practitioners can now become DATA-Waived qualifying practitioners, allowing them to prescribe and dispense a narcotic drug in Schedule III, IV, or V for the purpose of maintenance treatment or detoxification treatment without being separately registered as a narcotic treatment program, according to the Federal Register.
READ MORE
| | |
| --- | --- |
| Seizure drug may help ease symptoms of major form of dementia | |
HealthDay News
A drug normally used to treat seizures may help ease some symptoms that occur with a type of dementia known as Lewy body dementia, researchers are reporting. The drug is called zonisamide (Zonegran). When added to treatment with the drug levodopa, zonisamide helped to control Parkinson's disease-like movement symptoms that are associated with Lewy body dementia. These symptoms may include tremors, stiffness, slowness, and trouble walking.
READ MORE
| | |
| --- | --- |
| Vitamin D supplements may ease IBS symptoms | |
Gastroenterology
Vitamin D could be effective in treating the painful symptoms associated with irritable bowel syndrome, according to a study published in The European Journal of Clinical Nutrition. Researchers organized and contextualized data from previous studies and found a correlation between vitamin D deficiency and irritable bowel syndrome (IBS).
READ MORE
| | |
| --- | --- |
| What will this year bring for nurses? | |
Medscape (free login required)
Everything that happens in healthcare affects nurses, from drug shortages to healthcare reform. This makes it hard to pinpoint the most important trends expected to influence the practice of nursing in 2018. With the help of nursing thought leaders, however, we've come up with a list of emerging or accelerating trends that nurses need to pay attention to this year, because they will affect key aspects of nursing, from education and licensure to clinical practice. What's on the horizon for nurses in 2018?
READ MORE
| | |
| --- | --- |
| Link between flu and heart attack confirmed in new research | |
Public Health Ontario via ScienceDaily
Chances of a heart attack are increased six-fold during the first seven days after detection of laboratory-confirmed influenza infection, according to a new study by researchers at the Institute for Clinical Evaluative Sciences (ICES) and Public Health Ontario (PHO). "Our findings are important because an association between influenza and acute myocardial infarction reinforces the importance of vaccination," says Jeff Kwong, MD, a scientist at ICES and PHO and lead author of the study.
READ MORE
| | |
| --- | --- |
| Troubling stroke trend among US moms-to-be | |
HealthDay News
A rare type of stroke is on the rise among pregnant women in the United States, a new study finds. This type of stroke is called spontaneous subarachnoid hemorrhage. It's potentially life-threatening and occurs when blood vessels on the surface of the brain rupture. It may occur at any age, but it's most common between age 40 and 65. It is more common in women, smokers, and in those with high blood pressure.
READ MORE
---
Missed last week's issue? See which articles your colleagues read most.
Don't be left behind. Click here to see what else you missed.
---