Release Date: May 30, 2020

Dear Members, Friends and Concerned Citizens,

The Association of Black Cardiologists and our cardiovascular partners know that these are difficult and disturbing times for you, your families, patients and our communities. We know that at the forefront of your distress are concerns about preventable causes of death, illness and disease. Like cardiovascular disease, acts of violence and racism are core causes of psychosocial stress that promote poor well-being and cardiovascular health, especially for communities of color. Given that heart disease and stroke are the leading causes of death for communities of color, particularly African-Americans who have the lowest life-expectancy of all racial/ethnic groups living in the United States, we are extremely disturbed by violent acts that cut to the core of the lives of our community. Therefore, along with other leading health organizations, we DENOUNCE incidents of racism and violence that continue to ravage our communities.

Read the full joint statement from the ABC, ACC and AHA to learn more.


News From Medscape
The following recommended articles on Medscape.com are freely available through the partnership between ABC and Medscape, no registration or login required.
Cutting Back on HTN Meds Can Be Safe Without Losing BP Control
Some patients aged 80 or older can potentially cut back on their number of antihypertensive meds, under physician guidance, without an important loss of blood pressure (BP) control, conclude researchers based on their randomized multicenter trial.
'Game Changer': Aldosterone-Driven Hypertension More Common Than Thought
Roughly 16%-22% of patients with hypertension appeared to have primary aldosteronism as the likely major cause of their elevated blood pressure, in an analysis of about 1,000 Americans, which is a much higher prevalence than previously appreciated and a finding that could potentially reorient both screening for aldosteronism and management for this subset of patients.
Out-of-Pocket Costs for Diabetes High, Not Always Due to Insulin
For privately insured individuals with type 1 diabetes in the United States, out-of-pocket costs for insulin are typically lower than for other diabetes-related supplies. But overall out-of-pocket expenditure — taking into account everything that is needed to manage diabetes — is still very high.

In light of the COVID-19 pandemic, the American Heart Association is providing faith communities free, weekly virtual health lessons to support mental, physical and spiritual health and well-being. Join ABC President Dr. Michelle A. Albert LIVE on Saturday, June 6 at 10:30 AM CT for a free virtual health lesson on women's health.
ABC Joins National Coalition To Launch Campaign with ESSENCE to Advocate for Heart Health with Black Women

ABC along with the American Medical Association (AMA), the AMA Foundation, American Heart Association, Minority Health Institute, and National Medical Association is partnering with ESSENCE on a new hypertension control campaign called "Release the Pressure." The healthy blood pressure movement launched this week.


Riots, Race and Reality: A Heartfelt Response From A Concerned Cardiologist
In this formal thank you to the Association of Black Cardiologist, San Antonio, cardiologist, Dr. Travis Batts speaks candidly about his experience with health care disparities and racial inequalities. He also shares a personal story about his own experience being stopped by the police in North Carolina on his way home from a track meet with his friends. Dr. Batts' call-to-action: Now more than ever is it paramount that individuals galvanize their resolve to stand for what is right. He also expresses sincere appreciation to the American College of Cardiology (ACC) and the American Heart Association (AHA) for their collaboration on a letter.
Cardiologist Investigates Why TAVR Might Not Work For Some Heart Patients
Donald Lynch, MD, a University of Cincinnati physician-researcher, says unlocking the key to how platelets function before, after and during transcatheter aortic valve replacement (TAVR) may provide insight as to why some patients undergoing the heart procedure have better outcomes than others.
Prioritizing Equity Video Series: The Root Cause
In the latest installment of the American Medical Association's health equity YouTube series, Dr. Aletha Maybank, chief health equity officer at the AMA, speaks with a panel of health equity advocates and trailblazers on their work to address the root causes of health inequity and the social determinants of health. Camara Jones, MD, MPH, PhD, the 2019-2020 Evelyn Green Davis Fellow at the Radcliffe Institute for Advanced Study at Harvard University, serves on the panel.
Heart Disease and COVID-19: Dr. Paul Underwood
Paul Underwood, MD, ABC Community Programs Committee Co-chair, speaks with Roslyn Daniels, President and Founder of Black Health Matters, in a Facebook Live session about COVID-19 and heart disease, covering topics such as atrial fibrillation, stroke, and heart failure. Dr. Underwood also explains the role different devices can play in getting patients back to their normal daily routines and the importance of taking medications in the age of COVID19.
Off Script: Black Lives, COVID-19, Katrina, and Social Justice — Time for Healers to Step Up
The devaluation of black life during times of catastrophe has yet to be resolved. Now, more than ever, that should change. Keith C. Ferdinand, MD, ABC Access to Care Initiative Chair, pens a commentary on why physicians need to do more "to advocate for social justice and to address primordial, primary, and secondary prevention of cardiovascular diseases contributing to the shortened life spans across racial/ethnic minorities and other disadvantaged populations."
Dr. Albert on Rick and Sasha Morning Show
ABC President Dr. Michelle A. Albert was a guest on the national syndicated Rick and Sasha Morning Show for National Stroke Month to educate listeners about how to prevent strokes. The show is currently in over 40 markets from New York to Atlanta.
If you missed this candid conversation about health disparities, vaccines and solutions on the horizon, you can view the archived video on the ABC website.


Featured Articles by Members
ABC Members: We welcome your published research submissions and articles for inclusion in future issues of Clinical Updates and Insights. Email Rachel Williams at rwilliams@abcardio.org and please attach file or include links to the original published work and/or abstract.
Invited Commentary: Socioeconomic Status and Heart Health — Time to Tackle the Gradient
By George A. Mensah, MD
One of the most remarkable achievements of the 20th century is the dramatic reduction in death rates from cardiovascular diseases (CVDs) in the United States and several high-income countries. For example, in 1950, the age-adjusted mortality rate per 100 000 population for heart disease was 699 in men and 487 in women in the United States. By 2017, these rates had declined to 209 in men and 130 in women, representing more than a 70% reduction. Life expectancy at birth for the total US population also improved substantially over that period from 68.2 years in 1950 to 78.6 years in 2017. Although invaluable, these summary measures of health are national averages that can mask important differences for population groups defined by age, sex, race/ethnicity, geography, rural or urban residence, neighborhood characteristics, and socioeconomic status (SES). Averages are no consolation to those who have been left behind. (Invited commentary by George Mensah, MD, regarding, "Association of Low Socioeconomic Status With Premature Coronary Heart Disease in US Adults.")
Complete vs Culprit-Lesion-Only Revascularization for ST-Segment Elevation Myocardial Infarction: A Systematic Review and Meta-analysis
Co-authored by Roxana Mehran, MD (with Kevin R. Bainey, MD, MSc; Thomas Engstrøm, DMSci, PhD; Pieter C. Smits, MD, PhD; Anthony H. Gershlick, MBBS; Stefan K. James, MD, PhD; Robert F. Storey, MD; et al.)
The study authors sought to determine through a systematic review and meta-analysis (1) whether complete revascularization is associated with decreased CV mortality and (2) whether heterogeneity in the association occurs when FFR- and angiography-guided PCI strategies for nonculprit lesions are performed.
ABC's COVID-19 FAQ Community Watch Available Now
We LOVE to LEARN how our ABC Members are making a difference! Please Share. Giving a keynote speech? Presenting at a Grand Round? Receiving an Award? Interviewed by the Press? Published in a journal? Presenter or Panelist at a Conference? Graduating? Email Rachel Williams at rwilliams@abcardio.org or please tag or DM us on Facebook, Twitter or Instagram with links/details, so we can spotlight your excellence in our newsletter!
Pettigrew Elected Into American Academy Of Arts & Sciences

Dr. Roderic Pettigrew, Texas A&M EnMed executive dean and a professor of biomedical engineering, has joined the prestigous honorary society that recognizes individuals advancing the public good.


Now Accepting Applications


Dr. Richard Allen Williams Scholarship
for Medical Students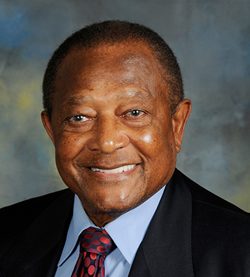 The Association of Black Cardiologists, Inc. (ABC) is pleased to announce the Dr. Richard Allen Williams Scholarship for African American and other minority 1st or 2nd year medical students who show promise in medical research, cardiology and academic medicine. This scholarship honors Richard Allen Williams, MD, FACC, FAHA, founder of the Association of Black Cardiologists and was created to promote diversity in medicine, encourage commitment to eliminating health care disparities and support future cardiologists, while helping to alleviate medical student debt.

$5,000 scholarships will be awarded to recipients in honor of Dr. Richard Allen Williams. Winners will be announced by September 25, 2020.

Awards are based upon the following criteria:
Demonstrated ability, interest, and participation in the promotion of health for the African American community
Participation in research or other extracurricular activities, demonstrated academic pursuits and clinical acumen
Proven leadership during his or her academic pursuits
Applicants should submit the following documents electronically via our online form:
A one-page statement of interest
Official medical school transcript
Recent curriculum vitae
Two letters of recommendation from a professor at current medical school
Questions: Katrese Phelps McCullum at kphelps@abcardio.org.



Deadline to submit:

August 28, 2020




The National Heart, Lung, and Blood Institute's PRIDE Summer Institute is now accepting applications! There are nine mentored research training programs offering career advancing opportunities for junior-level faculty and research scientists from diverse backgrounds.
Rolling admission until all positions are filled.


**PRIDE is still recruiting for Summer 2020. We are currently working out how to hold sessions if we are unable to do so onsite due to COVID-19. The programs will carry-on. If you are interested you may still apply.




Webinar: Black America – The Double Pandemic


Join a virtual event on Thursday, June 11 at noon hosted by the Congressional Black Caucus Foundation (CBCF) entitled "Black America: The Double Pandemic." The session is part of the CBCF's "Policy for the People" Virtual Brain Trust Series, focused entirely on the issues facing the African American community in the era of combatting COVID-19. Camara Phyllis Jones, MD, MPH, PhD, will be one of the panelists for this webcast.


After careful consideration, ASPC has decided to transform the 2020 Annual Congress on CVD Prevention into a Virtual Summit. The virtual summit will be held Saturday, July 25 and Sunday, July 26, 2020. The in-person meeting planned to take place in Louisville has been cancelled, due to coronavirus-related restrictions on travel and gatherings as well as concern about the health, well-being and safety of our attendees, faculty, patients and the ASPC staff.




NMA continues to monitor the evolving impacts of the COVID-19 pandemic. As of April 1st, 2020, NMA Annual Convention and Scientific Assembly remains scheduled for August 1–5 in Atlanta.


2020 HFSA Annual Scientific Meeting Will Be Virtual


The Heart Failure Society of America (HFSA) will be conducting the 2020 HFSA Annual Scientific Meeting (ASM) as a virtual event. HFSA Virtual ASM 2020 will be held October 2-5. Registrants will be able to participate in the meeting live as well as have access to OnDemand content after the meeting. Registration will begin in June and more details about HFSA Virtual ASM 2020 will be announced in the coming weeks.
Amazon has proudly partnered with the Association of Black Cardiologists (ABC) through its AmazonSmile program. If you select ABC as your designated charity while shopping on Amazon.com, the AmazonSmile Foundation donates a portion of every purchase to ABC.

When you shop at smile.amazon.com, you'll support ABC too!

Click here to support ABC through your purchases on Amazon or AmazonPrime!