Structural Racism and Anti-Blackness in Medicine
are Unacceptable and Must Be Addressed
Recent events in the US have included protests against the brutality meted out to Black Americans by the criminal justice system, and exposure of the disparate impact of the COVID-19 pandemic on communities of color engendered by social and economic inequality, with its consequences for housing and health care. These events have sparked a long-overdue societal examination of the impact of structural racism. Certainly, the Wang N article, entitled "Diversity, Inclusion, and Equity: Evolution of Race and Ethnicity…" published March 2020 in JAHA is horribly incorrect, harmful, and promotes racial discrimination. In the process, issues of "white privilege" and implicit bias cry out for attention by all citizens, and the hope for redress has again been enkindled. Medical education and postgraduate training are areas in special need.

In this spirit, the

Association of Black Cardiologists

issues a call to our professional colleagues to participate with us in activities and approaches that seek to enhance awareness of structural problems and to embark on specific corrective strategies. Though medical education and postgraduate training have their own special needs, the ultimate goal is to improve the health status - cardiovascular and total - of Black Americans and other disadvantaged minorities by actions that improve access to and use of high-quality health care.
News From Medscape
The following recommended articles on Medscape.com are freely available through the partnership between ABC and Medscape, no registration or login required.
Anti-Affirmative Action Paper Blasted on Twitter Now Retracted
An article published in March in the Journal of the American Heart Association that raised a ruckus on #medtwitter this week has now been retracted. It's unclear what prompted the public explosion of anger, sadness, and recrimination that ultimately led to the retraction of this article — which flew almost completely under the radar when it first appeared online and in print — but it's clear why. (Dr. Quinn Capers IV was interviewed for the article).
How Three Cardiac Procedures Changed in the COVID Era
In late March, when Virginia's governor directed that all elective surgeries be postponed, Wayne Batchelor, MD, and his colleagues at the Inova Heart and Vascular Institute in Falls Church, Virginia, canceled about two thirds of their transcatheter aortic valve replacement (TAVR) procedures. (Dr. Wayne Batchelor was interviewed for the article).
Cardio Risk Increases With Diabetic Retinopathy Progression
The risk for heart attack, stroke, and even death increases as the severity of diabetic retinopathy increases. Severe retinopathy is linked to a doubling of the risk for cerebrovascular accident or myocardial infarction, results from a new study show.
Positive Top-line Results for Another SGLT2 Inhibitor in HF
Top-line results of the EMPEROR-Reduced trial released today show that treatment with 10 mg empagliflozin, added to standard care, significantly reduced the risk for cardiovascular (CV) death or heart failure hospitalization in patients with heart failure with reduced ejection fraction (HFrEF), with and without diabetes.
VIDEO | Common Threads Leads Discussion On Social Determinants of Health
To better understand the health disparities minority communities face, Common Threads hosted a virtual panel discussion attended by 140 participants on Aug. 10 entitled, "The Social Determinants of Health: An Examination and Discussion about Food Access, Nutrition and Obesity." Moderated by Common Threads co-founder and CEO Linda Novick O'Keefe, panelists included Dr. Garth Graham, a cardiologist and vice president and chief community health officer from CVS Health as well as three other Black physicians and public health experts.
AHA, Editors, and Cardiologists Ask: How Did 'Racist' Paper Make It to Print?
A new "white paper" arguing against affirmative action has drawn blistering criticism from the cardiovascular community, including the American Heart Association (AHA), which is now investigating how the article came to be published in the first place. (Drs. Sharonne Hayes and Oluwaseyi "Seyi" Bolorunduro are quoted in the article.)
Perspective by Chima Nwaukwa, MD, FACC
The impact of race on CV care and outcomes has been well established in multiple studies. These observed differences have largely been explained by the distribution of CV risk factors in different populations as well as issues related to access to care. This study (referenced above) by Golomb et al highlights the impact of race on patients undergoing PCI, that shows a patient's race as a prognostic marker above and beyond the traditional risk factors and access to care issues.
Featured Articles by Members
ABC Members: We welcome your published research submissions and articles for inclusion in future issues of Clinical Updates and Insights. Email Rachel Williams at rwilliams@abcardio.org and please attach file or include links to the original published work and/or abstract.
An Artificial Intelligence-Enabled ECG Algorithm to Identify Patients with Left Ventricular Systolic Dysfunction Presenting to the Emergency Department with Dyspnea
Co-authored by Demilade Adedinsewo (with Rickey E. Carter, Zachi Attia, Patrick Johnson, Anthony H. Kashou, Jennifer L. Dugan, Michael Albus, Johnathan M. Sheele, Fernanda Bellolio, Paul A. Friedman, Francisco Lopez-Jimenez, et al.)
Identification of systolic heart failure among patients presenting to the emergency department (ED) with acute dyspnea is challenging. The reasons for dyspnea are often multifactorial. A focused physical evaluation and diagnostic testing can lack sensitivity and specificity. The objective of this study was to assess the accuracy of an artificial intelligence-enabled electrocardiogram (AI-ECG) to identify patients presenting with dyspnea who have left ventricular systolic dysfunction (LVSD).
Cultivating Empathy Through Virtual Reality: Advancing Conversations About Racism, Inequity, and Climate in Medicine
Co-authored by Robert O. Roswell, MD and Jennifer H. Mieres, MD (with Courtney D. Cogburn, PhD; Jack Tocco, PhD, MPH; Johanna Martinez, MD; Catherine Bangeranye, PhD; Jeremy N. Bailenson, PhD; Michael Wright, EdD; and Lawrence Smith, MD)
In 2019, the Zucker School of Medicine and Northwell Health piloted a virtual reality (VR) racism experience as a component of professional development for medical school and health system leaders, faculty, and staff. Participants experienced a 60-minute, interactive, large-group session on microaggressions and, as individuals, a 20-minute VR module. These were followed by group reflection and debriefing.
Prognostic Impact of Race in Patients Undergoing PCI: Analysis From 10 Randomized Coronary Stent Trials
Co-authored by Roxana Mehran (with Mordechai Golomb, Bjorn Redfors, Aaron Crowley, Pieter C. Smits, Patrick W. Serruys, Clemens von Birgelen, Mahesh V. Madhavan, Ori Ben-Yehuda, Martin B. Leon and Gregg W. Stone)
Data on race-based outcomes after percutaneous coronary intervention are limited, deriving mainly from registries and single-center studies. The aim of this study was to assess race-based differences in patients undergoing percutaneous coronary intervention from a large pooled database of randomized controlled trials.
Gbolahan Ogunbayo, MD


Assistant Professor, University of Kentucky
College of Medicine and Gill Heart and Vascular Institute

"I am a member of ABC, a society that has given more to me than any other since I started my professional journey in the United States. They supported me financially, allowing me to attend a lot of the major national conferences to present my work and research. One of the main goals of the society is reducing disparities in healthcare. Since joining, I have learned so much about the huge gap in healthcare delivery in the U.S. If you are passionate about healthcare disparities, please consider joining us."
Become an ABC Member or
Continue Your Investment in 2020 Today!

---
The ABC is here for you! We value our ABC members so we strive to offer benefits and rewards that are essential to your career advancement and patient education.

Help us continue our growth and further our commitment to "Promote the Prevention and Treatment of Cardiovascular Disease, including Stroke, in Blacks and other Minorities and to Achieve Health Equity for all through the Elimination of Disparities."

If you have not activated your 2020 membership, we encourage you to renew today! Not a member? We welcome you to join our ABC family!

To join/renew online, click here or remit payment by mail to Association of Black Cardiologists, Inc. – 2400 N Street, NW, Suite 200, Washington, DC 20037.

We LOVE to LEARN how our ABC Members are making a difference! Please Share. Giving a keynote speech? Presenting at a Grand Round? Receiving an Award? Interviewed by the Press? Published in a journal? Presenter or Panelist at a Conference? Graduating? Email Rachel Williams at rwilliams@abcardio.org or please tag or DM us on Facebook, Twitter or Instagram with links/details, so we can spotlight your excellence in our newsletter!
NEW FELLOWS DESIGNATION

Congratulations! to the following ABC Members who can now add
the Fellow designation to their professional credentials.


Sheila Sahni, MD, FACC,
FSCAI
2020 NMA Top Healthcare
Professional Under 40!



Congratulations to Dr. LaPrincess Brewer for being the 2020 recipient of the National Medical Association's Post-graduate section's "Top Healthcare Professional Under 40" award for "exemplifying the ideals of the NMA and showing special dedication to your community during the COVID-19 pandemic."
Yale New Haven Hospital Names Churchwell First Black President



Congratulations to Dr. Keith Churchwell, chief operating officer of Yale New Haven Hospital, for being named as the next president of the Yale New Haven Hospital (effective Oct. 5). Dr. Churchwell will be the first Black president of the hospital and was chosen after a national search.
My congratulations to Keith. He is an excellent choice as its new president, and one who will provide Yale-New Haven Hospital with superb leadership, excellence in innovative insights and serve as an exemplary model of character and compassion in caring for his professional and patient community. Best wishes to him!

John Fontaine, MD, MBA
ABC Immediate Past President
Congratulations Dr. Churchwell! As it turns out, I now have three of our pharmacy students that matched PGY1 and 2 residencies at "his" hospital! Well Earned, Well Deserved!! So, Happy to receive this news!!

Kevin Sneed, PharmD, CRPh
Secretary to the ABC Board of Directors
Now Accepting Applications


Dr. Richard Allen Williams Scholarship
for Medical Students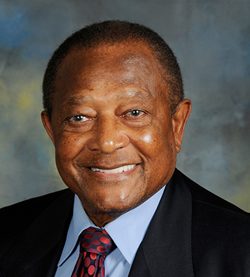 The Association of Black Cardiologists, Inc. (ABC) is pleased to announce the Dr. Richard Allen Williams Scholarship for African American and other minority medical students (1st- through 4th-year) who show promise in medical research, cardiology and academic medicine. This scholarship honors Richard Allen Williams, MD, FACC, FAHA, founder of the Association of Black Cardiologists and was created to promote diversity in medicine, encourage commitment to eliminating health care disparities and support future cardiologists, while helping to alleviate medical student debt.

$5,000 scholarships will be awarded to recipients in honor of Dr. Richard Allen Williams. Winners will be announced by September 25, 2020.

Awards are based upon the following criteria:
Demonstrated ability, interest, and participation in the promotion of health for the African American community
Participation in research or other extracurricular activities, demonstrated academic pursuits and clinical acumen
Proven leadership during his or her academic pursuits
Applicants should submit the following documents electronically via our online form:
A one-page statement of interest
Official medical school transcript
Recent curriculum vitae
Two letters of recommendation from a professor at current medical school
Questions: Katrese Phelps McCullum at kphelps@abcardio.org.



Deadline to submit:

August 28, 2020



Job Opening | Non- Invasive Cardiologist | Mount Vernon/Alexandria, VA


The Inova Heart and Vascular Institute is seeking a board-certified/eligible Non-Invasive Cardiologist for our Mount Vernon/Alexandria location. Inova Cardiology comprises an elite team of board-certified cardiologists providing the highest level of comprehensive care to help patients achieve heart and vascular wellness.

Our world-class physicians provide quality and experienced care using the most advanced diagnostic procedures and treatments. Inova Cardiology physicians create customized care plans for each patient's unique needs to deliver highly personalized care to help patients achieve improved heart and overall health.

The non-invasive cardiologist will support our Mount Vernon and Alexandria Hospital locations.

Inova Alexandria Hospital: Our heart specialists use advanced technologies to provide cardiac patients with services that include evaluation, diagnosis, treatment, education, and rehabilitation. Our diagnostic and treatment capabilities include cardiac catheterization, electrophysiology, and cardiovascular magnetic resonance.

Inova Mount Vernon Hospital: Offers an array of interventional radiology and other cardiac services including cardiac stress tests.

Inova is a not-for-profit healthcare system based in Northern Virginia that serves more than 2 million people each year from throughout the Washington, DC, metro area, and beyond. Inova is a comprehensive network of hospitals, outpatient services and facilities, primary and specialty care practices, and health and wellness initiatives.

Qualifications
MD from an accredited university medical school.


Board eligible or board-certified in cardiology.


Credentialed in echocardiography and nuclear cardiology with skills in interpreting carotid and peripheral vascular non-invasive studies.


Current Virginia state medical license and DEA preferred.


Ability to achieve full and unrestricted hospital privileges at Mount Vernon and Alexandria Inova hospitals.
This is a full-time position with competitive compensation and benefits, including medical, dental, vision and life insurance, as well as defined contribution retirement plans.

Interested applicants should email or send CV to: Allison.Spindle@inova.org.


The Office of Minority Health (OMH) and the Office of the Assistant Secretary for Health announced the Reducing Cardiac Arrest Disparities Through Data Registries Initiative. This initiative supports demonstration projects to show whether participation in an out-of-hospital cardiac arrest (OHCA) registry using standard data collection tools and data infrastructure supports the: (1) identification of racial and ethnic minority and/or disadvantaged populations experiencing cardiac arrest; and (2) implementation of evidence-informed interventions to improve cardiac arrest survival rates. If your organization has questions about applying for the OMH new funding opportunity to improve cardiac survival rates in racial and ethnic minorities? View a technical assistance webinar on the OMH YouTube channel.


HHS Provider Relief Fund Phase 2 General Distribution
Now Accepting Additional Applicants


On July 31, 2020, HHS announced that certain Medicare providers would be given another opportunity to receive additional Provider Relief Fund payments. These are providers who previously missed the June 3, 2020 deadline to apply for additional funding equal to 2 percent of their total patient care revenue from the $20 billion portion of the $50 billion Phase 1 General Distribution, including many Medicaid, Children's Health Insurance Program (CHIP), and dental providers with low Medicare revenues. In addition, certain providers who experienced a change in ownership, making them previously ineligible for Phase 1 funding, will also be given an opportunity to apply for financial relief. Eligible providers may now submit their application exit disclaimer icon for possible funds by August 28, 2020.


AHA: Aortic Stenosis and COVID FAQ


The American Heart Association(AHA) released an FAQ document on Heart Valve Disease and COVID-19, called "Aortic Stenosis & COVID-19: What You Need to Know." The document provides guidance to patients with aortic stenosis on how to manage their disease during the pandemic as well as information about the higher risk for complications if a patient gets COVID-19.



The National Institute of General Medical Sciences (NIGMS) will host an informational webinar about the National Institute of Health's (NIH) Maximizing Opportunities for Scientific and Academic Independent Careers (MOSAIC) program on Tuesday, August 18 at 1 PM ET. You can also read more about the MOSAIC program in a recent post on the NIGMS Feedback Loop Blog, as well as see answers to Frequently Asked Questions.


The COVID-19 Disparity:
A candid conversation about the long-standing problem of healthcare inequality in our minority groups


The way COVID has manifested in our communities has been complex and disparate. Race, as well as socioeconomic, genetics, culture and internal bias, have played a role. On August 20, you can join Dr. Keith C. Ferdinand and other prominent voices in healthcare to examine objective data and discuss action-based strategies that build forward momentum in addressing this glaring reality. The webcast will explore the complexity of social, economic, genetic, and cultural factors as well as unconscious biases that undermine the goal of equal care for all.



Date: Thursday, August 20, 2020
Time: 5pm ET / 2pm PT



WEBINAR: "The American Kidney Fund (AKF) and Kidney Disease"


This webinar will highlight the lack of perceived risk of chronic kidney disease among the U.S. population, low knowledge of effective preventions, the disconnect between diabetes and hypertension as top causes, early stages not detected due to lack of symptoms and testing only in late, irreversible stages. Additionally, this webinar will convey the importance of outreach education to communities at risk to improve outcomes related to prevention, early detection, and effective treatment.


Tuesday, August 25, 2020
2:00 PM – 3:00 PM EST | 1:00 PM – 2:00 PM CST



Removing the Barriers: It's Time for a Check Up from the Neck Up


AFA's free workshop is an opportunity to improve the care of people living with Alzheimer's disease and related dementias and cognitive impairments. This Continuing Medical Education (CME) program aims to address the challenges faced by primary care physicians and provide additional education on the importance of brain health, early detection of cognitive conditions, and how to use that knowledge to create a more defined care plan. Drs. Keith C. Ferdinand and Rachel M. Bond will give presentations.


The Office of Minority Health (OMH) at the U.S. Department of Health and Human Services (HHS) will host a virtual symposium, Advancing the Response to COVID-19: Sharing Promising Programs and Practices for Racial and Ethnic Minority Communities, on Thursday, September 17, 2020 at 12:00 pm ET to highlight local, state, tribal, and territorial responses to COVID-19 in racial and ethnic minority communities.


26th Annual Scientific Session and Expo
of the American Society of Nuclear Cardiology


ASNC2020: A NEW Virtual Meeting and Exhibition has been transformed from an in-person gathering into a 12-month virtual experience (beginning September 9, 2020). The main program will take place virtually on September 25 and 26. Stay tuned for more info on the joint ABC-ASNC session on "Diversity and Inclusion in Clinical Nuclear Cardiology - A Case-Based Ethics Session."


Amazon has proudly partnered with the Association of Black Cardiologists (ABC) through its AmazonSmile program. If you select ABC as your designated charity while shopping on Amazon.com, the AmazonSmile Foundation donates a portion of every purchase to ABC.

When you shop at smile.amazon.com, you'll support ABC too!

Click here to support ABC through your purchases on Amazon or AmazonPrime!