ABC Signs On As Community Sponsor For 3rd Annual Black Health Matters Summit
For the second year, the Association of Black Cardiologists was a sponsor for the 3rd Annual Black Health Matters Summit in New York City. Additionally, Drs. Icilma Fergus and Kecia Gaither were invited to participate on separate panels at the event. Speaking to a full house of over 150 people, ABC Past President Dr. Fergus kicked off the event by presenting important information about diabetes and heart disease within the black community. And, Past ABC-NMA Joint Women's Symposium Co-Chair Dr. Gaither opened the segment on male and female health with a presentation on fibroids and endometriosis. The day also included breakfast, lunch, door prizes and vendors. Post-event recap and video highlights are available.
Dr. Nakela Cook, Sharon Bond, Health Advocate/Survivor, and Dr. Lenora Johnson from the NHLBI attend the American Heart Association's® Annual 2019 Go Red For Women Red Dress Collection®.
Dr. Icilma Fergus-Rowe Appears on Grassroots Radio with Marsha Padilla-Goad
As a representative of the Association of Black Cardiologists, the Harlem Healthy Hearts program and Mount Sinai, Icilma Fergus, MD, spoke with radio host, Marsha Padilla-Goad about "Heart Disease and its Impact on African American Women." The podcast also included interviews with two heart attack survivors, who shared their experiences and advocacy work raising awareness about heart disease with the American Heart Association (AHA).
"This is probably one of the best times for physician entrepreneurship. Healthcare is where people want to be. It is a disruptive time and every one is looking for physicians to help improve delivery of care."
–– ABC Board Chair Dr. Cheryl Pegus at the American College of Cardiology Cardiovascular Summit in Orlando, Florida.
Drs. Nakela Cook and Sharonne Hayes Participate on "The Empowered Patient" Panel
Nakela Cook, MD and Sharonne Hayes, MD, joined a panel of experts in a discussion on "The Empowered Patient"
for this year's Woman's Day Heart Talk series, along with Seema Verma, Administrator of the Centers for Medicare & Medicaid Services (CMS), Stacey Rosen, MD, and Emily Perish, MPP. The event was sponsored by Northwell Health and Woman's Day magazine and Dr. Jennifer Ashton, ABC News Chief Medical Correspondent, served as moderator.
Dr. Khadijah Breathett Delivers Lecture on Racial and Gender Disparities in Heart Failure
As part of the University of Arizona Health Sciences' (UAHS) African American Heritage Month Speaker Series,
Khadijah Breathett, MD, MS, gave an address on "Racial and Gender Disparities in Advanced Heart Failure: Change Starts With You." The speaker series is a joint program between the UAHS' Office of Diversity & Inclusion and the African Americans in Life Sciences (AALS).
Dr. Jennifer Mieres Previews Ms.Diagnosed Docufilm, Dr. Roxana Mehran Explores "Me Too" Movement for Cardiology
Jennifer H. Mieres, MD, gave a talk at Columbia University New York-Presbyterian Hospitals on Women's Health and showed a screening of
Ms.Diagnosed: A Documentary on Gender Disparities in Health Care,for which she is executive producer. Model Christy Turlington, founder of Every Mother Counts, opened the session at the one-day heart disease and women CME event by sharing her story. And, Roxana Mehran, MD, spoke on a later panel, "Career Advancement for Women in Cardiology: Will the "Me Too" Movement Make a Difference?," along with other leading experts.
Dr. Gary Gibbons Whips Up a Batch of Heart Healthy Jumpin' Jambalaya
During a cooking demonstration sponsored by the National Heart, Lung, and Blood Institute, NHLBI director Gary Gibbons MD,
joined Eurest regional executive chef Tom Fiammetta in a special "Our Hearts Cook Together" event to prepare a heart-healthy "Jumpin' Jambalaya" in a "Teaching Kitchen" set up in the Clinical Research Center atrium. Be sure to check out the recipe below.
Earlier in the month, Dr. Gibbons also highlighted the NHLBI "Take 10" rooms for staff, who are enouraged to take breaks at work for heart healthy intervals of physical activity.
Dr. Renee Bullock-Palmer Joins Colleagues to Host 9th Annual Women's Health Expo
Renee Bullock-Palmer, MD, and her colleagues in pulmonology, cardiology, endocrinology, and diabetes hosted Deborah Heart
and Lung Women's Heart Center ninth annual health fair at Fountain of Life Center in Burlington, NJ, where more than 200 heart health screenings were given. The Deborah staff gave the almost 1,000 attendees access to a large number of screenings, including blood pressure, glucose, body fat analysis, pulmonary function testing, balance, cholesterol/lipid panels, sleep apnea, asthma information, peripheral arterial disease assessment, bariatrics, as well as information on wound care and lung cancer. Additional screenings for colon cancer, hearing, and sun damage were offered by other medical organizations. Flu shots were provided by the Burlington County Health Department. In addition to the variety of health screenings, the Expo featured a wide range of wellness, health, and fitness activities for women of all ages and a wide variety of food samplings.
Drs. Daphne and Keith Ferdinand Conduct Diabetes Education Prevention Programs
Daphne P. Ferdinand, PhD, RN, and Keith Ferdinand, MD, received a grant from Sustainable Healthy Communities LLC to conduct diabetes education prevention programs. Dr. Keith Ferdinand delivered educational presentations highlighting cardiovascular disease during Heart Month at five sites, which included a mixture of senior centers, churches, a hospital and a local heart walk. Dr. Ferdinand included flu vaccinations in the program as part of his own efforts to reduce the exacerbations of diabetes symptoms and hospitalization from flu in the community.
Dr. Kim Allan Williams Talks Plant-Based Diet at NLA Spring Clinical Update
Past ABC Chair Kim Allan Williams, Sr., MD, gave a presentation on "Plant-based Diets for Improving Lipids" at the National Lipid Association's
2019 Spring Clinical Lipid Update in Portland, Oregon. Additional featured presentations included a "Comparison Between 2013 and 2018 Cholesterol Guidelines in Primary Prevention," "Implications of REDUCE-IT Results and Other Trials in Progress" and "New Insights into Triglyceride Therapy and the Role of Omega-3 Fatty Acids in Reducing Cardiovascular Risk."
Dr. Rachel Bond Teams up With WomenHeart on Facebook Live and Twitter Chat Sessions
Dr. Rachel Bond participated on a Facebook Live patient and provider panel, "Know Your Rights About Health Insurance Denials:" hosted by WomenHeart.
The panel discussed the steps women patients with chronic conditions like heart disease can take to appeal when an insurance company denies a claim for medication or treatment. Panel members also covered common reasons for denials and how patients could advocate for themselves. Watch the archived recording below. Additionally, Dr. Bond answered questions about heart disease in African American women and shared some key strategies for a patient-physician partnership during a WomenHeart Twitter "29DaysofChat" session.
Drs. Kecia Gaither and Icilma Fergus Honored for Excellence in Medicine
In support of this year's annual multi-city tour, "The Power of Creative Arts in Health & Healing," Kecia Gaither, MD, MPH, and Icilma Fergus, MD, were recognized for their contributions in medicine by the Harlem Fine Arts Show.
African-Americans in healthcare from various medical institutions within the New York, New Jersey and Connecticut area were honored during the ceremony. Past ABC President Dr. Fergus was also the recipient of the 2019 YGB Caribbean Professional Services Health Innovation & Advocacy Award at the Young, Gifted & Black (YGB) Entrepreneurial Awards which honors African-American and Caribbean professionals, who are the "unsung heroes and heroines" within their communities. Dr. Fergus is the Founder and Director of Montserrat Healthy Hearts.
Dr. Chiadi Ndumele Receives Mentoring Award from Johns Hopkins Scholarly Program
Chiadi E. Ndumele, MD, MHS, received the 2019 Award for Excellence in Mentoring
sponsored by the Johns Hopkins School of Medicine Scholarly Concentrations course. The award recognizes the faculty mentor who best embodies the goals of the Scholarly Concentrations Program in fostering the spirit of independent scholarship among Johns Hopkins medical students.
Dr. Sheila Sahni Discusses AHA Guidelines on NBC's New York Live Show
Sheila Sahni, MD, appeared on NBC's New York Live show with hosts Jacquie Reid and Sara Gore to discuss the different lifestyle changes people can make to stay heart healthy
based on recent American Heart Association's guidelines for physical activity and blood pressure. She also highlighted the impact of stress as well as the importance of a nutrient-rich diet and annual or bi-annual checkups. Additionally, Dr. Sahni spoke with MedPage Today about the influence her physician parents had on her interest in medicine, how an introduction to the cardiac cycle from the Wiggers diagram sparked her passion for cardiology.
Ileana L. Piña Highlights Heart Failure and Women's Heart Health with Detroit's WXYZ
Ileana L. Piña, M.D., M.P.H. spoke with Ann Marie LaFlamme on Detroit's WXYZ about the warning signs of a heart attack for young women,
and how what she calls the "Hollywood heart attack," portrayed as the man clutching his chest and bending over, is not as common in women. She also highlighted how men, particularly African-American men, have experienced an increase in mortality as a result of cardiovascular disease.
Dr. Dave Montgomery Returns to Sister Circle TV to Focus on Prevention
Dave Montgomery, MD, paid a visit to TV One's live daily talk show, Sister Circle, to talk heart health and prevention.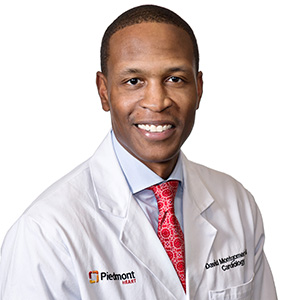 The segment involved using celebrity examples to show different types of heart disease and to encourage the audience and viewers to see a doctor and listen to their bodies. Dr. Montgomery also quizzed the hosts on the leading cause of heart disease in African Americans, symptoms of heart attack in women, and the new CPR rules. Dr. Montgomery later appeared on CNN's Morning Express with Robin Meade to spell out what F.A.S.T. means and discuss the death of actor Luke Perry and, more recently, to explain heart valve disease as the result of the hospitalization of singer/songwriter Mick Jagger.
Dr. Jennifer Mieres Visits NBC's Today Show, ABC's Tiempo & Telemundo for Heart Month
Jennifer H. Mieres, MD, gives context to one mom-to-be's story about a pregnancy that led to a heart valve disease diagnosis on the TODAY show with Kathie Lee and Hoda Kotb. She also highlighted the Go Red For Women movement and promoted the free heart screenings offered during National Heart Month by CVS at their nationwide MinuteClinics, which provides consumers with the chance to learn five personal health numbers: total cholesterol, HDL (good) cholesterol, blood pressure, blood sugar and body mass index. Dr. Mieres also made appearances along with her co-author, Stacey Rosen, MD, on the ABC7NY show, Tiempo with Joe Torres and a special segment on Telemundo to raise awareness about heart disease in the Hispanic community and to announce the release of the Spanish version of their Heart Smart Book for women: Un Corazon Saludable para La Mujer Moderna.
Dr. Khadijah Breathett Educates Audience about Heart Disease on Native America Calling
Khadijah Breathett MD, was a guest expert on the Native America Calling live call-in program to talk about what to expect after surviving a heart attack, what types of treatment exist as well as tips for prevention. She also informed listeners about the very high rates of diabetes among the American Indian population. A heart attack survivor, a regional dietitian, and a regional director of Native initiatives for the American Heart Association were also a part of the show.
Dr. Sharonne Hayes Breaks Down the Latest Cardio Tech on Nasdaq's TradeTalks
Sharonne N. Hayes, MD sat down with Jill Malandrino, Nasdaq Global Markets Reporter on #TradeTalks (which broadcasts live on Twitter from the MarketSite) to chat about cardiovascular disease, exciting advances in minimally invasive procedures for the heart as well as the latest technology such as wearables and predictive AI that can and/or may later be helpful to the field of cardiology.