This message was sent to ##Email##
To advertise in this publication please click here
Generational effects: What public health administrative data tells us about heroin use disorder
Counselor Magazine
Illicit use of heroin has been a major public health crisis in the United States for decades, and the more recent availability of other opioid-based substances has caused the number of heroin users to increase further. More than seventy thousand Americans died from drug overdoses in 2017, from both illicit drugs and prescription opioids — a two-fold increase in a decade (NIDA, 2020).



Recovery billing done right! The difference is our service.


Our trained, certified billing staff takes care of the billing process from start to finish, We get things done FAST! We have a 60 minute live VOB turnaround time, We also have a quicker turnaround time with insurances, 800-980-4808




Jobs in addiction and behavioral health
Counselor Magazine
Counselor Magazine is proud to announce our new international job board!

Over 67 addiction and behavioral health job openings listed! Nearly 300 candidates looking for work have profiles!
Free for employers and candidates
Search by location or job interest
Employers and get their job post featured at the top of searches for a fee
Candidates can create a full profile for recruiters to view
Employers can search candidate listings to for recruitment
More features and options than ever!
Create your free account today!
| | | |
| --- | --- | --- |
| | | Power Diary is the online practice management system trusted by over 27,000 practitioners. It includes calendar management, appointment reminders, treatment notes, client records, telehealth, waiting list, invoicing, online bookings, SMS chat, and more! Suitable for solo practitioners and large practices. |
CE Quizzes Now Online!
Counselor Magazine
Earn up 1.5 hours of continuing education per issue just for reading Counselor, that's 9 CEs a year! CE Quizzes starting with February 2021, Vol. 21, Issue 1, are now on our new CE website. You can read the print magazine or subscribers can access the online articles at www.counselormagazine.com. CEs are 16.95 per issue, free for CCAPP Members. If you are a CCAPP Member, please contact CCAPP accounting to be added to the website and access free CEs. To visit the new CE website click here.
Virtual reality: Is peer support tele-health the future of recovery support?
ARCC
Representatives Tony Cardenas (CA-29) and Paul Tonko (NY-20) introduced the Virtual Community Support Act last week. The act is aimed to strengthen community-based and peer support services virtually both during and after the pandemic. A press release from the office of Tony Cardenas says the bill, "Would create a new program at the Substance Abuse and Mental Health Services Administration (SAMHSA) to provide training and development to increase the workforce, enable providers and peers to move their services virtually, and help identify and coordinate care for those who need access to multiple services." This bill was included in the Health, Equity, Access, Resources, Treatment (HEART) package that Representative Cardenas released last month.
.

HEADLINES FROM THE FIELD

  
Are punitive rules forcing doctors to hide their mental health problems?
The Guardian
Dr Mary Dinh, 31, described her medical training during the pandemic as a soul-crushing experience. She constantly feared that she would bring home the virus from lack of PPE, used one N95 mask until it disintegrated and saw 13 patients die in one day at her Pennsylvania hospital. Dinh felt hopeless seeing unprecedented death, her colleagues struggle with depression and a fellow resident attempt suicide.




Assessment compatible with the DSM-V
New instant computer scored report
Patient self-administered option.






Thousands of industry professionals subscribe to association news briefs, which allows your company to push messaging directly to their inboxes and take advantage of the association's brand affinity.




Stressful year causes increase in area mental health issues
American Press
For individuals who already have a mental health diagnosis — and that's 650,000 adults and 245,000 children in the state, according to the Louisiana Department of Health — symptoms of depression, fear, anxiety, stress and trauma have exacerbated due to COVID-19, hurricanes and the winter storm.
California could create new hotline for mental health calls
Santa Monica Daily Press
California would take a step toward having counselors rather than police respond to people experiencing mental health crises under a bill backed Monday by gun-violence prevention groups. Callers who dial or text 9-8-8 would be connected with counselors and could be assisted by mobile crisis support teams staffed with mental health professionals.
Hospital emergency rooms struggle with overdose spike during pandemic
NPR
When the pandemic hit, visits to hospital emergency departments plummeted by more than 40%. People were scared of catching the coronavirus. But Kristin Holland, a researcher at the Centers for Disease Control and Prevention, found patients experiencing drug-related crises needed help so desperately they kept coming.
Sober living for everyone is rising in popularity as Chrissy Teigen, more ditch drinking
USA Today
At the beginning of the global pandemic, uncorking a bottle of wine seemed to be the thing to do. A grip on a champagne stem felt like a grip on life, virtual happy hours were all the rage and there were plenty of memes about drinking making the rounds. But a year into quarantine, Dry January has come and gone, yet evidence suggests sobriety is sticking around.
The big number: Up to 90% rise in depression among college students in pandemic's early months, study finds
The Washington Post
The rate of depression among college students was up to 90 percent higher in the early months of the coronavirus pandemic, compared with pre-pandemic levels, according to an analysis of how disruptions in students' daily life affected their mental health. At highest risk for depression were students whose physical activity declined the most in that time period — for instance, being active one to two hours less a day, or dropping from 10,000 to 4,600 steps a day.
.

SPONSORSHIP & EXHIBITOR OPPORTUNITIES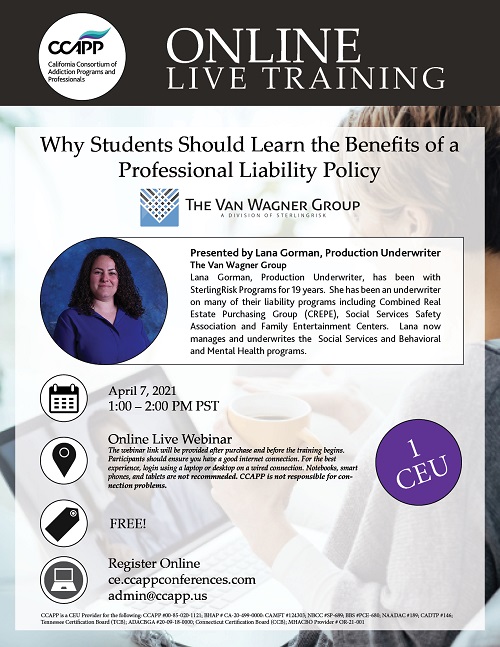 Counselor Magazine Weekly Digest

---

Connect with Counselor Magazine





Jason Zimmerman,

Director of Publishing, Multiview, 469-420-2686

 | Download media kit
Jacqueline Hansen, Senior Content Editor, Multiview, 469-420-2636| Contribute news

Counselor Magazine
PO Box 214127  |  Sacramento, CA 95821 
833-819-5015  |  Contact Us  |  www.counselormagazine.com

Click here to unsubscribe. 

Learn how to add us to your safe sender list so our emails get to your inbox.

















 
7701 Las Colinas Ridge, Ste. 800, Irving, TX 75063