This message was sent to ##Email##
To advertise in this publication please click here
Providing Hope to Families Affected by Addiction, Part I: Unique Community Support Programs
Counselor Magazine
Addiction often causes havoc and suffering for families or concerned significant others (CSOs). Stress, anger, anxiety, worry, depression, confusion, family conflict, broken relationships, loss of trust, and financial problems are common effects of addiction on families or CSOs (Daley & Douaihy, 2019; Gross, Lagos, Yessengaliyeva, LaCasse, & Liepman, 2018). Grief and trauma are also common for those who lose loved ones as the result of drug overdoses, accidents, suicides, or medical complications caused or exacerbated by addiction (Daley, 2017).
| | | |
| --- | --- | --- |
| | | Epigenetics is a new and groundbreaking concept in the field of psychology and mental health. Epigenetics research is revealing that our genes can actually turn on or turn off in response to what happens in our life and how our environment affects us. |
Prevention: Creating Positive Change That Lasts
Counselor Magazine
Prevention works! However, prevention's only proof of value is when the data shows change is moving in the right direction. The strategic prevention framework (SPF) used in prevention practice offers a map to a systemic, data-driven process for community-level change. We may feel that it is working, but it does not matter how well the program, practice, or policy is received if there is no way to examine whether or not there is a positive effect within the community.



Recovery billing done right! The difference is our service.


Our trained, certified billing staff takes care of the billing process from start to finish, We get things done FAST! We have a 60 minute live VOB turnaround time, We also have a quicker turnaround time with insurances, 800-980-4808




Jobs in addiction and behavioral health
Counselor Magazine
Counselor Magazine is proud to announce our new international job board!

Over 67 addiction and behavioral health job openings listed! Nearly 300 candidates looking for work have profiles!
Free for employers and candidates
Search by location or job interest
Employers and get their job post featured at the top of searches for a fee
Candidates can create a full profile for recruiters to view
Employers can search candidate listings to for recruitment
More features and options than ever!
Create your free account today!
| | | |
| --- | --- | --- |
| | | Power Diary is the online practice management system trusted by over 27,000 practitioners. It includes calendar management, appointment reminders, treatment notes, client records, telehealth, waiting list, invoicing, online bookings, SMS chat, and more! Suitable for solo practitioners and large practices. |
Customer Testimonials
Certemy
Learn why customers love the features and convenience of our cloud-based software.
Certified Professionals
IC&RC
IC&RC can facilitate reciprocity of an IC&RC recognized credential from one IC&RC Member Board to another. Reciprocity can greatly ease the transition of a credential from one IC&RC Member Board to another, however, varying licensure laws, rules and regulations and scopes of practice from one jurisdiction to another can complicate reciprocity.
CE Quizzes Now Online!
Counselor Magazine
Earn up 1.5 hours of continuing education per issue just for reading Counselor, that's 9 CEs a year! CE Quizzes starting with February 2021, Vol. 21, Issue 1, are now on our new CE website. You can read the print magazine or subscribers can access the online articles at www.counselormagazine.com. CEs are 16.95 per issue, free for CCAPP Members. If you are a CCAPP Member, please contact CCAPP accounting to be added to the website and access free CEs. To visit the new CE website click here.
.

HEADLINES FROM THE FIELD

  
8 dimensions of recovery capital — Do you know the basics?
R1 Learning
According to the originators, William Cloud and Robert Granfield, Recovery Capital refers to "the breadth and depth of internal and external resources that can be drawn upon to initiate and sustain recovery" from substance use disorder. William White's work heightened the importance of Recovery Capital by highlighting the idea that therapeutic processes in addiction treatment must encompass more than a strictly clinical intervention.




Assessment compatible with the DSM-V
New instant computer scored report
Patient self-administered option.






Thousands of industry professionals subscribe to association news briefs, which allows your company to push messaging directly to their inboxes and take advantage of the association's brand affinity.




The piper must be paid, sooner or later
ARCC
America has been using more substance during the COVID-19 pandemic, a result of increased stress and isolation. We are starting to glimpse the repercussions of these dynamics. There is early evidence of the consequences of heavier use across our society. The Los Angeles Times recently reported that hospitals affiliated with the University of Michigan, Northwestern University, Harvard University and Mount Sinai Health System in New York City report admissions for alcoholic liver disease have leapt by up to 50% since March of 2020.
Dez Bryant wants to mentor NFL players struggling with mental health
93.1 Jack FM
In the world of professional sports, with the lives of players being scrutinized daily, it takes strength and support to not succumb to a life of substance abuse. However, even those with countless support, may find themselves struggling with their mental wellbeing.
If your daily walk isn't curing your COVID-19 depression, you're not alone
VeryWell Health
The COVID-19 pandemic has brought drastic changes to our day to day, especially in how often we move our bodies. But a more sedentary lifestyle can have detrimental effects on our health and minds. A recent study links decreased exercise during the pandemic to increased depression in college students.
Legalized pot tied to rise in young men's suicide attempts
HealthDay News via U.S. News & World Report
States that make marijuana a readily available retail item might see an increase in self-harm among younger men, a new study suggests. Researchers found a correlation between U.S. states' shifting marijuana policies and rates of self-harm among men younger than 40. Those rates -- which include suicide attempts and non-suicidal behaviors like cutting -- increased in states that legalized, and in some cases "commercialized," recreational marijuana.
Teen depression linked to how the brain processes rewards
Science News for Students
Feeling sad. Sleeping too much. Not wanting to do things that used to be fun. Such feelings may come and go throughout adolescence. But if they last more than two weeks, they can be signs of depression. It's a serious mental health disorder that requires treatment. And it's remarkably common in teens. By age 18, one in four will experience at least one bout of depression. In fact, that may not be surprising, since stress appears to be a major trigger.
Spikes in anxiety, depression are hurting working moms
Employee Benefit News
Working mothers are leaving the workforce in droves. For those still holding on, their mental health is at a tipping point. Since the start of the pandemic, working moms are struggling the most with their mental health, according to a survey conducted by SilverCloud Health, an online therapy platform. Sixty-eight percent of working mothers have sought mental health treatment during the pandemic, the survey found, compared to 47% percent of women without children, according to KFF Health Tracking Polls.
Severe mental illness linked to higher death rate after heart attack
EurekAlert!
People with a severe mental illness are more likely to die following a heart attack than those without a psychiatric diagnosis, research suggests. The risk of death 30 days after a heart attack for people with schizophrenia was doubled when compared with those without the condition, for example.
.

SPONSORSHIP & EXHIBITOR OPPORTUNITIES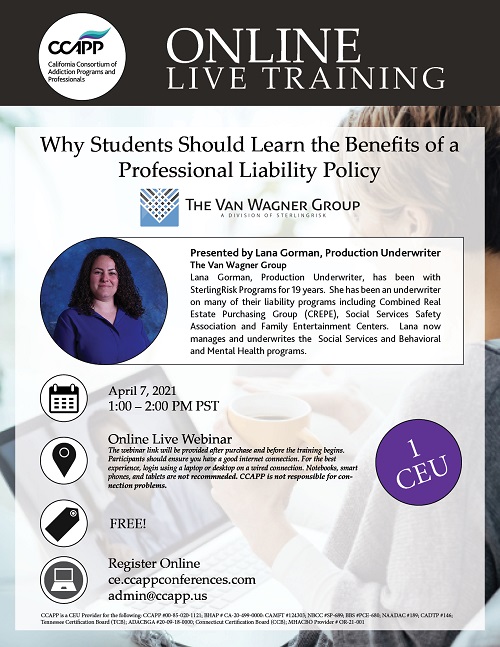 Counselor Magazine Weekly Digest

---

Connect with Counselor Magazine





Jason Zimmerman,

Director of Publishing, Multiview, 469-420-2686

 | Download media kit
Jacqueline Hansen, Senior Content Editor, Multiview, 469-420-2636| Contribute news

Counselor Magazine
PO Box 214127  |  Sacramento, CA 95821 
833-819-5015  |  Contact Us  |  www.counselormagazine.com

Click here to unsubscribe. 

Learn how to add us to your safe sender list so our emails get to your inbox.

















 
7701 Las Colinas Ridge, Ste. 800, Irving, TX 75063