This message was sent to ##Email##
To advertise in this publication please click here
Disaster Looming: Opioid overdoses and substance use disorder cases skyrocket while an antiquated addiction treatment infrastructure and a workforce in crisis create a recipe for disaster
Counselor Magazine
Prior to January 1, 2020, the nation faced a growing opioid epidemic, rising addiction rates, and an exponential growth in deaths caused by alcohol abuse, drug overdose, and suicide, In 2017 life expectancy decreased in the U.S. for the third year in a row, in part, due to increases in death rates for alcohol, drugs, and suicide.
| | | |
| --- | --- | --- |
| | | Epigenetics is a new and groundbreaking concept in the field of psychology and mental health. Epigenetics research is revealing that our genes can actually turn on or turn off in response to what happens in our life and how our environment affects us. |
The certainties of yesterday may not be adequate for today
Counselor Magazine
Donna Johnson writes: I began my career in the justice system almost twenty-eight years ago and worked in many areas of the system: in corrections, probation, youth services, the legal field, and finally in community mental health and substance use treatment. Throughout my career, substance use disorder (SUD) treatment had very specific philosophies and language for treatment. Unfortunately, many of those things we thought we were doing well were, in hindsight, just woefully inadequate.



Recovery billing done right! The difference is our service.


Our trained, certified billing staff takes care of the billing process from start to finish, We get things done FAST! We have a 60 minute live VOB turnaround time, We also have a quicker turnaround time with insurances, 800-980-4808




Customer Testimonials
Certemy
Learn why customers love the features and convenience of our cloud-based software.
Certified Professionals
IC&RC
IC&RC can facilitate reciprocity of an IC&RC recognized credential from one IC&RC Member Board to another. Reciprocity can greatly ease the transition of a credential from one IC&RC Member Board to another, however, varying licensure laws, rules and regulations and scopes of practice from one jurisdiction to another can complicate reciprocity.
| | | |
| --- | --- | --- |
| | | Power Diary is the online practice management system trusted by over 27,000 practitioners. It includes calendar management, appointment reminders, treatment notes, client records, telehealth, waiting list, invoicing, online bookings, SMS chat, and more! Suitable for solo practitioners and large practices. |
CE Quizzes Now Online!
Counselor Magazine
Earn up 1.5 hours of continuing education per issue just for reading Counselor, that's 9 CEs a year! CE Quizzes starting with February 2021, Vol. 21, Issue 1, are now on our new CE website. You can read the print magazine or subscribers can access the online articles at www.counselormagazine.com. CEs are 16.95 per issue, free for CCAPP Members. If you are a CCAPP Member, please contact CCAPP accounting to be added to the website and access free CEs. To visit the new CE website click here.
Jobs in addiction and behavioral health
Counselor Magazine
Counselor Magazine is proud to announce our new international job board!

Over 67 addiction and behavioral health job openings listed! Nearly 300 candidates looking for work have profiles!
Free for employers and candidates
Search by location or job interest
Employers and get their job post featured at the top of searches for a fee
Candidates can create a full profile for recruiters to view
Employers can search candidate listings to for recruitment
More features and options than ever!
Create your free account today!




Assessment compatible with the DSM-V
New instant computer scored report
Patient self-administered option.






Thousands of industry professionals subscribe to association news briefs, which allows your company to push messaging directly to their inboxes and take advantage of the association's brand affinity.




.

HEADLINES FROM THE FIELD

  
As teens return to school, some still navigate mental health issues
Chicago Tribune
In the past year, teenagers watched major milestones evaporate before their eyes, while also missing out on all the small moments that make the teen years unique. Mental health professionals said teens are particularly vulnerable to emotional instability, and they have experienced the pain of the pandemic more deeply than other age groups.
Degree of diffiiculty: Starting a counseling career during a pandemic
Houston Press
Ashley Burks touches the doorknob to her office, wondering who might have put their hands on it while she was away. She looks through the room at the community health center where she works, gaming out all of the potential permutations of where her client may choose to sit down and how she'd safely position herself in response.
Demi Lovato opens up about addiction, overdose in new documentary
Addiction Center
Last week, viewers got a deep and personal look into Grammy nominated pop-star Demi Lovato's experience with addiction, overdose, and recovery. The signer held nothing back in the first 2 episodes of her YouTube documentary series Demi Lovato: Dancing with the Devil. Lovato and her friends, family, employees, and even the doctor who worked on Lovato after her 2018 overdose spoke in the documentary, leaving no details out and nothing to the imagination. The series' first 2 episodes previse a story that tells the real and ugly truth about addiction.
Older adults report better mental health than younger ones during pandemic
AARP
Older adults have been particularly hard hit by the COVID-19 pandemic. They're at a far higher risk of experiencing complications from the virus, and many have suffered from the mental health effects of isolation from families and friends. About 255 of people in their 60s reported having symptoms of anxiety in the previous seven days, for instance, in a February Household Pulse survey by the National Center for Health Statistics (NCHS) and the Census Bureau. But the older population has held up remarkably well compared with the population at large, experts say.
Teenagers, anxiety can be your friend
The New York Times
For many teenagers, anxiety is riding high these days. A new report from the University of Michigan's C.S. Mott Children's Hospital National Poll on Children's Health found that one in three teen girls and one in five teen boys have experienced new or worsening anxiety since March 2020.
.

SPONSORSHIP & EXHIBITOR OPPORTUNITIES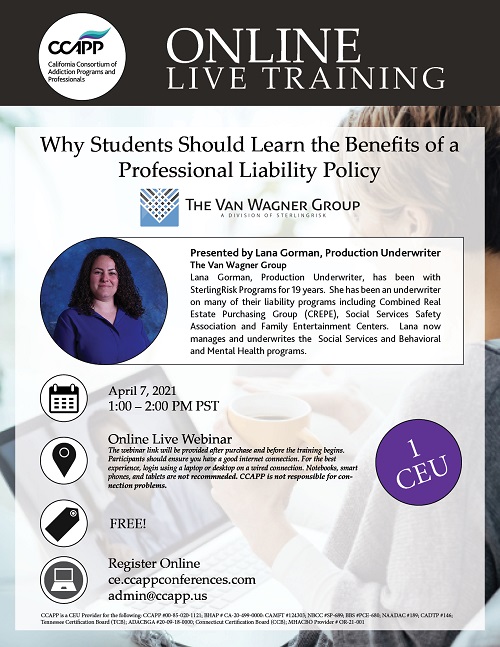 Counselor Magazine Weekly Digest

---

Connect with Counselor Magazine





Jason Zimmerman,

Director of Publishing, Multiview, 469-420-2686

 | Download media kit
Jacqueline Hansen, Senior Content Editor, Multiview, 469-420-2636| Contribute news

Counselor Magazine
PO Box 214127  |  Sacramento, CA 95821 
833-819-5015  |  Contact Us  |  www.counselormagazine.com

Click here to unsubscribe. 

Learn how to add us to your safe sender list so our emails get to your inbox.

















 
7701 Las Colinas Ridge, Ste. 800, Irving, TX 75063