This message was sent to ##Email##
To advertise in this publication please click here
Future focus: The prevention solution
Counselor Magazine
Everyone has heard the famous saying by Benjamin Franklin, "An ounce of prevention is worth a pound of cure" (Medrut, 2018). This saying was meant to convey the idea that it takes less effort to prevent a problem than it does to fix a problem once it develops. This truth is very applicable to the addiction crisis we are facing today in the U.S.
| | | |
| --- | --- | --- |
| | | Epigenetics is a new and groundbreaking concept in the field of psychology and mental health. Epigenetics research is revealing that our genes can actually turn on or turn off in response to what happens in our life and how our environment affects us. |
Generational Effects: What Public Health Administrative Data Tells Us About Heroin Use Disorder
Counselor Magazine
Illicit use of heroin has been a major public health crisis in the United States for decades, and the more recent availability of other opioid-based substances has caused the number of heroin users to increase further. More than seventy thousand Americans died from drug overdoses in 2017, from both illicit drugs and prescription opioids—a two-fold increase in a decade (NIDA, 2020).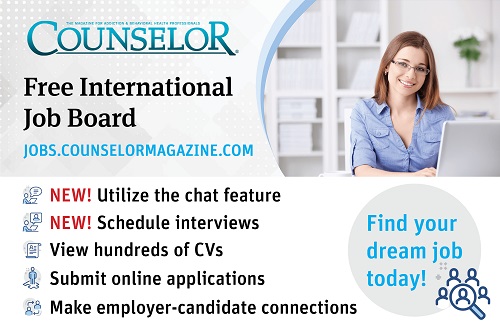 Certified Professionals
IC&RC
IC&RC can facilitate reciprocity of an IC&RC recognized credential from one IC&RC Member Board to another. Reciprocity can greatly ease the transition of a credential from one IC&RC Member Board to another, however, varying licensure laws, rules and regulations and scopes of practice from one jurisdiction to another can complicate reciprocity.






Stronger Than Your Drink

 ­ ­ 

The only free, global conference dedicated to the Sinclair Method (TSM).

14 Speakers
13 Panels
6 Countries
2 Days
1 Common Purpose: Advancing TSM Education and Awareness

Live on Twitch June 12-13, 2021




CE Quizzes Now Online!
Counselor Magazine
Earn up 1.5 hours of continuing education per issue just for reading Counselor, that's 9 CEs a year! CE Quizzes starting with February 2021, Vol. 21, Issue 1, are now on our new CE website. You can read the print magazine or subscribers can access the online articles at www.counselormagazine.com. CEs are 16.95 per issue, free for CCAPP Members. If you are a CCAPP Member, please contact CCAPP accounting to be added to the website and access free CEs. To visit the new CE website click here.
.

HEADLINES FROM THE FIELD

  
Day 1: How Are You, Really?
The New York Times
Today, ask yourself "How are you, really?" Think before you answer. Find a word that describes exactly what you're feeling. Unsettled? Energetic? Delighted? Frazzled? (Avoid standard answers like "good," "fine," or "OK.") Emotions are brain messengers, and studies show that regularly labeling your emotions and creating a "feeling vocabulary" is good for your health.
Human connection and mutuality: A new response to 'mental illness'
Mad in America
From The eMental Health International Collaborative: "'What has happened to you?' – this question has brought a new dynamic into the mental health space. As the adversities and disadvantages in the lives and communities of people who suffer distress are better understood, questioning 'what has happened?' not 'what is wrong?' is an imperative for connecting to a person in distress. The question is based on the notion that people are responding to their environment and experiences and not a 'mental illness'.
Study confirms overdiagnosis of ADHD in children and teens
Mad in America
A new study has found that ADHD is overdiagnosed in children and adolescents. Growing diagnoses in those with mild symptoms may lead to children being exposed to the harms of stimulant medication without any benefit.
Study finds link between social media and college student alcohol use
KFI-AM 640
Researchers at Loyola Marymount University found that social media content involving alcohol is associated with increased drinking among college students, the university announced today. Researchers observed students in the few months before entering college and during their first year. They found that Instagram and Snapchat content affects students' perceptions of drinking norms, and the amount of alcohol consumed by college students is impacted by how much they think others are drinking.
.

SPONSORSHIP & EXHIBITOR OPPORTUNITIES

  
 

Counselor Magazine Weekly Digest

---

Connect with Counselor Magazine





Jason Zimmerman,

Director of Publishing, Multiview, 469-420-2686

 | Download media kit
Jacqueline Hansen, Senior Content Editor, Multiview, 469-420-2636| Contribute news

Counselor Magazine
PO Box 214127  |  Sacramento, CA 95821 
833-819-5015  |  Contact Us  |  www.counselormagazine.com

Click here to unsubscribe. 

Learn how to add us to your safe sender list so our emails get to your inbox.

















 
7701 Las Colinas Ridge, Ste. 800, Irving, TX 75063